Our verdict: Not Recommended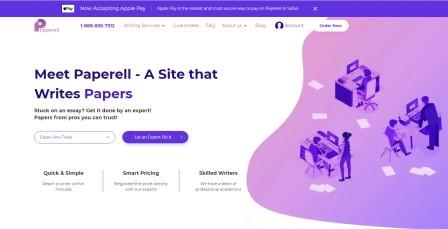 Short overview
Minimal deadline:
3 hours
Guarantees:
Money-Back Guarantee, Confidentiality, Free Revisions, Plagiarism-Free Writing
Payment Methods:
Available Services:
Coursework, Essay, Research Paper, Thesis, Dissertation, Lab Report, Term Paper Writing
Extra perks and features:
Ability to Negotiate Price
Summary
After a number of requests, I decided it was time for a Paperell review. I went over each section of the website, as well as the services they offer. After analyzing the results of my review, I can't say I'm impressed. Paperell does offer a wider range of services that students can benefit from, but the cons that come with their service make it hard to recommend them. In this review, I go into detail about each of the pros and cons I experienced, so for a more detailed review, read until the end.
Pros
Appealing website
Professional and polite customer support
An abundance of offered services
Cons
No fixed pricing system
Varying writing quality
Complicated ordering process
No loyalty program
Top 3 services
VIP Support
From $14.99 per page
PhD Writers on staff: 80%
From $12.99 per page
Service Overview
Paperell has been in business for over five years, according to information present on their website. For a while now, I have been getting some requests to review Paperell's services, so I decided to give it a try in order to answer the question "Is Paperell reliable?".
The Paperell home page has a purple-colored theme. I was able to navigate to the needed information with ease, but I noticed that a lot of content was being duplicated across several pages. For instance, a "Terms of Use" page has very similar content as the home page, which can be confusing.
Paperell's website is fast, and I didn't experience any downtime when using the website. When it comes to making orders, you simply need to click a "Order Now" button, but sadly there aren't any prices on display — we go into more detail about this later in this detailed Paperell review.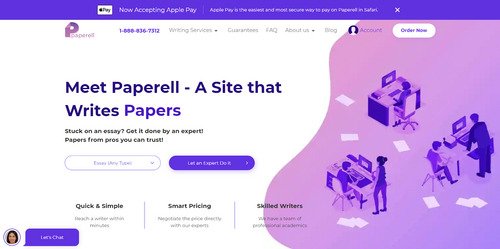 Types of Services Offered
Paperell offers a wide range of services to their customers, including, allegedly, the best coursework writing service. The offered services mainly cover academia, but also some other content writing. When it comes to their academic writing, students can make orders for the following services: essay, research paper, assignment, case study, term paper, thesis, dissertation, and lab report writing, as well as coursework help.
Unfortunately, there are no free samples available on the website. If you're looking to hire a particular writer, you can request a random sample from them. However, in my experience, the samples button didn't work. I don't know if this is a bug, but it clearly wasn't something this provider overlooked.
Guarantees
Paperell offers its customers three main guarantees: 100% confidentiality of user data, plagiarism-free writing, free revisions, and money-back guarantee. According to Paperell policy, if you get a plagiarized article, you will need to provide proof to get a refund. Regarding their money-back guarantee, how much you receive as a refund will depend on an issue you had with your order. One case in particular that students might want to consider is that you don't get a refund for any extra payment made to a writer, even if your order isn't that great and you request a refund.
Paperell Review of Customer Support
You can reach Paperell customer support either by call or by email. Both methods work fine, but emails can take quite some time before you get a reply. In my experience, calling works best, but there's a wait time to consider. Each time I called them, they always responded professionally, as you would expect from the best paper editing services. Ass in all, I found their customer support to be adequate.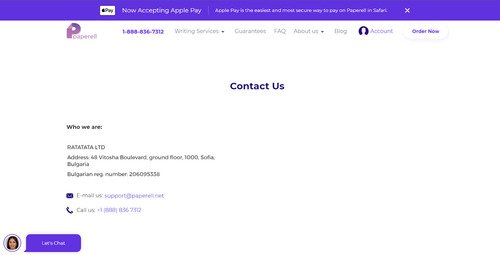 My Experience and Paper Quality
In order to test Paperell's service quality, I requested a research paper on the "Evolution of the combustion engine." This paper would require some research, so it would be an excellent way to see how well they are able to perform. I got the paper on time. Along with it, I got my answer to the question "Is Paperell good?". Unfortunately, the result wasn't great, and here's why.
While the paper was original, it was plagued with punctuation problems, but I wasn't too surprised. This was because when it comes to choosing a writer, you have the option to pick between a native speaker and an ESL (English as a second language) speaker, and I went with the cheaper ESL speaker. Another challenge was that the writer assigned to my task lived in a different time zone, which meant that communication was very limited.
If you're determined to use Paperell.net services, I would recommend that you go with a native speaker for your project. While this would cost a lot more money, you're more likely to get better results. I think it's a shame that Paperell would hire writers that aren't proficient in English to an acceptable level. The quality of writing I received wasn't good enough for a student to submit, so I was very disappointed.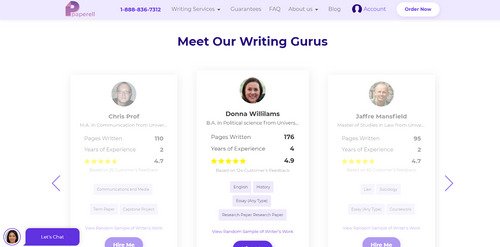 Ordering Process
The process of making an order is quite smooth like most Paperell reviews mentioned, but there are a number of steps you need to make. You need to create a Paperell account by either signing in with your Google account or entering your email address. For your order to be successful, you need to provide all the basic information such as the type of service you want, the deadline, the number of pages, and detailed instructions. You have the option to choose between a native or ESL writer, or let the system decide for you. It's important to note that native writers cost more than their ESL counterparts. After reviewing your order, you can make your order and wait for the results.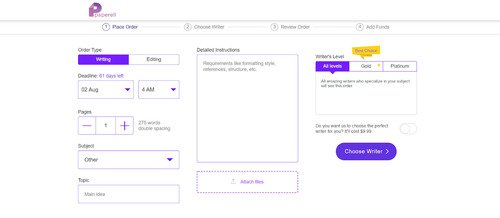 Pricing and Discounts
After going through the Paperell website multiple times, I wasn't able to find any information on pricing. Paperell doesn't have any section on pricing, and the reason for this is that how much you pay will largely depend on the writer that's assigned to your task. Every writer on their platform has a profile that states their qualifications as well as English expertise and the country they reside in. You can also see Paperell reviews from other customers. For instance, a writer from England with a background in Engineering would be more likely to charge higher than a typical ESL writer.
The dangers of not having fixed prices for services means that some students might end up going for the lowest-priced writer. And as a result, the outcome of their order may not be satisfactory. Even if you were to go for the higher-priced writers, it's important to note that there are no coupons or discounts available, which few students can afford.
Writer's Proficiency
I found the writing quality of my order to be rather bad, so Paperell's statement "Get it done by an expert!" was laughable to me. If you have been asking yourself what is the best custom essay writing service, it's definitely not Paperell, and there are Paperell reviews that back this assessment. There were multiple grammar errors I had to edit myself. When making an order, you can choose the particular writer you would like to work on your order. Every writer's profile is present on the Paperell website, so you get to see their qualifications, customer feedback, ratings, and other useful information. However, there were no links that could be used to verify any of the claims they make.
Paperell Reviews of Revisions
Paperell's revision policy states that you're entitled to free revisions for requests made within 7 days after approving your order. However, whether you get a revision would depend on the Quality Assurance Department's assessment of your paper. If they deem that your paper was in line with the specifications you originally listed, you won't get a revision — this was my case in this review.
When I reached out to customer support regarding my paper, I was told that my request would be handled. However, I later got an email that stated that the Quality Assurance Department had rejected my revision request on the grounds that they had delivered according to my specifications. When I read other paperell.net reviews online, I found out that my case wasn't isolated. This is why it's good to find the best dissertation writing service review before you choose a writing company to work on your project.
Loyalty Program, Offers, and Extra Services
Paperell has no loyalty program that I could find on their website. Also, there are no discounts you can get as a first-time or regular customer. This is highly unfortunate, especially when you consider that their native writers can cost a lot of money to hire. What makes things worse is that there are no extra services or helpful tools a student can use.
Online Reputation
It's one thing to have a positive or negative experience with an online writing service. After all, mistakes can happen. However, when many people are sharing the same stories, certain conclusions can be drawn on the quality an average customer should expect. Trustpilot and Sitejabber are two of the most popular sites where you can find customer reviews, and in this section, I share the reviews of Paperell I saw.
SiteJabber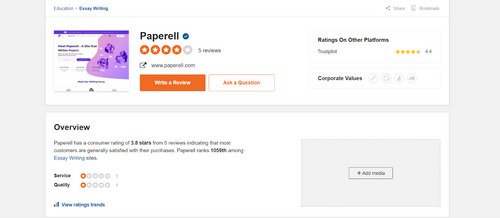 Sitejabber has only 5 reviews at the moment, with an average rating of 3.8. Going through the reviews, I noticed that many of the positive reviews seemed vague. One reviewer, in particular, mentioned that their grades started going up after using Paperell's services, but didn't provide any information regarding what services they used. The single negative Paperell.net review mentioned how poor their final paper was, and why they would never be returning to the service again.
TrustPilot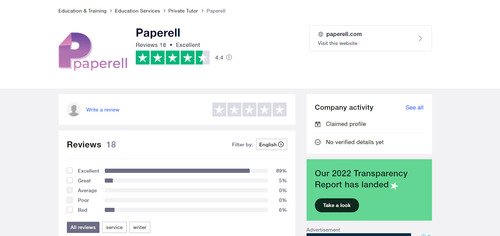 Trustpilot has a total of 18 reviews, and an average rating of 4.4. Just like Sitejabber, the positive reviews were vague at best or seemed very exaggerated. The single negative Review of Paperell got no feedback at all from the Paperell team, which is also a red flag.
Social media
Paperell does have Twitter and a Facebook page, but it hasn't been active in a long time. The last post was made in 2018. It would also seem that Paperell does have a blog they manage, but just like their Facebook page, it hasn't been active in a while.
Show Me Your Top Services
Faq
Is Paperell legit?
Yes, Paperell is a legit company that is located in Bulgaria. They have worked with students from different parts of the world that have left Paperell reviews.
Is Paperell safe?
Yes, Paperell is safe as its website is protected with standard encryption technology. The payment methods they support are also secure and well respected.
Is Paperell reliable?
It's hard to say if Paperell is reliable. My experience wasn't that great, but there were a few reviews that claimed they had a very good experience.
Is Paperell a scam?
No, Paperell legit isn't a scam, but their user policy isn't the best. They offer refunds, but there are many cases where customers have complained that their requests for a refund were dismissed.