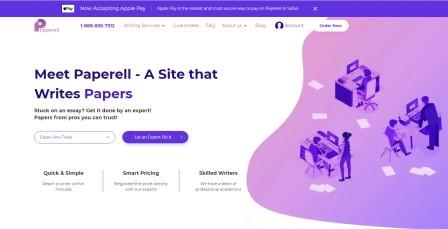 Paperell Review
We love making a review and giving a rating to all essay writing services we come across, and Paperell.com was not an exception. We came across this service while browsing the Internet and decided it's worth looking into. Upon discovering the pros & cons the platform comes with, it was possible to figure out if the services are worth the prices showcased and whether the site is reliable enough to request a paper from. Do you want to know if Paperell is safe or whether it's a fraud? All you have to do is read this Paperell.com review and make up your mind.
Review Criteria
Before we begin, we'd like you to know how we usually determine what is the best custom essay writing service. In general, some features are being considered, and we analyze them in-depth. With that being said, we take a look at:
BBB affiliation
Testimonials given by customers on Reddit, TrustPilot, or any other platform
The grammar they use on the website as well as in their essays
How efficient is the customer service
How much their services cost
If they have good refund or non-plagiarism policies
Whether they offer discounts for their clients
How capable they are of respecting the deadline
Methods of payment
Factor 1. Types of Writing Services Offered
When we were having Paperell.com reviewed, we noticed that they have a large variety of services. They focus on academic services for the most part, but according to their list of offers, they can also deal with creating a business plan or coming up with a speech.
In terms of academic services, you can order an essay of any type, and request a case study, dissertation, book or movie review, lab report, and many others. They're not limited in this regard.
Factor 2. Reliability
We can't say that this service is a scam, but when it comes to how reliable it is, we can honestly say we weren't impressed. Although you can communicate with the writer directly, which is great, their support system is not the best. Even when you need it the most, there's no guarantee that the customer support will take care of it. Sure, you have multiple ways to contact them, but they won't always do what needs to be done. Instead, they will have you sort it out with the writer – something you would do if the writer would be able to do something or was willing to.
The writers may also end up being from a different time zone. Communication may be possible, but if you live in different time zones, then it will be very difficult to stay in touch and talk about the issues with the essay. For instance, you could request something and only have it done the next day. Then, if you request some changes to the outline, the writer may already be working with the previous one before he/she sees your request. Therefore, problems exist.
Factor 3. Level of Quality
We weren't surprised to see complaints about Paperell. Some people even warned us about the reputation this website has among former students who requested papers from them. The writers can deliver the paper on time, and this is a great thing. But it would be even better if they knew how to write high-quality essays.
They sadly cannot meet the expectations of the customer and end up doing a poor job and delivering the papers like that to the students. If the paper doesn't meet the academic level expectations, the student risks getting a low grade if he/she submits it like that.
Even the grammar was terrible. It's laughable when you see that the Paperell.com homepage says, "All of our employees are professional experts with proven expertise in their fields of study." If they were experts, they would know how to write and how to use proper grammar in their work.
Factor 4. Pricing and Payment Options
While searching for the prices, we realized that no pricing chart has been added to the platform. This is because the writer is the one charging a certain amount depending on their qualifications, experience, and how good their work is. Not to mention, some writers come from English speaking countries, while others don't. This influences the price too. Those who are native English speakers will usually charge more.
Not having a set price for the services is a red flag. It could make students opt for the lowest priced writer and end up getting a poorly researched and written paper in return. With that in mind, it's not a surprise that so many customer reviews were bad.
Sadly, since the writer is also the one choosing his own rates, there are no coupon codes available. You cannot use a promo code to get a discount – the price you get is what you have to pay.
Additional Information
A money-back guarantee is detailed on the platform. Sure, this is a good thing for the customers and could make them feel safer, but in reality, a lot of people complained that they didn't receive their money back, even if their writer did a very bad job. It's not a good alternative in this regard, so you should be very careful.
Some writers are featured on the main page, and you have the option to hire them. Their alleged studies are featured too, and the same goes for their experience and reviews. There's no way to check how legit they are, though.
Conclusion
After reading so many Paperell reviews and analyzing the website, services, and guarantees, we can say we don't like this platform, and it didn't meet our expectations. You cannot see the prices beforehand as they depend on the writer, and no coupon code can be used to get discounts. The paper quality leaves much to desire, and the same can be said about grammar. You can also never know if you're going to get a refund. There are a few pros with the platform, but there are also many cons that cannot be ignored. This is why you have to be very careful.