Our verdict: Not Recommended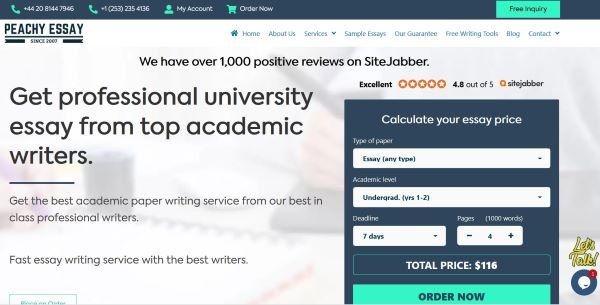 Top 3 services
VIP Support
From $14.99 per page
PhD Writers on staff: 80%
From $12.99 per page
Informative PeachyEssay Review for Students
Recommending or rejecting a company is a huge responsibility, so we approached PeachyEssay review with the attention and care this process deserves. This company started working in 2007, and it managed to undergo several serious changes during this time. Its website looks modern, but its design is overwhelming. There is too much info jumping at you from all sides. Content has mistakes that betray the carelessness of managers. For example, a sentence, "Our dissertation services team offers tailored dissertation help absolutely plagiarism free" clearly needs proofreading. But we were eager to see how writers would do their job and what other people say about this company. See the results of our research before deciding on anything.
How Peachy Essay Review Started
To find the top essay writing service that we could recommend to students, we performed synchronized research, both theoretical and practical. We studied PeachyEssay's background, looked at what people said about it, analyzed its website, list of services, and helpful tools. Then we spoke with customer support team and hired a writer. Practical side is vital because it helps us see how good experts who work for this writing agency are and what promises it delivers in reality. Results from our study formed ground for our opinion and rating. You'll see them at the end of this review.
Part 1: How Many Writing Services Are on Offer Here?
Our review of PeachyEssay starts with overview of services it provides. There are a lot of them, but the way this website displays such info is messy. It also seems chaotic and redundant. As an example, it has a category of "order an essay by region." If you see your country in this list, click on it, and it'll lead you to a page full of marketing drivel. There is nothing tailored specifically to the UK, US, or New Zealand, just an attempt to create an impression of a deep custom approach. But services themselves are diverse. Here are common groups:
Essay writing. PeachyEssay supports all possible subjects and paper types. You could order research, term paper, analytical or descriptive essay, technical review, or a piece of creative writing. There are no limits to it, which is great because more students will be able to find the help they want.
Projects. Another thing PeachyEssay does is projects with different levels of difficulty. Dissertation, Capstone, PowerPoint presentation — name it and they'll find an expert who'll fulfill your request.
Applications. Numerous people are interested in college application essay writing service because they are worried about their chances. No one wants to risk and submit a paper that could decide their education when they aren't good writers. Hiring professionals might be a wise choice, and you could find such people at PeachyEssay.
Online tasks. Dashboard assignments are a popular request, and this writing company handles it quickly. Its employees guarantee that they'll use VPN; if their answers aren't correct, you'll be eligible for revision.
Part 2: Reading Other Peachy Essay Reviews
Learning what clients who already used a company say in their dissertation writing services reviews is essential for anyone interested in quality. One individual example isn't universal. People are going to have different opinions on the same service: what's useful is figuring out what the majority says. Reviews on this company are present in two places, its own website, and SiteJabber. We checked both. SiteJabber has more than 1k comments from customers, and most of them are surprisingly good. Unfortunately, they don't ring true. They all follow a similar format: a reviewer shares how they learned about the company, explains why they had to place an order, and then sings praises to PeachyEssay. Real people don't do that, at least not in such quantities. But what amazed us, even more, was negative reviews. You'll be surprised, but their vast majority is actually positive! A supposed client gives it 2 stars yet marvels at how great everything was. What does it mean? That the company generated these reviews personally for advertising. Knowing that some comments need to be negative for balance, it added them, but it made sure to list only benefits of its services anyway.
PeachyEssay reviews posted on their website are fake as well. It's immediately obvious: you can see that people who posted them named themselves in an identical manner. You have Myra H., Mckinley K., and so on. Students never share personal data like this publicly when it comes to buying a paper. They are paranoid and want to avoid discovery: the idea that they would be willing to leave a review under their real first or last name is absurd. We were sad to see this. No respectable company resorts to such practices.
Part 3: Quality Essay Writing
Since reading PeachyEssay.com reviews didn't bring us any clarity about the real service quality, we looked forward to getting our order. We asked for 5 pages of History paper in APA format. Before that, we read samples available on a website. These papers are free, and while some of them are good, others not so much. Even well-written samples have major academic mistakes, like the usage of first-person pronouns and lack of correct thesis.
We got our paper on time, which we liked. Sense of responsibility is always good. But when we started reading this essay, our joy disappeared. It looked like a child wrote it: simple language with many errors, complete ignorance regarding academic demands, and sources that no college would consider credible. We were upset, and our opinion didn't improve even after revision. Mistakes dropped in number but the essay didn't get better.
Part 4: Customer Service Analysis
Reviews of Peachy Essay, fake as they were, are rarely discussed operators. These guys respond very quickly, but there is a problem: they are too pushy. They don't listen to your doubts and try to force you to buy an essay.
Part 5: Essay Prices
Are you wondering how much PeachyEssay charges? We've got bad news. It's a lot. One page of high school level with a 14-day deadline would cost you at least $21. In a contrast, others require around $13. Considering the lack of good quality, such prices shocked us.
Part 6: Tools for Students
An advantage of PeachyEssay.com is that it has samples, free writing tools, plagiarism checker, and blog with educative articles. Students will find this site useful even without ordering anything. We counted it as big strength.
Calling Things Their Name
Let's sum our findings up. If you want a quick read or aren't interested in re-reading our review, try this list. It has key info.
Pros
Academically useful website. Students could find many helpful materials on PeachyEssay site. This will make their writing easier.
Timely essay arrival. Writers submit papers on time.
Many services. There are multiple options to choose from.
Cons
Fake reviews. Most reviews of PeachyEssay are fake.
Bad quality. Papers don't meet any quality threshold.
High prices. Prices are 1.5 times higher than normal.
Flawed website. We expected a more interesting website design for a company with such a name.
Final Touches and Advice
Our experience with PeachyEssay as clients wasn't positive. It has impatient operators, unprofessional writers, and extremely high prices. Fake reviews it made about itself just complete this negative picture. We give it 3.0 points out of 10 for more positive aspects like free academic materials. Use our PeachyEssay.com review for deciding whether you want to hire this company. If you end up buying a paper from it, tell us how it went! We always look to modify our opinions.