Our verdict: Not Recommended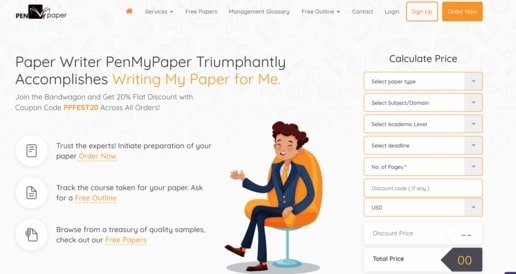 Top 3 services
VIP Support
From $14.99 per page
PhD Writers on staff: 80%
From $12.99 per page
Objective Pen My Paper Review: Analysis and Evaluation
The following Pen My Paper review was inspired by repeated requests of our readers who found this company and wanted to know more about it. Here's your chance to do the same! PenMyPaper was established back in 2008, but surprisingly, it isn't particularly known within an academic writing market. There is little info on it online, and it has a pretty small number of employees. In recent months, its influence started to increase, so after you drew our attention to it, our reviewers decided to start our own assessment. They're going to examine every aspect of this agency's operations, assigning points for each stage it passes. Overall, there will be 10 points to gain, and their sum will reveal whether PenMyPaper can be trusted.
Evaluation Criteria For Our PenMyPaper Review
Before sharing our impressions, we should explain what criteria are used. There are many writing agencies, but they all operate on a similar basis. We start by checking the basics and then move onto deeper research.
First, we look at what kind of writing services are offered, how diverse they are, and which industries they could be ordered from.
Then comes the reputation step. We start going through different PenMyPaper.com reviews to figure out what other people say about it and how effectively it handles both positive and negative feedback.
Quality is the third stage that we check. We place sample order and analyze the results we get.
After that, we assess the pricing system and determine if prices are justified.
As a final step, we check extra features that the firm offers for its customers.
First Step: What Writing Services Could You Order?
Pen My Paper's site isn't as informative as we expected to see, considering how long it's been operating. Even after a detailed search, we only found basic information that every other site offers. This company provides writing services in various categories, so you could ask for a narrative essay, argumentative, reflective essay topic, review papers, research proposal, dissertation, etc. It has experts specializing in different spheres, including marketing, economics, business, finance, statistics, etc. It seems like you could also ask for editing, but that's it. We have no idea if there are such common options as re-writing or proofreading here.
Samples are another relevant part of PenMyPaper.com review. Good academic sites usually display free essays that their visitors could look through for getting an idea of how quality essays should look like. PenMyPaper has them, too. You can access free samples in different categories and read them in their entirety. The only problem is, the quality of many of these samples is extremely low. We did random testing. The examples we checked were full of grammar errors, incorrect structure, and content that makes little sense. No one could benefit from these samples, so if anything, their presence is a hindrance.
We're giving 2 points for this assessment category. Due to inconsistency, flawed samples, and lack of diversity of services, we give PenMyPaper 0.5 points. It should work on improving its site's content.
Second Step: What Other Pen My Paper Reviews Say?
We went through five sites, including that of Pen My Paper, to see what other customers say. Most reviews are positively glowing, but the question is, are they real? Our team is trained enough to notice discrepancies and signs of marketing. Unfortunately, that was the case with Pen My Paper. We admit that it was less obvious than with most other companies — for instance, there are some negative reviews present on this firm's website, and many good comments don't have marketing keywords in them. But ultimately, they still sound fake. Only some personal details are given, and they all follow the same exact model. There are no in-depth mentions of the task and results, nothing real customers usually say. The firm also doesn't reply to any reviews, which isn't a professional approach.
PenMyPaper could gain 1 point here. But since reviews aren't trustworthy, we cannot reward it. Thus, its score for this section is 0.
Third Step: Essay Quality
This is the most important aspect of our review of Pen My Paper. We're going to break evaluation into several stages to make it easier for you to see what you could expect. Obviously, our experience isn't universal, but since it was random, it's reflective of treatment you could receive as well.
Our order. We chose business category and research paper into Coca-Cola company for 6 pages. The deadline was set at 14 days, which is an average term for a work with his basic concept and of this volume. First we spoke with operators. They were very enthusiastic and helpful, assuring us that they could find the best writer ASAP. We discussed some details and proceeded to filing in an order form. Soon, we were informed that an expert has accepted our order and begun their work on it.
Deadline. Our deadline was respected. This pleased us a lot because many firms neglect this crucial performance aspect. As soon as it ran out, we were able to download our paper.
Assessment. The word count met our requirements and APA formatting was bearable, but that's where good things end. Content was unsatisfactory and barely answered questions from our instructions. Researching an old company like Coca Cola is a piece of cake, but our writer decided on taking bits from different sites and mashing them together. About 40% of paper was plagiarized; unique ideas were so shallow and generic that only a preschooler could submit them. There were also lots of grammar issues, making us think that our writer wasn't a native speaker. Clearly, we could never accept such a paper.
Revision. Most PenMyPaper reviews don't mention revisions, so we strived to be extra thorough here. The experience wasn't very positive. We kept arguing with managers since they refused to admit that we have the right to be upset. They relented only after we shared links pointing out what kind of content is expected from college level papers.
Conclusion. Revised paper was done by another writer, this much was clear. It was better and more sophisticated. Our overall impression was mixed.
Since quality is essential, this section warrants 3 points. Based on the essay we got, PenMyPaper needs many improvements in this area to make sure it produces quality work from the first go. So, we give it 2 points.
Fourth Step: Prices
Some reviews of PenMyPaper indicated that the pricing in this company is very low. We didn't find it to be the case. First, it's important to mention that no prices are mentioned on the website itself. It's a huge red flag because respectable companies have nothing to hide. Every client should be able to see how much they'll be paying from the start because everyone's budget differs. For finding out, you must share details, attach files, and send price quote requests to PenMyPaper.com. Then you should wait before they give it to you, and only afterward you can make your decision. Such practice is troublesome.
Our price was $30 for one page. It's higher than market average, and as you already know, results weren't worth it. On the positive side, payment system was convenient. Pen My Paper accepts credit & debit cards as well as PayPal.
Pricing section deserves 2 points. We give PenMyPaper.com 0.5. It should openly display its prices and explain what the minimum is.
Fifth Step: Extras
The final evaluation concerns extra attributes the site can boast of. We are going to list them one by one. They are diverse but equally important for giving you great client experience.
Site. Like we indicated before, Pen My Paper's website is a bit of a mess. It doesn't explain what specific services it offers, choosing to mix them up with industries and types of papers instead. This hinders clients from understanding what they can count on, which is definitely a drawback that could result in time loss and frustration.
Guarantees. Revisions are refunds are present, but they follow some rules. You could ask for revision after 180 days of paper delivery. Refunds have shorter terms — just 50 days. After that, you won't win anything.
Bonuses & Tools. You could get 20% discount if you use their voucher code. PenMyPaper.com offers free outline for a paper of more than 5 pages, but despite their promise of it coming just in 3 hours, it's not always the case. There is a blog with articles, but they have so many errors and awkward constructions that it just further damages site's reputation.
Chat. It works round the clock. Operators might feel heavy-handed, but at least you could count on getting help 24/7.
PenMyPaper has many extra features. At the same time, only some of them are good. So, out of 2 points, we give it 1.
Hire Only the Best Writers
After our review, PenMyPaper ended up with 4 points out of 10. Such a result isn't good, so you might need to think twice before hiring this agency. Its prices don't correspond to quality. Revisions might be rejected unless you know how to use evidence for protecting yourself. So, our review team suggests looking at another essay writing service reviews and choose the best options you could actually trust!