Our verdict: Not Recommended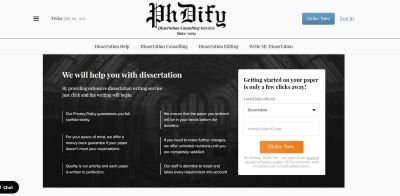 Top 3 services
VIP Support
From $14.99 per page
PhD Writers on staff: 80%
From $12.99 per page
PhDify Review
Because PhDify.com has been in business for 13 years, there is not lack of comments and feedback all over the web. Frankly, we decided to conduct this review, because we had a hard time believing that a writing service could be this bad. Here goes.
Review Criteria​
We used the same criteria for evaluation that we do for all of our reviews – information/content on the website, posted on-site testimonials, samples and blog posts when available, information on writers when available, off-site customer reviews, pricing, policies, guarantees, and our assessment of an order we placed and received.
Factor 1: Types of Writing Services Offered​
The entire PhDify website speaks to its focus on thesis and dissertations products and services for graduate students. Customers can order research, help with specific sections or chapters, editing, and proofreading.
There is a link on the home page titled "Write My Essay," and we discovered that the company also offers other types of academic writing, primarily essays and papers.
Factor 2: Trust and Reliability​
Our lack of trust began as we read through the PhDify.com website content. For a company that claims to be serving students in English-speaking institutions, with native English-speaking Ph.D. researchers and writers, it has very poorly written content on its site. We have seen enough of ESL writing to know that this content is reflective of just that.
For a company to promise top quality thesis and the best dissertation writing services in English, the best thesis editing services,and to have such a poorly written website is cause for big concern.
Factor 3: Level of Quality​
PhDify is an utter disappointment. Here is what we found as we evaluated the quality of products and services:
In addition to poorly written site content, the blog posts are poorly written as well. Incorrect word usage and sentence structure are rampant.
Customer reviews are overwhelmingly negative. They either do not get what they order or it is so poorly written that it cannot be used. Further, while the company offers revisions, those who took advantage of that offer were not any more satisfied.
Our order was a 10-page dissertation proposal. We provided all of the details of each section to be included. What we received for our money was a research paper on the dissertation topic, and a badly written one at that. We were appalled.
Factor 4: Pricing and Payment​
Customers must complete the order form and then receive a price quote. There are no set PhDify prices, and this is understandable, considering that thesis and dissertation customers have a wide range of needs – those needs must be evaluated individually.
Our dissertation proposal was priced at $186.00, with a 7-day deadline.
We contacted customer support about discounts and were told that we could have a 7% discount. We were given a promo code to put in the order form field. We were also told that discounts were only given if customers asked for them.
Payment methods are secure – customers can pay with their credit cards via PayPal processing.
Additional Important Considerations​
We found no special benefits. PhDify guarantees non-plagiarized products and free revisions.
Concluding Comments​
We are not going to say that PhDify is a fraud or scam. Customers do get their products, even though they are awful. But as we look at pros & cons, there are simply no pros to report. Graduate students should run from this company and use only the best essay helper services. We have assigned a rating of "poor."