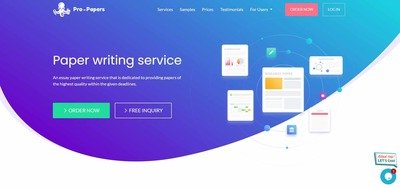 Pro-Papers Review
Pro-Papers.com is an online writing service provider. We tried to do a bit of background research on Pro-Papers. However, the company doesn't give much information on its history or background. We can say that it appears that the creators of the website are not native English speakers. This is often an indication that a writing service is headquartered in a non-English-speaking country. This in itself is not an issue. There are many writing services that serve English-speaking customers from afar and do a fine job of producing high-quality products and services. Still, we have received multiple requests for a review of Pro-Papers from visitors and users of our review site – some of them not especially happy.
Review Criteria
Our criteria for every writing company is the same. We expect them to provide quality writing and customer service. We also believe their websites should be easy to navigate. We prioritize companies that charge prices that offer an excellent value. Finally, we will only endorse companies that we believe are reliable, trusted, principled, and not a fraud or scam. To determine if Pro-Papers.com meets these criteria, we took the following steps.
We poured through the entire Pro-Papers website, looking at all of its contents, including samples and blog articles.
We reviewed the breadth of the products and services the agency offers
We analyzed customer reviews and on-site testimonials.
We searched the BBB for any complaints.
We solicited comments and feedback from Pro-Papers customers
We engaged the company's customer support and asked detailed questions
We looked for information about Pro-Papers writers
As always, our goal is to find those writing services that students and others can rely on to give them top quality, on-time delivery, and outstanding customer service.
Keep reading for all of the pros & cons as well as our final rating.
Factor 1: Types of Writing Services Offered
As far as we can determine, Pro-Papers offers mostly academic writing services, admissions writing, resumes, and very limited business writing. However, it was difficult to make a completely accurate determination on this. The way that their services are listed and categorized is a bit haphazard and confusing. We can say that in terms of academic writing, they cover all of the usual bases, including essays, term papers, admissions essays, research papers, homework help, lab reports, case studies, reviews and critiques, presentations, projects, and even major graduate level works, like theses and dissertations. Students from high school forward can use Pro-Papers.com for their academic writing needs.
Factor 2: Trust and Reliability
Every customer who provided feedback to us stated that they did receive the product they ordered and that it was initially delivered by their deadline requirements. This is good news.
There were other issues raised, unfortunately. These included trying to get revisions done quickly in order to get their pieces submitted on time, and some lack of responsiveness from the customer support department.
Still, we want to emphasize that Pro-papers is a fully legal agency that does follow its own policies and procedures.
Factor 3: Level of Quality
Unfortunately, quality in terms of writing and customer service was really mixed, with a lot of customer registering complaints. Here is what we can say about our investigation of quality:
Customer concerns about quality of writing included grammatical and sentence structure errors, wrong word usage, and outdated and simple resources.
A review of a few samples and blog articles reflected some of these same issues. The errors reflect ESL writers rather than native English-speaking natives.
Relative to customer service, we did contact this department directly and asked very detailed questions about products and service. Agents were friendly and polite but did not seem to be really well-informed. In one instance, we were told that a Ph.D. dissertation of 200 pages, complete with original research, could be completed and delivered within days. Obviously, this is impossible.
Factor 4: Pricing and Payment
One customer reported that he paid $10/page for an 8-page college level paper, with a 14-day deadline. This is a bit below average and certainly attractive. But, in the words of an old saying, "You get what you pay for." When prices are low, the quality is poor. We recommend looking for cheap research paper writers at other companies.
In terms of discounts, there is a 15% price break for new customers. Beyond that, we did not find any other special pricing.
In terms of payment, customers can use any major bank card or PayPal. And Pro-Papers uses a third-party payment processor – one that is secured through SSL-certification. And so, you can feel totally safe giving your financial information to pay for your order.
Factor 5: Additional Important Considerations
One positive note that we did find is that Pro-Papers offers lots of extra content. There are writing samples, instructional videos, and a blog. We feel obligated to acknowledge that they have gone above and beyond many other writing services when it comes to offering informative and useful content. In reviewing those samples and blogs, though, we did find many of the same compositional errors that customers found in their products.
Concluding Comments
Regretfully, we must categorize this service as less than professional among other essay writing companies. The factors of writing quality and customer service are simply too poor to earn our endorsement. In addition to this, website navigation was difficult and a bit confusing. In spite of the inexpensive prices, we must recommend that interested students look elsewhere for help. They can begin that process by continuing to read our reviews. We have endorsed several quality service providers. In the case of Pro-Papers, we are assigning a rating of only 3 on our 1-5-point scale. Students should proceed with caution.