Our verdict: Not Recommended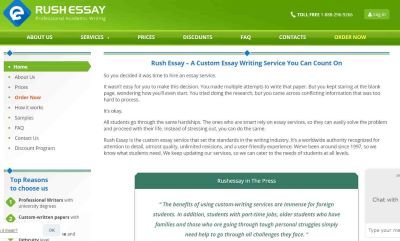 Top 3 services
VIP Support
From $14.99 per page
PhD Writers on staff: 80%
From $12.99 per page
RushEssay Review
The RushEssay.com website states that the company was formed in 1997 and that, since that time, it has provided students with academic writing of high quality. It is the purpose of this document to investigate the quality of products and services received by customers, so that future customers can make wise decisions about which writing services will benefit them most. In order to conduct this investigation, we used several sources – the website content and inquiries of the customer support department, Rush Essay testimonials, a review of writing samples, customer feedback found other than on the site, and our own experience with the ordering and delivery process. The categories of review and evaluation are listed separately below with a brief explanation of what we found.
Products and Services
Rush Essay focuses solely on academic writing and other services to students. It is impossible to know whether they serve high school students, for that information is not given on the site. We assume they do serve undergraduate and graduate level students because they do offer research and writing for theses and dissertations. All typical academic genres are provided, as well as admissions essays and personal statements.
There is a customer support department and it does operate around the clock, as we called at several different times and were able to get an answer. We posed several questions about the dissertation services which the individual was unable to fully answer. It appears that they follow a pretty standard script.
Trustworthiness
We define trustworthiness as the commitment of a company to follow through on its promises related to both products and services. As well, it is important that customers feel safe as the use the best essay service. RushEssay customer reviews are mixed with regard to this aspect of the company. There have been some complaints about late delivery and difficulty getting writers to respond when messaged.
The company states that customer confidentiality is always protected, and there is a secure method of payment through a third part processor. As well the Rush Essay BBB rating is an "A" which indicates that there have been no major complaints or law suits against the company.
In this category, we are able to say that Rush Essay is not a scam.
Writing Quality and Writer Expertise
Writing samples provided on the site itself include essays and papers, and we reviewed one essay and one research paper as a part of our assessment. While both were generally well-organized, we did find structural errors and some lack of logical flow. As well, there were some typical grammatical errors indicating perhaps a non-native English writer. The paper we ordered and received reflected these same issues, though our instructions were followed in terms of pages and numbers of resources. Our Rush Essay review related to quality is "Fair."
Another concern is this: In completing our order form, there was no field to designate the academic level of the customer. Because there can be a significant difference in the expectations of undergraduate and graduate writing and resource use, we find this disturbing.
The company states that all of its writers have Master's or Ph.D. degrees and that they are assigned to orders based upon their degree areas. We have no way to gauge writer expertise unless we would be willing to pay an extra fee to view a sample of an assigned writer's work.
Pricing and Discounts
RushEssay.com prices are a bit high for industry average, starting at $22.95/page with a 10-day deadline. Prices then move upward to $54.95/page with shorter deadlines and for premium service. For this reason, we assume that the company does not serve high school students. There is a published Rush Essay promo code for new customers to use for a 15% discount. Other RushEssay discounts are provided but vague. When customer have reached a certain level, they are automatically given progressive discounts of 5, 7, 13, & 17%. We did not find any mention of RushEssay.com coupon codes for special pricing. Extra fees are charged for proofreading an order - $47.90 – and that is pricey.
Additional Features
We found the usual additional features – free title and bibliography as well as revisions.
Conclusion
In terms of RushEssay.com pros & cons, we have to say that the company does produce writing products and does deliver them. However, without the ability to indicate academic level, and with some deadline, structural and grammatical errors, our Rush Essay rating is only "Fair."