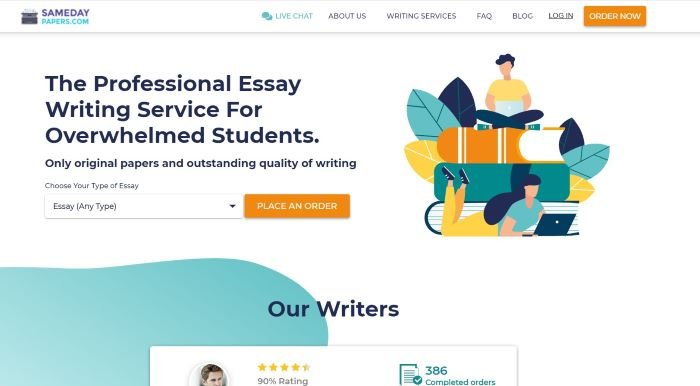 SameDayPapers Review
SameDayPapers.com is an academic writing service. We have recently heard from several readers asking us what we have to say about Same Day Papers. Of course, we're always happy to oblige any request to provide our rating of a writing website. If you are considering using this company's services, keep reading. We'll give you all the pros & cons.
Review Criteria
We evaluate several criteria when we review a writing service. In this case, started by visiting SameDayPapers.com. We reviewed the website content, took notes on our experiences, and submitted an order. Once that was finished we visited other consumer sites and read customer reviews on SameDayPapers. We also searched to see if there were any serious BBB or other complaints. We found none, but noted that the company is not BBB accredited. Here are are standards for giving websites a good review.
A Helpful And Easy to Use Website

A Variety of Services

Quality Writing

On Time Delivery

Pricing That is Competitive

Helpful Customer Service
Factor 1: Types of Services Offered
Same Day Papers is focuses solely on academic writing services. These include essays, research papers, capstone projects, thesis and dissertation work, articles, critiques, book and movie reviews, and the other standard academic writing offerings. They also offer editing and proofreading services. We did not see any mention of copywriting services or resume help.
Factor 2: Trust and Reliability
We don't think that SameDayPapers is a fraud or scam. We did receive the essay that we ordered, and didn't notice anything that caused us to believe that we were dealing with any sort of a con or scam. However, as far a reliability goes, it's a bit iffy. Our paper was a full two days late. More than one review also claimed that timely delivery was a problem.
Factor 3: Level of Quality
We might have been able to forgive the delay if we received a paper that was absolutely spectacular. Unfortunately, it was lackluster, contained fewer sources than we had requested, and needed some serious editing. At best, this was grade C work. TopWritersReview experts were hoping for much better considering that the testimonials on the website were all glowing.
Factor 4: Pricing and Payment
This is a bidding website. We input our order and began receiving bids immediately. Most for our four page essay were 78 dollars. We suspect that might be a minimum set by the company. We accepted a bid at this price which came up to a total of 19.50 per page. Those prices are pretty steep for the industry and certainly not a good value for us. There are no discounts available that we could find either in the form of a promo code or coupon codes.
Factor 5: Additional Considerations
There's not much to say here. The company does keep a blog. Unfortunately, the content is poor and appears to be mostly for the purpose of using keywords to improve their search engine rankings. Website navigation is fairly simple, but not wonderful. Much of the content has spelling and grammatical errors that are a bit off putting.
Final Comments
Bidding is an interesting concept, and we think the idea has potential. SameDayPapers is not among our top-rated essay writing services. Without quality or customer service improvements, this company just isn't worth using.