Our verdict: Not Recommended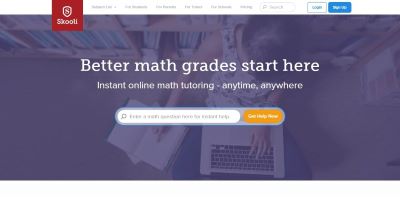 Top 3 services
VIP Support
From $14.99 per page
PhD Writers on staff: 80%
From $12.99 per page
Skooli Review
This is our review of Skooli.com. Skooli is one of many sites we have been asked to investigate that falls into the category of tutoring services. We have decided to review this site for three reasons. First, many students want to know if it is a fraud or scam. Many students had questions as to whether or not the tutors here were reliable, or if the site could be trusted with their personal information. Second, even though this is not a writing service, it does fall under the umbrella of academic assistance. Finally, we want to help students who may confuse this for an online writing service. It is for those reasons why we are evaluating the pros & cons of this service.
Review Criteria
We had to adjust our criteria slightly because this is not a writing service. Here we have evaluated them on good service, pricing, website navigation, and tutor capabilities. The rest of this review is based on our experiences after we read online reviews from students and others about their services. As part of our evaluation process, we explored the Skooli website, engaged with their customer support, and read policy pages. To help students understand how much these services cost, we gathered information on pricing and compared those to other services. We also spoke directly to a source that has secured tutoring assistance from Skooli. Finally, we conducted online research to gauge the company's reputation, and to determine whether there were legal issues.
Factor 1: Types of Writing Services Offered
There are no essay writers service available here. Instead, this is a live tutoring service. Students sign on and are matched with a tutor who can help them with their assignments. All instruction and advice is given online. Students pay a fee per minute for the help they receive. Skooli also partners with both K-12 schools and universities for online learning options. This review does not explore these options.
Students who use tutoring services have several options for communicating with their tutors. They may select from an instant messenger, video chat, or audio. They can also replay tutoring sessions once they have been closed.
Factor 2: Trust and Reliability
This site does appear to offer services in return for the money it receives. If there are no tutors available, students are not charged. We did not see any provable accusations of misleading or scamming. However, we did encounter many reviews from frustrated students who felt as if they didn't get the quality of help they expected. In terms of reliability, there aren't always people available to help. Customer support also seems to be a bit lackluster. We didn't feel as if the agent we contacted was adequately trained.
Factor 3: Level of Quality
The level of quality here is quite mixed. This is based on our experience and the words of other students. There are a limited number of tutors who are qualified to help with the subject matter offered. So you may not get the help you need at any given time. We feel as if this puts Skooli at a disadvantage. When you consider that a high school or college student can access assistance from their school's student center, obtain tutoring for reasonable prices from other students, utilize private tutoring services locally, or even obtain professional assignment assistance online.
Another factor that impacts trust and reliability is the way in which a business handles customer information, and how they implement cookies on their site. To learn more about this, we reviewed Skooli's privacy policy. We found the policy to be quite reasonable. It details how the service collects data, and which information they retain. The policy also shows how that information is used. Skooli's use of student data doesn't appear to be too overreaching. However, they do share student information with outside entities. So, a student should be aware of this and assess their risk accordingly.
Factor 4: Pricing and Payment
Prices at Skooli are very consistent. They charge 82 cents per minute regardless of the academic level of the subject matter. We looked for a promo code. Unfortunately, it does not appear as if discounts are available here. Students should be aware that 82 cents add up very quickly.
Payment is made using standard methods. We believe that the process of making payments is reasonably secure. However, we always recommend that students do their own research and use the payment options that are safest, such as PayPal.
Factor 5: Additional Important Considerations
We found Skooli to be reasonably easy to navigate. The pages load quickly. There is a lot of content there for parents, students, even for schools that want to connect with Skooli for services. We also discovered a blog. Unfortunately, the blog is very light on useful, relevant content. Instead, it's mostly promotional posts about Skooli products and services. Still, the website is one of the more impressive ones that we have encountered.
Concluding Comments
Ultimately we have to give Skooli.com a rating of fair. We found some positive testimonials, but there were also some issues. Service seems to be slow and limited. There is also a lack of coupon codes or other savings programs. The fact that some customer reviews pointed to the tutors not being very well qualified also bothered us. Before you use this service, investigate thoroughly. Learn who your tutor will be, and consider contacting the BBB if you have any issues.