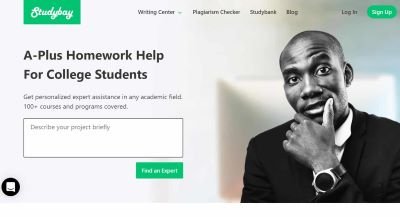 StudyBay.com Review
The following is our review of Studybay.com. We are writing this review upon receiving several requests from students wishing to know more about this writing service. In order to write this review we took several steps these included:
Reading Customer Reviews
Exploring the StudyBay Website
Reviewing Customer Testimonials
Researching the Company Online
Interacting with Customer Service
Secured an Academic Paper
Reading Online Policy Documents
Conducting a Price Comparison
Looking for Discounts
Researching the Company Reputation Online: Specifically for Legal Issues
Reviewing the Final Document for Quality Purposes
Is this writing service reliable? Can they be trusted to provide students with quality academic help? Keep reading to learn more.
Review Criteria
Our final rating is based on several criteria. These are writing quality, customer service, price and payment, reputation, and website quality. The steps mentioned above are taken to ensure that every review is fair and thorough. At the end of this review, we will give a final recommendation based on the pros & cons we discovered while investigating Study Bay.
Factor 1: Types of Writing Services Offered
StudyBay is an academic writing service. They offer essays, term papers, research papers, theses and dissertations, lab reports, scholarship essays, along with a variety of other document types. Orders can also be placed for editing and the best online proofreading services. The site uses a bidding model. This means that various writers access orders, and submit bids. The customer then accepts the bid that is most appealing to them.
Factor 2: Trust and Reliability
Unfortunately, when we reviewed the research paper we found that this writing service cannot be relied upon to provide quality work. Further, according to many reviews, students who have complaints struggle with customer service. It apparently takes quite a bit of arguing and effort in many cases to get a revision. Worse, that revision often fails to bring the paper up to standards.
Factor 3: Level of Quality
Our writer claimed to have a graduate degree from a large university in the United States. Unfortunately, the paper we received gave us a strong indication that this was untrue. The paper was clearly not written by someone who understands the expectations or standards of college-level academic writing. Some important things were missed including citations and formatting. Further, many of the references that were used were blogs and other 'Google' sources that aren't a good fit for academic writing. To the writer's credit, they did stay on topic. Unfortunately, a college-level paper requires significantly more professionalism and experience.
Factor 4: Pricing and Payment
In spite of the fact that Study Bay lists prices per page in several places on their website, there really are no set fees. All writing jobs are submitted to writers who then bid on the work. We believe this causes significant risk to students. Those who choose lower bids are most likely to find themselves working with writers who are not really qualified. As most students are on a budget, this is a significant concern. It is also apparent that not much is done to vet writers for experience or qualifications.
There are no real discounts either. We received a pop-up offer for a gift of 5 dollars. Unfortunately, it was unclear how to redeem it. There was no promo code attached to it. We also found no other coupon codes. It is safe to say that discounts are largely non-existent here.
Standard forms of payment are accepted. We opted to use PayPal and were able to easily process our transaction. We recommend that other customers use PayPal as well. This means they don't have to share debit card numbers or account data.
Factor 5: Additional Important Considerations
We didn't find much of interest here. It's a pretty straight forward website without a lot of extra content or interesting information. We managed to find a video explaining how the process works. There are also some user reviews, but we didn't get much out of those. There is a blog that appears to be more about academic topics than current issues that are relevant to students. It is marginally interesting. Unfortunately, the goal here appears to be to sell papers. Each blog post is accompanied by a button stating, 'buy a similar paper'.
As part of our investigations, we do review policy documents. We focused primarily on the site's privacy policy. We were quite impressed at how thorough it is. It is a lengthy document that goes into great detail about what information is collected, how it is stored, and how it is used. There is even a specific email address for customers to use if they have concerns about data privacy. The right to be forgotten is also mentioned on the page. However, we searched the page for 'GDPR' and did not find a mention of that. Students in the EU should clarify whether the site is compliant before making a purchase.
Concluding Comments
Pros:
Secure payment procedure and protection guarantees

Writers are proficient in many subjects

Plagiarism free and original content
Cons:
Inconvenient website

Absence of any discounts

Only bidding model of placing an order, no fixed prices

Quality issues in completed work are possible.
Unfortunately, Studybay.com ranks at a low average at our list of reliable essay writing service websites. In our case, the writer whose bid we accepted was clearly not qualified, and likely falsified their credentials when creating their writer account. While there are no doubt good writers working for this service, there is simply no screening process or quality control when hiring writers. Nor is there any effective proofreading or editing. We believe this service is not a fraud or scam. Although, they are not BBB accredited. Unfortunately, there are too many issues to make placing an order worth the risk.