Our verdict: Not Recommended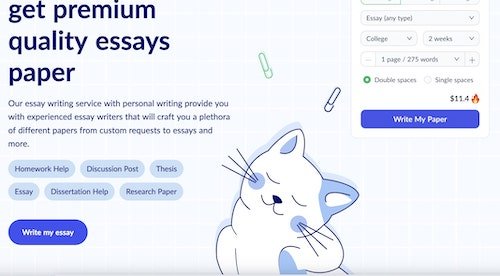 Short overview
Minimal deadline:
3 hours
Guarantees:
Anonymity, Reliable Service, Quick Help, Online Support, Safe Payment Methods
Payment Methods:
Available Services:
Writing, re-writing, editing, research, dissertations, etc.
Extra perks and features:
Samples, word counter, summarizer, plag checker, spell checker, & others
Summary
In the last several months, I got more messages requesting me to write a StudyFy review than I thought I had readers. It was a pleasant surprise for sure, but most of all, I felt curious. What is it about StudyFy that suddenly drew the attention of so many students? I'm not the most spontaneous human, but this time, I decided to postpone my plans and start my work immediately. I ran into a wall of confusion from the beginning as I was trying to understand when StudyFy appeared. There are all sorts of contradictory info about it. On the company's own platforms, I found dates like 2009, 2021, and even 2023. I'm still not certain which of them is correct, but the oldest StudyFy.com reviews date back to 2020. Based on this, I'd say that the firm is young, but it operated for at least several years. It has nice prices, but they pale against the background of bad quality and dubious comments from previous customers. The website has multiple great tools and samples, but the quality of some of them is underwhelming. Its marketing is significant, which explains the requests I received, but how much from ads is true? Stay tuned, you're about to discover it!
Pros
Great prices
Multiple services & tools on offer
Lovely cat logo
Cons
Unreliable StudyFy reviews
Bad essay writing quality
Late delivery possible
Revisions don't work
No proper communication with operators
Top 3 services
VIP Support
From $14.99 per page
PhD Writers on staff: 80%
From $12.99 per page
Website Content, Design, and Other Greetings
Every website has to look its best. I mentioned it in each of my essay writing service reviews, and my opinion didn't change: how people perceive a platform at first is going to affect all their future decisions about it. StudyFy.com didn't do a good job here. Let's start with nice nuances: this site has an absolutely adorable kittie displayed right in the center. It looks lovely, it's just asking to be plucked out from the screen and given hugs. You are going to meet it further down the page again once, but this is where design positives end. Other elements look plain and boring. The chosen color combination is bland white with occasional splashes of green and blue. Apart from the cat, nothing is memorable or special. Nothing says that the owners genuinely love their platform and pour all their soul into it.
I also had a problem with the content. StudyFy offers plenty of relevant details, like prices, available services, and features, clients' reviews, etc. The problem is there are multiple language mistakes that quickly become annoying. The first example occurs right in the first line you see on this website: "Our essay writing service with personal writing provide you…" Apart from a repetition of the word "writing," there is also a serious grammar issue with the word "provide." It lacks an 's'. Also, info comes across as generic and impersonal. Even the "about us" section is boring. I'd take the kittie while leaving everything else untouched.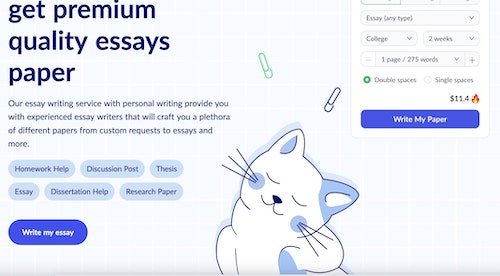 Assessing the Range of Writing Services and Essay Samples
I found the mentions of different services in Study Fy reviews, and this didn't surprise me. This firm truly provides a wide specter of options and not only of the writing nature. Students could ask for essays of all kinds in any subject; they might also request editing or re-writing. I could only praise this diversity because it means that most clients will find what they set out to look for.
Samples are also present. They can be a source of great help to students, but only if they are good. You could also check if the firm you're considering offers the best coursework writing service by reading the examples of works from its writers. In this company, free papers come in 8 categories, and they cover various topics. But is StudyFy good at making them sound professional? I picked one sample for testing.
Title: Police Assaults Essay
Page count: 5 pages
Topic: Law
Assessment: This is meant to be a college-level paper, but it doesn't sound even close to it. It's simplistic, awkward, written by someone who is not a native speaker, and it has a horrifying number of mistakes. In the first line alone, "threat" is used instead of "threaten," "which" instead of "that," "ones" instead of "one's," and so on. This sample has a very low level of quality.
Quality: Low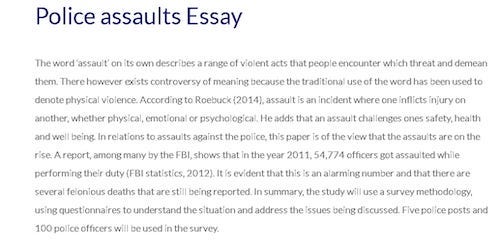 Policies Guarding Client Safety and Satisfaction
No Study Fy reviews talk about policies, so multiple students have no idea what they are signing up for. All best dissertation services must outline clear terms & conditions that people should accept before placing an order. This company has them, too, but even though they are long, parts of them are too suspiciously vague. Take privacy: sure, StudyFy claims it won't misuse anything you share with them, but it also makes it sound like if you accidentally provide more information than you wanted, it'll be theirs for the taking. It shares this data with its experts, too, meaning that technically, any of them might try blackmailing you late. Freelance writers don't sign up contracts with companies — this is one of the reasons why most writing agencies do not let them access clients' data.
Rules for refunds are better, but some reviews of StudyFy made me aware that everything isn't as good as it appears. Unlike most other academic agencies, this one gives you 6 months to ask for your money back. But clients never really receive it, and if they do, it's a small sum from what they paid. This is not acceptable.
Attempt to Speak with Operators
For the purposes of my detailed StudyFy review, I tried talking to operators. They work 24/7, but there is a catch: they are robots. In my three chats, I got only one response quickly. Others took longer. All three sounded like they were copy-pasta from some company guidebook: they didn't address my direct question and offered random generic info instead. By the fifth time I tried to explain what I wanted and didn't get it, I got frustrated enough to yell at my own screen. It's honestly easier to use quick tips the chat offers and search for answers by yourself.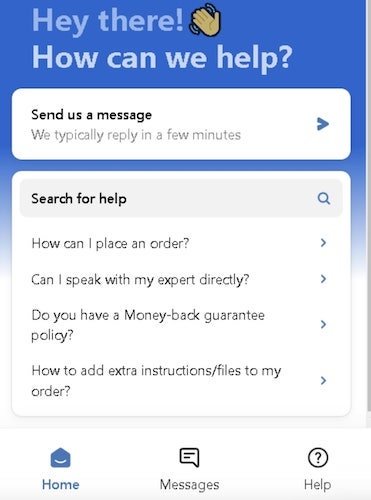 Quality Part of StudyFy Review: My Client Experience
Placing orders is an inherent part of all my work. To determine that the best admission essay writing service is actually the best, I acquire experience as a client. I ordered a Philosophy essay for a high school level: 5 pages with a 2-week deadline. I paid $43 with a discount —that's a great price. The waiting started, and I used this time to read different StudyFy reviews. Most of them sounded positive, though they weren't trustworthy at all. You'll see what I mean later.
My paper wasn't there when my deadline arrived. I tried contacting my writer, but they ignored me. Operators couldn't help either, they had no clear answers. I waited for 32 hours before I finally saw my essay. Such delay is insane, but oh, if only I knew what was still in store for me! I started reading my paper slowly. After two pages, I realized I didn't really understand anything. These were just a bunch of words thrown together. I tried going through the text again, and it remained just as nonsensical. Yeah, philosophy could be a vague subject, but come on, there are limits. My writer presented a stream of random thoughts only slightly connected to my instructions in terrible English. There were over 400 language issues in it. Astonishingly, they picked strong sources, but it was the only good part of this terrible mess.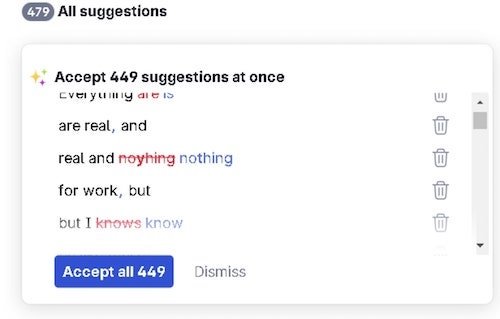 Placing Your Order: It's Harder than You Think
Placing an essay order should be easy, but as I saw in my review of StudyFy, it's not always the case. I spent more time on this frustrating process than my sanity could withstand. Here are the steps to cover:
Provide basic details. Pick type of services, deadline, size, academic level.

Create an account. Unlike how it is in more convenient firms, StudyFy asks clients to create an account next. Share your email and password.

Check requirements. This is a useless stage where you confirm that your previous details are correct.

Provide more details. Write down your topic, pick a formatting style, and a subject. A warning: you'll probably face issues here, too. I began typing "Philosophy" yet got random options like Cryptography for some reason. The system doesn't work well. Type instructions or upload a relevant file.

Confirm your order. More time wasted on confirmations. When I tried to pay, my page started reloading. It happened twice before my payment went through — and no, my Internet is not at fault here. StudyFy's system simply needs improvements.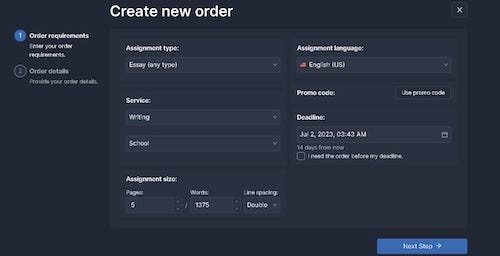 Paying for Your Essay: How Much Is It?
Prices are the only truly positive part of my StudyFy.com review. They are low for all services. Here's an outlook for basic high school papers with 14-day deadlines:
| | |
| --- | --- |
| Essay writing | $10.80 |
| Editing | $5.40 |
| Rewriting | $7.56 |
Discounts are great, too. New clients pay less by 20%. The only issue is that if you need other services, like proofreading, you won't find them quickly, meaning you won't see how much it is.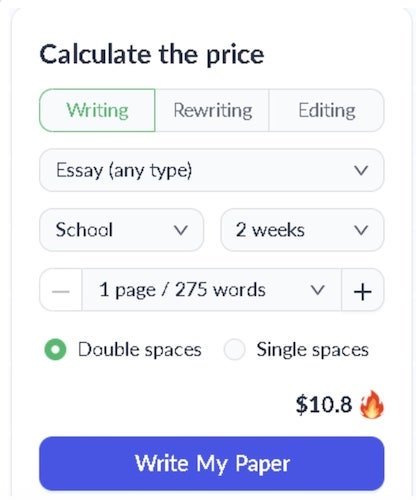 Speaking with My Writer
While StudyFry offers speaking with writers, my experience was terrible. My writer ignored me repeatedly. They never answered my messages, neither before nor after delivering my paper.
Are Essay Revisions Efficient?
Since my paper was terrible, I tried getting a revision. Clients have 14 days for it. But — surprise! — no one responded. I sent three requests, and they all went ignored. I could have contacted managers, but I was so fed up at this point that I didn't bother.
Academic Tools for Writing
Online reviews of StudyFy didn't speak about tools, and that's a shame. This is a solid part of this agency. Visitors could use its plag checker, summarizer, thesis & title page generator, spell checker, etc. They are free and work well. The drawback is that half of these tools are there in name only. When you try clicking on them, you see "coming soon" announcement.

Separating Real StudyFy Reviews from Fake Ones
I didn't find many reviews on this company. The ones I saw left me with questions. Most of them aren't real, and I'm willing to die on this hill.
SiteJabber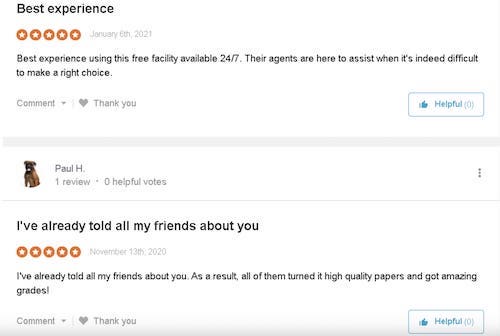 26 reviews, almost all of them positive… but are they real? There were lots of ridiculous comments to show you as an example, but I picked these two. The first is deliberately misleading: StudyFy is not a free facility. The second one presents a scenario of a whole bunch of students ordering papers and getting glowing grades at once. This is some bad ad campaign, not reality.
TrustPilot
No reviews.
Reddit
No reviews from clients, which proves again that the comments on SiteJabber are fake. What, did all StudyFy clients agree to post their feedback only on one platform? Maybe they are the friends that one reviewer spoke about.
Social Media
StudyFy has Facebook and Instagram accounts, but both are abandoned.
Faq
Is StudyFy legit?
Yes, this is a legit firm with detailed policies and real services. There is some confusion regarding the date and circumstances of its appearance, but if you need an essay, it'll write one for you.
Is StudyFy safe?
It's difficult to say. While it promises not to disclose info from clients to any random third parties, it's vague about what kind of data it collects. If you accidentally share more than you planned, the firm might use it against you.
Is StudyFy reliable?
No, this is not a reliable company. It easily messes up deadlines, and the quality of its work leaves a lot to be desired. Some clients might luck out and end up with professional writers, but the chances are small.
Is StudyFy scam?
No, this firm isn't trying to scam you. It has a real team of writers, operators, and managers, and while most of them don't do a good job, they are providing true writing services after getting paid.