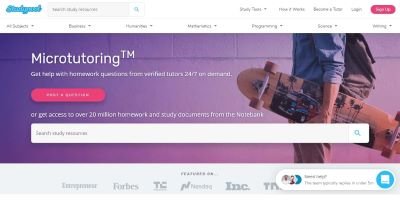 Studypool.com Review
We have only one mission here – to help students make good choices when they choose academic help from online companies. There are times when students do not need writing services, but, instead, homework help. Many writing services offer this. But there is also a growing number of online tutoring services, and we want to evaluate these too, as we become aware of them.
StudyPool.com is a company that provides what has come to be known as "micro-tutoring." This model of academic help has become more popular of late, so we have decided to review companies that offer this service, as well as other types of tutoring.
To provide this StudyPool review, we accessed the website and reviewed all of its content. As is our normal procedure, we looked at company published testimonials, policies, prices, the responsiveness of customer service, Study Pool customer reviews we are able to find out on the web, and the results of our looking into the ordering process at Study Pool.
We are astounded by what we have found. You will be too. And it's not pretty.
Factor 1. Services Offered
There really are no writing services offered. The point of micro-tutoring is pretty simple. Students access the site and pose their academic questions. This might be a tough math problem, for example. Once that request posts, tutors then bid on providing the answers/solutions, and the student chooses one of those bidders. The student and the chosen tutor then decide on a price, and the student submits payment. Once the tutor is finished, the money is released, the company taking out its commission.
All of this is done via email, which is one concern we have right at the start. A student who is up against an immediate deadline may not meet that deadline, given the back and forth that must take place by email.
Another service includes what the company calls a "Notebank." This is a compilation of study notes and documents from other students, along with an exhaustive list of questions that have been asked and answered before. If students have the time, they can perhaps go through this list and find an answer they are looking for.
A third service is called "Book Guides." These are summaries and reviews of books, most of them classics that would be a part of a middle or high school English curriculum – nothing here for college students.
Factor 2. Prices
What can we say? There is absolutely no information on pricing, other than the instructions to post a question, take bids, and negotiate a price with the bidders. There are also no StudyPool discounts. This is not surprising considering the business model that places pricing all in the hands of the student and tutor.
The company site states that it accepts all bank cards and PayPal for payment. Customer feedback that we have been able to find indicated no problem with the payment methods, so we are assuming that StudyPool is using a safe and secured payment processor, like most other such services use.
Factor 3. Customer Support and Site Usability
Here is where the trouble begins and where we have found the biggest issues and most complaints.
There is a home page with very sparse content and links to a few other pages – "how it works," "resources," "services," "resources," and "blog." Some of the items under the links only worked sporadically
We were able to access one page under "How it Works" that gave more detail about the ordering process, and then a method for a student to set up an account. This must be done before a question can be asked. We did go through with this process and then, were able to pose a question. And we waited. Finally, we did receive some bids, but, of course, closed out at that point
In terms of customer support, it is almost non-existent except by email. On one page it told us to click the "intercom" button at the bottom of the page, but no "intercom" button was there
We read a few blog articles. Most relate to how to start a business, so we are confused as to how that relates to students and their academic lives.
Factor 4. Trust and Reliability
Here begins a whole host of issues and problems with StudyPool.com. There is very little information on the site other than to tell students to post their questions, provide their contact information, and wait for bids.
Other than the on-site testimonials, students who have posted comments and feedback have only negative things to say about the company. They posted questions and never received bids; others who did receive bids made a choice and waited a long time before getting the answers/solutions they needed.
Given customer experiences, we cannot say for sure that StudyPool is reliable or that it can be trusted to act fast, even though it states that it is open 24/7. We just don't know.
Factor 5. Additional Important Considerations
What can we say? There is literally nothing to state or recommend, other than the fact that students who attempt to use this site to get their homework questions answered will have difficulty even finding the ordering page and going through the process.
There is also a link for people to become tutors. Applicants submit their applications, giving their educational backgrounds and other experience, but none of this has to be verified.
Conclusion
We are speechless. We cannot even list the normal pros & cons that we normally provide. All we can say is this. Do not waste your time, look what is the best research paper writing service. Even trying to use this company for the solutions you need. Our StudyPool rating is a 1, on our scale.