Our verdict: Not Recommended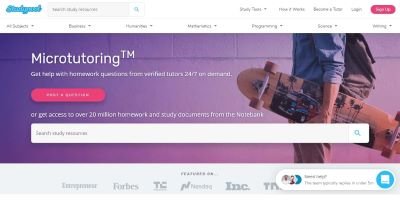 Short overview
Payment Methods:
Available Services:
Micro-tutoring, Notebank, Book Guides, Video tutoring, Homework Q&A
Extra perks and features:
Educator Portal, Educator Summit, Sell Docs
Summary
My overall impression while writing this StudyPool review is that it's a poorly organized study help website that doesn't offer students reliable and efficient help. They claim to have 24/7 tutoring help, but that's not the case. They claim all their tutors are verified, but have no information on the people you're paying to help you with your homework or assignment. Plus, their customer service is weak since they only offer communication through chat messages on the website and I had to wait for a reply for a very long time. They do have a money-back guarantee for students who aren't happy with the response, but only in certain cases.
Pros
Refunds available
Book guides
Students can sell essays
Cons
No customer service
Confusing website
No writing services
No pricing information
Website looks unreliable
Top 3 services
VIP Support
From $14.99 per page
PhD Writers on staff: 80%
From $12.99 per page
Website Overview
Just like the other StudyPool reviews state, this service doesn't seem reliable or trustworthy at all. I found their website easy to navigate but it was hard for me to find actual information about how things work, or what this service guarantees. On the main landing page, I found information about the featured subjects, site registration, and posting a question. I also found the section that explains what types of services they provide.
But, to find detailed information I had to scroll down to the bottom of the main page. There, I found sections such as Blog, How it works, or Terms of Service.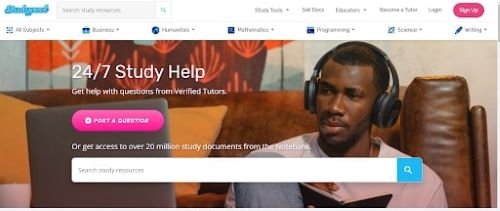 As for company history, I found virtually no information about it. All I learned from the website is that StudyPool is owned by Microtutoring. I did some online research elsewhere to find that they were established in 2014. But, there's nothing on the website that would tell me is StudyPool legit or not.
Finally, they claim that they only hire "highest quality tutors". But, I found no specific information on their website about who their writers are or what criteria they need to satisfy to be hired as a tutor. On the other hand, there's a Become a Tutor section that seems to be inviting just anybody to apply.
Types of Services Offered
Before writing this StudyPool.com review, I also learned about the services they provide. Mainly, StudyPool focuses on micro-tutoring and homework help. Students get to post a homework problem or question they're stuck with and find a tutor that can help them out.
Next, they have the so-called Notebank- a collection of student questions that have been asked and answered before. Students can go through the Notebank to check if they can find the answer they're looking for there. While it is a useful resource, it's not a service since students need to do all the hard work on their own.
Another thing that StudyPool has is the Book Guides section that summarizes popular books, chapter by chapter. But, I would never list it as the best essay writing service. Why? Because the students get to read the reviews but have to write their own papers. StudyPool doesn't provide paper writing services.
Guarantees for Customers
The next thing I checked, as well as many other Study Pool reviews, was the guarantees they offer. Their refund policy isn't as flexible or customer-friendly as I'd want it to be, unlike with other professional student services, like the best personal statement editing services.
They offer a refund to a student who was unsatisfied with the answer they received, but only after they determine if this is an eligible refund request or not. Plus, refunds are given as credit on your StudyPool student profile. That means you don't get your money back but you only get to spend it elsewhere on their website.
Customer Support
I find customer support to be extremely important for this type of student website. StudyPool claims to have 24/7 customer support but all they have is a chat window on studypool.com that allows you to send a message. They have a disclaimer saying if you need something urgent, you probably won't get the instant help you need.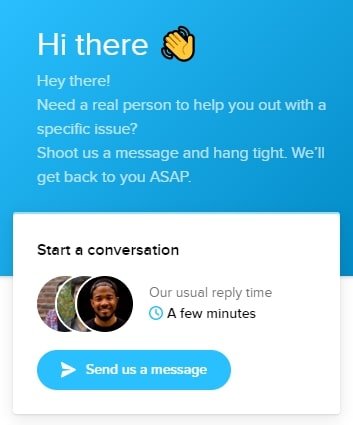 That is the only way I found available to reach out to customer support and talk to someone directly. Other than that, I was left completely on my own.
My Experience and Paper Quality
Is StudyPool reliable? I had to post a question and go through the entire process to give you a fair and objective answer.
After I sent a message to customer support about posting my first question, and they failed to answer, I found this option by myself. I decided to post a literature question and see what bids I get. I chose Literature as the subject in question and got to fill out a form with more information about my question.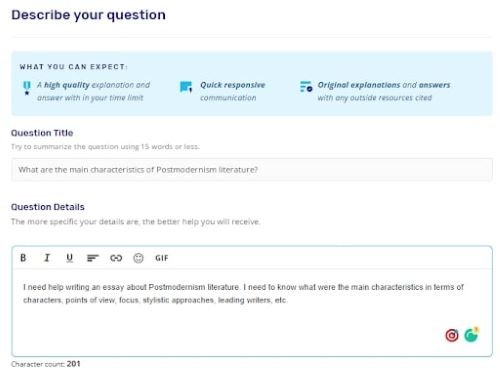 StudyPool offers you to set the budget. They recommended a $40 budget, but I customized it to $35 and posted the question. I got writers bidding in a price range from $30 to $110. I chose a writer who bid $35, which was among the lowest bids reviewed by me.
The quality of the answer I received was not great, and If I wanted to submit that answer I'd need help from the best dissertation writing company. It lacked details and in-depth information. It was written poorly and it was clear that the tutor in question didn't commit to finding the information I needed. Instead, they did a bit of research and sent me the information I could have googled myself.
Ordering Process
The ordering process isn't complicated but it'll take you a couple of minutes to review and fill out the form that explains what your question is about.
In the form, I had to fill out the following information: the question title, question details, answer length, my school and course associated with the answer, and the deadline for finishing the task. The minimum deadline I can choose is 1 hour but the service told me I should give tutors more time to assemble a good answer.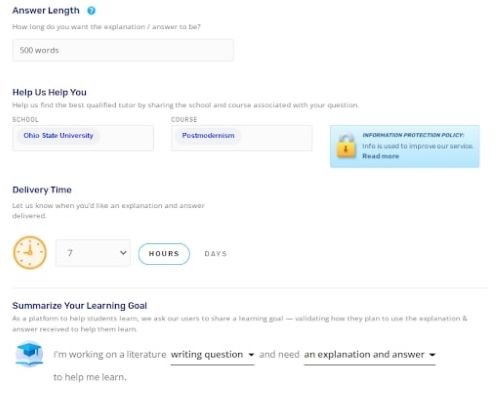 I was also asked to provide details about my learning goals - what is it that I need this answer for. In my case, I needed it for a college essay, but there wasn't such an option reviewed, so I chose the writing question.
Pricing and Discounts
The first time I learned anything about pricing was when I was at the second step of placing my order and posting my question. Up to that point, I had no idea what my budget should be or what bids to expect.
But, I learned about the average estimate for an hour of work, based on the level of education I'm at. There was also a disclaimer saying that I can customize the budget but it will affect the level of quality I receive. The lower the price, the lower the quality.
| | |
| --- | --- |
| Services | Prices per work hour |
| High-School level | $15 |
| College level | $20 |
| Masters | $25 |
| Ph.D. | $30 |
The first time I learned anything about pricing was when I was at the second step of placing my order and posting my question. Up to that point, I had no idea what my budget should be or what bids to expect.
But, I learned about the average estimate for an hour of work, based on the level of education I'm at. There was also a disclaimer saying that I can customize the budget but it will affect the level of quality I receive. The lower the price, the lower the quality.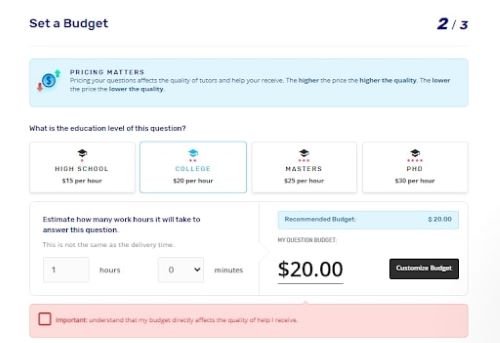 I find it a bit confusing that I'm the one who should be setting the budget. Most of the other websites offering online coursework help have a clear per-page pricing range so it's easy to review and calculate what my budget should be. Here, I'm posting a budget but it still depends on the bids I get and the tutors that offer to help. I didn't like this kind of uncertainty.
Writer`s Proficiency
Is StudyPool good when it comes to writer's proficiency and professionalism? I wanted to check what type of writers they have to offer. Once I posted my question, their automated system suggested the top writers answer it. I had the option to accept the suggestion or continue going through the bids I received.
I wanted to make sure that I received a good match for the answer I needed. So, I went through the profiles of the tutors who placed a bid and did some research and comparison. I was able to look at their statistics, reviews, and overall success rate. This helped me decide which bidder to choose.
Reviews of StudyPool that I came across before writing my own all agreed - there should be more information about the tutors. I wanted to know what their education level is, what experience in the given field they have, and what makes them credible to answer my question. Unfortunately, none of this information was available.
StudyPool Review: Revisions
As I've mentioned before, I do not trust StudyPool reviews enough to just pay for their service and hope for the best. To learn what happens if I'm not happy with the answer I receive, I found their refund policy. The good thing is that they offer students a refund. Students have a 3-day window for filing a revision. If they miss this window, the money will be released to the tutor and no refund will be available.
The bad thing is that they get to determine the eligibility for refunds. That means that they can say no if they like. You'll need to provide evidence and explain why you're not happy with the answer.
Review of StudyPool refund policy also helped me discover that the refund you receive will be in StudyPool student credit. If you want the original payment back, you have to take it with customer service.
Loyalty program, Offers, and Extra Services
Reviews of StudyPool I found online, and mine included, found that a major problem with this service is that it doesn't offer any loyalty programs, discounts, or perks. No matter how many times you use their services, you won't be able to get a discount or be treated differently from the rest.
Apart from micro-tutoring, they offer the Book Guides and Notebank services.
Online reputation: StudyPool Reviews
I decided to check all of the major review services to see what kind of reviews dominate for StudyPool. I checked Sitejabber, TrustPilot, and Reddit – and found both positive and negative reviews on all of the websites.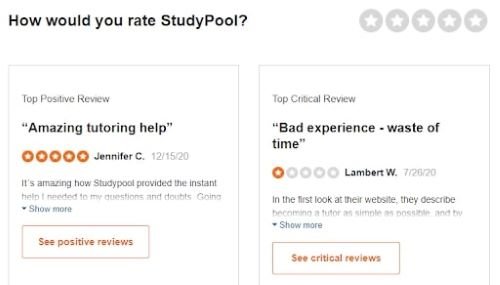 Most of the complaints are about poor-quality answers or lack of customer support. Some students even argue that they received a plagiarized answer. I did find a couple of answers from StudyPool representatives on these sites, where they try to explain why a negative experience happened the way it did. Still, with so many mixed experiences in these Study Pool reviews, I wouldn't argue that it's a company I can trust.
Social Media
StudyPool has a Facebook and Twitter account, but they haven't been active since autumn 2021 and summer 2019 respectively. There was nothing useful for me to find.
Show Me Your Top Services
Faq
Is StudyPool legit?
StudyPool is a legit service but it doesn't offer top-quality help as they argue.
Is StudyPool safe?
It is safe to use StudyPool- you won't get tricked for money and your privacy is safe.
Is StudyPool reliable?
StudyPool isn't the most reliable homework help website, since it has poor customer service and unverified tutors.
Is StudyPool a scam?
No, StudyPool is not a scam. It works, provides the services but the quality of those services are very low.