Our verdict: Not Recommended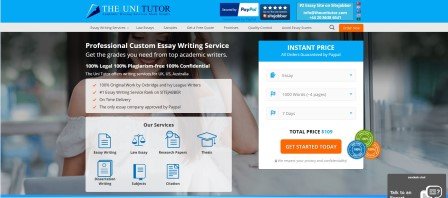 Top 3 services
VIP Support
From $14.99 per page
PhD Writers on staff: 80%
From $12.99 per page
TheUniTutor Review
Due to the frequency of requests we have received from students, the following is our review of TheUniTutor.com. In order to prepare for this review, we placed an order for a college level essay with a 14 day deadline. We also explored the UniTutor website, read customer reviews, and researched the company through the BBB to determine whether or not it is a fraud or scam. When we received it, we analyzed our essay for quality. Finally, we compared pricing between The Uni Tutor and other websites.
Review Criteria​
Clearly the first and most important thing to us is writing quality. However, that's not the only thing we consider. We believe a good writing service should have a website that's easy to navigate. We believe they should have helpful customer service. Prices should be a good value for the dollar, but not necessarily cheap.
Factor 1: Types of Writing Services Offered​
This is an academic, content service. They offer services such as essays, research papers, lab reports, term papers, book reviews, and more. We did find it difficult to navigate the site and learn about all of the service offerings because the website is so poorly designed.
Factor 2: Trust and Reliability​
One way that we gauge trust and reliability is through a company's customer service. Unfortunately, we were disappointed by the experience. Customer support was largely uninterested in helping us. We also suspected that we were dealing with answering services a large part of the time.
Factor 3: Level of Quality​
We paid quite a large sum for our essay. Because of this, we were hopefully that we would receive an essay that was very impressive. We did not receive that at all. Our essay was poorly written, contained sloppy mistakes, and it did not appear as though our writer was any more qualified than the average student. Significant revisions would have to be done for this essay to be acceptable.
Factor 4: Pricing and Payment​
We paid more for our essay than we have paid at any other writing service. Remember that this was a very basic college level essay. We were charged 56 dollars per page. That is absolutely unheard of. To put that into perspective 25 dollars per page for an essay is on the higher side of average. Considering that we were delivered poor quality writing and customer service, that's more than a little ridiculous.
We were not offered a promo code to use on our order. A search of their website did not reveal any discounts or coupon codes. Apparently students are expected to pay the full price.
Factor 5: Additional Important Considerations​​
TheUniTutor has a few extras. For example, there are product add-ons that students can buy when they place an order. However those just add to the already extremely high prices this service charges. There are also writing samples available. However, students should know that the quality of these samples in no way reflects the paper they may actually receive.
Concluding Comments​
Regrettably, our final rating of TheUnitutor.com is very low. We tried considering all of the pros & cons. Unfortunately their simply weren't any meaningful positives. Our entire experience was negative. It started with the lackluster customer service we received both before and after we placed our order. Then, it continued with the ridiculously high prices. The final negative was the absolutely poor writing that we received via the essay we ordered. Don't believe the few positive testimonials. This is a writing service to avoid at all costs.
If you were hoping that The Uni Tutor was the writing service for you, don't despair. There are plenty of online college essay writing services that can help you. We'd love for you to check out the many positive reviews we've written about these companies.