Our verdict: Not Recommended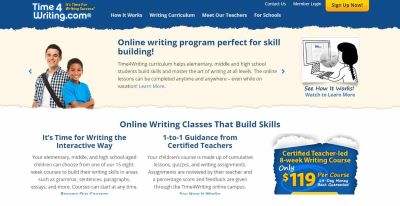 Top 3 services
VIP Support
From $14.99 per page
PhD Writers on staff: 80%
From $12.99 per page
TopWritersRev​iew.com Review
Time4Writing.com is not a writing agency. Instead, it is a teaching and tutoring service in the specific area of writing. Because of this, our Time 4 Writing review will not be the same as those we do for traditional online writing services. At the same time, we have decided to complete a Time 4 Writing evaluation based upon some requests by some of our users who purchased some of their services and curriculum packages and did express differing opinions.
Be aware that if you are looking for the best cheap essay writing service that produces writing products, Time 4 Writing is not for you. There are no writers, only teachers and tutors. But, if you are interested in only tutoring services or in buying a curriculum package, then this may be a good resource.
As we reviewed this company, we looked at all of the website content, the products and services it offers, detailed profiles of its teachers and tutors, its on-site testimonials, pricing, and feedback and comments we found on the web or that have been submitted to us.
Factor 1: Types of Serv​ices Offered
As stated above, Time4Writing does not offer research and writing products and services. It provides writing help with coursework and individual tutoring through certified teachers. Of course, all of this comes with fees. The online coursework is obviously less expensive than private tutoring.
Courses are eight weeks each and are divided as follows:
Elementary Level: Grammar, Sentence Structure, Paragraph Writing, Essay Writing, Narrative Writing, Informative Writing
Middle School: Basic Mechanics, Writing Enhancement, Paragraph Writing, Essay Writing, Advance Essays
High School: Writing Mechanics, Paragraph Writing, Essay Writing, Writing Research Papers
Factor 2: Trust and Reli​ability
To assess this factor, we relied on customer reviews that were submitted to us and that we found on the web. It appears that Time4Writing is certainly reliable and can be trusted. Customers state that they get what they have ordered and paid for, and that the coursework is delivered to them. And, they also state that when they contract for a private tutor, they do get that personalized instruction and assignments.
A few parents who ordered curriculum packages said that they were a bit hard to use because they did not have the writing skills themselves, especially at the high school level.
Factor 3: Level of Qual​ity
Here is where the Time4Writing reviews are mixed. We looked at a number of customer reviews and found the following:
Student reviews, all from high school students, were mixed. While some were satisfied, others stated they not get the quality they expected. In the case of personal tutoring, reviews were mixed and seemed to be based on the quality of the tutors that were assigned.
The teacher profiles are detailed and provide enough factual information to be believable. We were impressed with this part of the website.
We also looked at testimonials that the company has published on its website. Not surprisingly, they were all glowing.
In all, the quality is relatively good, compared to other tutoring services we have looked at.
Factor 4: Pricing and Pa​yment
Time4Writing prices are not high. Students and parents who are looking for this type of service will find that they are as reasonable as other similar services. There are no discount offers or any promo code offered for first time or loyal customers. This is pretty typical of similar services. Prices are set and that is what you will pay.
Payment can be made by any major credit card or PayPal, and there is a third-party processor in place. This means that the company itself does not see or hold onto any customer financial information. Making payment is fully secured and safe.
Factor 5: Additional Imp​ortant Considerations
There is no customer support department, as you would expect from a regular writing service. But the company does provide profiles for all of their tutors, including such information about where they went to college and their official teaching certifications from the states in which they are registered. The profiles are quite specific, and that is a good thing.
If customers have issues, they can contact the company directly, per the contact information on the website.
Concluding Comments
We are not sure how to set a rating for Time4Writing. If we look at pros & cons, we can definitely say that if students are only interested in improving their writing skills, this is a legal and adequate resource. However, the quality of tutoring they receive is definitely dependent on the specific tutor who is assigned to them. On the pro side, students or parents can request a different tutor, if there is not a good match.
We have only this to say. If you are looking for a writing tutoring service, this may be an adequate one. But if you are looking for real writing services, this site is not for you. We have to assign a rating of "neutral" on this one. We cannot give a numerical score as we do regular writing agencies.