Our verdict: Not Recommended

Short overview
Minimal deadline:
6 hours
Guarantees:
Timely Delivery, High Quality, Confidentiality, 24/7 Support
Payment Methods:
Available Services:
Essay Writing, Dissertations, Programming, Case Study, Course Work, Assessments
Extra perks and features:
Samples, Plagiarism Checker, Word Page Counter, Paraphrasing Tool, Chemical Balancer, Quadratic Equation Tool, and More.
Summary
Locating good essay writing services takes a lot of time, and when I began my TotalAssignmentHelp review, I had high hopes that my list would expand. This provider is surrounded by a cloud of mystery and contradictions: it was founded in 2017, but online reviews only date to 2018. I didn't find many of them on independent platforms, yet the agency claims that it has over 10K comments in total. It puts constant emphasis on the fact that it operates from Australia, but it markets itself to people worldwide. Its prices are hidden, yet it offers a big collection of essay samples for free. Detailed order placement process, persistent operators, seemingly good policies — TotalAssignmentHelp seemed like a prestigious service, but my essay quality shocked me. Stay tuned for details.
Pros
Multiple free samples present
Operators can be reached 24/7
Many academic tools available freely
Cons
Terrible writing quality and unclear pricing
A disaster with TotalAssignmentHelp reviews
Unfriendly support
Unreliable privacy and quality policies
Revisions are not effective
Top 3 services
VIP Support
From $14.99 per page
PhD Writers on staff: 80%
From $12.99 per page
Reflections About the Company's Website
As my experience shows, a professional coursework writer isn't going to work for a bad-looking company, so analyzing interface often helps form the first impressions. This is what I did in my TotalAssignmentHelp.com review, too. From the first moment I visited its site, I felt overwhelmed. The design is generic — it portrays a student looking at the visitors with a smile. An order form is immediately visible, coupled with information about the company's stats, a video with explanations, a table outlining how to use its services, a description of its perks and many other nuances. It looks overstuffed, and this impression intensifies when different boxes start popping up. A chat with operators could be useful, but when it emerges every time you move to another page, it becomes annoying. Closing it repeatedly doesn't help. Then there are occasional announcements about some writer completing an order — I don't see a point in it, and I doubt these pop-ups are true since I noticed they are repetitive.
Is TotalAssignmentHelp good at explaining what it does? Only partly. It lists what services it provides and offers various academic tools, but there is no listing of prices. The "About us" section is overly generic, and it has mistakes. This was another problem: the content on this website isn't professional. The agency might market itself as the best provider, but it clearly didn't bother to hire trustworthy writers. Look at the start of this random sentence: "Dissertation writing tests a student's capabilities..." Two mistakes in six words is a horrifying tendency. I stopped feeling optimistic.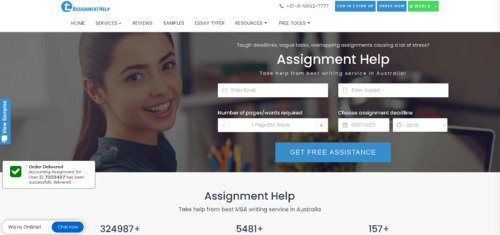 Writing, Grading, and Samples
Most TotalAssignmentHelp reviews on independent sites don't elaborate on what services they used. When I checked the order form, I was torn. On the one hand, there are all kinds of writing options for students. You could order essays or term papers, case studies analysis, course work, dissertations, speech topics or in-depth research. There is also a chance to order grading of your work: writers will take a look at what you wrote and voice their opinions. But I found nothing about editing or proofreading. This doesn't mean they do not exist, but you need to ask for them specifically. What if a student wants online college essay editing but cannot find such an option? I think a company should list each service to avoid wasting its customers' time.
Another thing TotalAssignmentHelp.com reviews don't discuss is samples. Every respectable company must have a collection, and I was happy to see one on this website. It has more than 3K free papers on academic topics. But quality matters most, and I selected a random essay for analysis.
Title: Problem Solution Essay on E-Commerce Industries In Gujarat
Length: 1428 Words
Analysis: This sample has poor quality. No thesis, mistakes with grammar and punctuation, poor exploration of ideas — and this isn't even everything! The use of "we" goes against academic rules; "gone of" has a typo; "This is also similar to India as well" is ridiculous since "also" and "as well" mean the same thing. I could go on forever. There is no point in samples if they have such low quality.
Quality: Low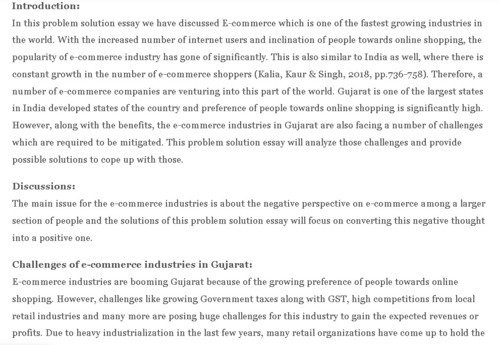 Policies About Client Safety and Satisfaction
TotalAssignmentHelp reviews rarely complain about problems with privacy, but I think it's because most students never read policies. If they did, they would see how worrisome the situation is. While TotalAssigmentHelp has a section detailing info about privacy, it is extremely short and offers almost no real details. Everything is vague, and this is a huge red flag. For comparison, most other agencies outline their policies in over ten pages, while this one settled on one. I can't tell you if you're safe, which is dangerous.
Revisions and refunds are possible within 30 days. This is seemingly great, but what I learned from TotalAssignmentHelp reviews upset me. In reality, these features do not work. Clients either accept the draft and pay for the final version, automatically forfeiting their right to refund in case of any eventual problems, or they reject the draft and forfeit their essay. Getting a refund is impossible in practice. Revisions are frequently ineffective.
Operators: Annoying or Helpful?
I already mentioned one of the problems with the chat window in my review of TotalAssignmentHelp. It keeps emerging and ruining the website experience since there is no escaping it. But funnily, when you need it and try to click on it yourself, it doesn't always work. Go figure. Once you finally manage to do it, a virtual assistant Jack replies and suggests picking the right option depending on whether your questions concern a new order or one already in progress. A chance to contact a real operator is present, too, but unfortunately, not all of these guys are helpful.
I had a high opinion before placing my order: they replied swiftly, and operator Alan was very nice. He answered my inquiries and offered help. But problems started after order placement. No one was interested in my words — replies started taking ages, and they sounded indifferent, I stopped mattering after paying. I found this deeply offensive.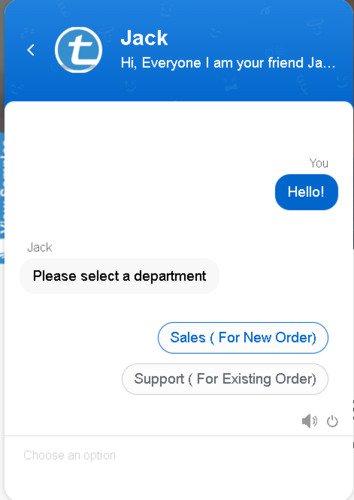 TotalAssignmentHelp Review: Quality Assessment
I ordered three pages on Business from these writers. My deadline was two weeks: I asked to complete a case study, and I paid about $60. This is very expensive for such an order, but I hoped for good results. When the time came, my writer didn't submit a paper. I contacted them and then operators with questions, yet none of them replied for a while. If I were a student and my deadline was truly running out, I'd be horrified and lost. When the operators answered, they said my writer was a bit late and everything would be fine. This didn't reassure me, and I kept waiting for almost a day until my essay finally arrived. And what an essay it was!
While there are a lot of positive reviews of TotalAssignmentHelp, my experience with quality was terrible. The paper had almost 200 language issues — for 3 pages, this is absurd. It wasn't a case study analysis either. At best, I can call it a boring summary. My writer didn't follow MLA formatting and failed to maintain academic structure. Overly long paragraphs, no quotes from relevant sources, usage of personal pronouns: mistakes were never-ending. If this was a real assignment, I would have gotten an F. I don't know what qualifications my so-called expert had, but it was one of the worst papers I had the misfortune of seeing — and I've seen a lot.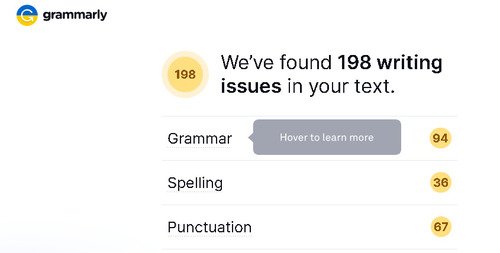 Outlining Order Placement
There should be no problems with students placing orders with quality essay writing services. It must be a quick and effortless process. But TotalAssignmentHelp.com goes against the norm.
Click "order now" button. You'll find this button in the right upper corner of the page.
Share the initial details. Provide your email, and pick the deadline, subject and size of the assignment.
Provide instructions. Select academic level and style, and share your instructions. Provide your phone number.
Chat with operators. This stage is the main reason for the low grade I gave the company in this category. Instead of proceeding to pay like in other services, you actually have to waste your time speaking with operators again! They'll calculate the price for you and discuss even more details. It takes time, it is difficult, tiresome, and completely redundant.
Make a payment. Fill your account with money. Note that you'll be paying your writer in parts: if you hate the first draft, you shouldn't pay again, but your money won't return to you. This is a messy and complicated process.

Cost of Academic Services
I wanted to include prices in my detailed TotalAssignmentHelp review since clients care about this a lot, but I do not have anything to share. The company hides them like they are some state secret. I paid roughly $20 per page — this is expensive. Discounts are present, but there is no information about them, too, not without speaking to operators. If you do, you can get 10% off your price.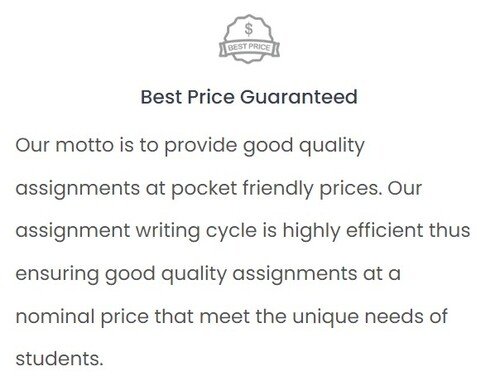 More About Writers
This company offers no real information about its writers. Mine was sleepy and unprofessional: they failed at their task and basic grammar. If TotalAssignmentHelp hires such people, I can only wonder how it managed to stay in the market.
Revising Your Essay
As I mentioned, revisions are not effective. I asked my writer to change both the draft and the final paper, but they didn't do it. They rewrote several sentences, and this was it. Reviews of TotalAssignmentHelp seconded my opinion — if your paper is flawed, it'll stay flawed.
Extra Offers on This Website
Apart from samples, the company offers multiple academic tools. There are plag checkers, various calculators and generators. It is amazing — I've never seen this many options for free. But there is a problem, too: some of them are faulty. It takes ages for them to load, and they fail to always work correctly. If you need the best paraphrasing tool for essays at college, this site won't provide it. It needs to improve first.
Looking at TotalAssignmentHelp Reviews
There is an average number of reviews online. I read them all and formed my opinions. Have a look.
SiteJabber
Most reviews on this site are positive, but they also don't appear trustworthy. They are short, vague and have the exact same tone. Negative reviews are more interesting. They provide screenshots proving their authenticity and voicing the same problems I experienced.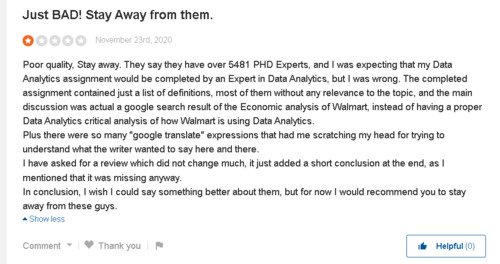 TrustPilot
30 reviews here, and the situation is the same. Most positive comments sound general and inauthentic. This recent negative review, on the contrary, is full of life and despair. The student criticizes everything TotalAssignmentHelp offers.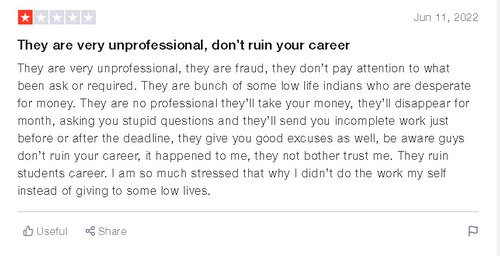 Social Media
There is an abandoned Facebook page and an unpopular Twitter account.
Show Me Your Top Services
Faq
Is TotalAssignmentHelp legit?
This is a real company that has been serving its clients for several years. It has official paperwork proving its authenticity, although not everyone has a satisfying experience.
Is TotalAssignmentHelp safe?
Not exactly. It has vague privacy policies that don't promise you much, and its refunds are next to impossible to receive.
Is TotalAssignmentHelp reliable?
Absolutely not. Don't be fooled by marketing and promises: this company can easily fail your expectations by being late or not providing you with a quality essay at all.
Is TotalAssignmentHelp a scam?
Some people claim that it is because they didn't get results or their money back. Most received an essay, though, so it doesn't look like this agency is a scam.