Our verdict: Recommended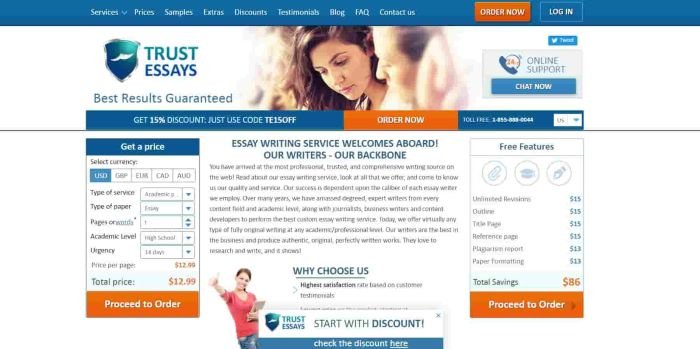 Top 3 services
VIP Support
From $14.99 per page
PhD Writers on staff: 80%
From $12.99 per page
TrustEssays Review
TrustEssays.com is a relatively new academic, professional, and business writing service, when compared to some other services that have been around for years. Yet it already appears to making a name for itself. We determined that a full TrustEssays review would allow us to investigate the operation and quality of products and services, so that we could provide a thorough report to consumers looking for writing assistance. In preparing this review, we utilized a number of sources – an evaluation of the types of writing services, customer service, quality of product, prices, Trust Essay testimonials on the website, and customer feedback and comments posted on social media and online consumer reporting companies. As well, we placed and received an order for a research paper at the undergraduate level, so that we could assess writer quality and expertise. What follows is our comprehensive report.
TrustEssays.com Services
Products and services offered are among the most comprehensive of all writing services on the web. Academic writing includes all genres and types from high school through the graduate program levels, and includes consultation and assistance with theses and dissertations. There are also opportunities for students to receive the best coursework help, especially in math and science fields.
Professional and other writing products include admissions essays, resumes, CV's cover letters, research proposals, and grant writing.
Business writing includes plans and proposals, presentations, manuals, guides and white papers. Web-based copywriting services of all types are also offered – website content, blog maintenance, social media profiles and posts, as well as website design and development.
Quality of Products and Writers
All writing services advertise high quality writing and fully qualified writers, but the proof is in customer response. Off-site TrustEssays customer reviews are all quite favorable, with positive comments about the quality of writing, the meeting of deadlines and stellar customer service.
Our own experience involved the order of an 8-page upper level college research paper, with a 7-day deadline. We were contacted by the writer who requested some additional detail, which we provided. The paper was delivered in 6 days, and the following assessment is given: Writing quality was excellent, and the resources were authentic and suitable for college level; all of our specifications were followed and the formatting was exactly correct.
Another testament to quality is TrustEssays BBB rating of A+.
We can absolutely state that TrustEssays is not a scam.
Prices and Ways of Payment
TrustEssays.com prices are published on the site, and a customer can receive a free price quote prior to placing an order. Customers may use all major credit cards as well as PayPal, and the use of a third-party secure payment processor is certainly a good safeguard.
Discounts
All new customers receive a Trust Essays promo code for a 15% discount for their first orders. There is a link on the home page to the TrustEssays discounts as well. After the first order and up through order #10, there is a 5% discount for everyone. Orders #11 – 25 come with a 10% discount; and beyond the 25th, there is a permanent 15% discount on every order. On that same discount link, the company states that it does offer additional special sales from time to time. Customers can take advantage of them by using the TrustEssay.com coupon codes that will be supplied for those purposes.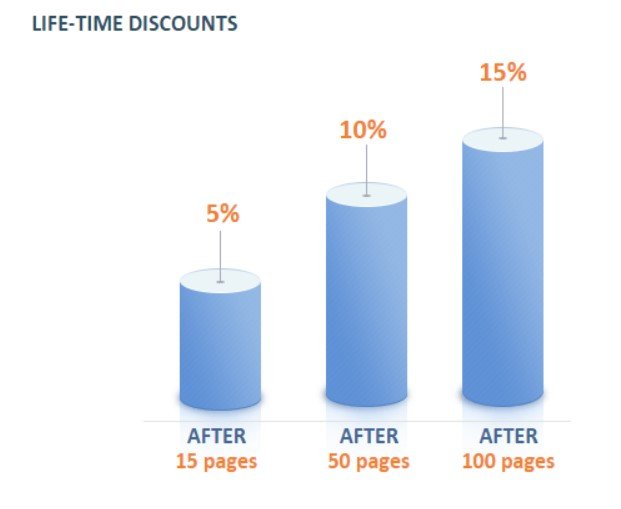 Extra Treats
Trust Essays provides a number of freebies, to include title page, outline, formatting, revisions, bibliography, and plagiarism report. In addition, the site provide samples of its writers' works, as well as a blog that contains great information and tips all related to writing.
Final Note
As we assess TrustEssays.com pros & cons, we are hard-pressed to find anything negative to say about this company. The biggest pro is obviously the quality of writing that is provided – evidence that highly qualified writers are in use. This company provides one of the best essay writing service available online. Our Trust Essays rating is "Excellent."