Our verdict: Not Recommended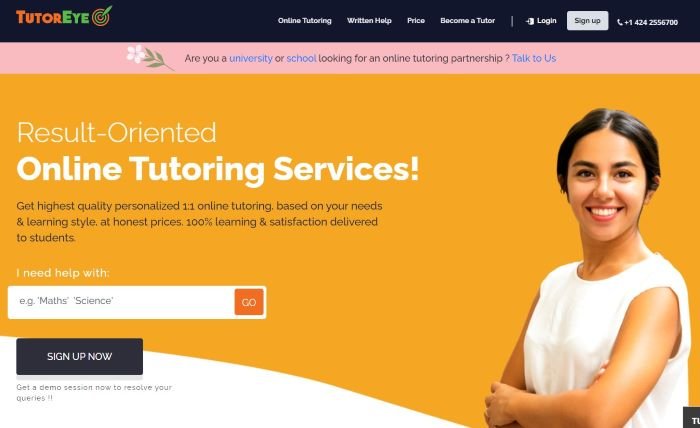 Top 3 services
VIP Support
From $14.99 per page
PhD Writers on staff: 80%
From $12.99 per page
TutorEye Review
This is our review of TutorEye.com. This is online tutoring service. It is not a writing service. Like many of its counterparts, they match students in need of tutoring with subject matter tutors. The purpose of this write up is to evaluate the quality of tutoring and homework help services that are offered by tutorEye.
Review Criteria
How do we determine whether or not tutor Eye is a worthwhile service for students? We take into account customer reviews, testimonials, and other research. We also place an order for services ourselves. Here are the review requirements we have established:
The service should be safe and secure.
It should be confidential.
Tutors must be qualified and helpful.
Customer support must be available and professional.
Costs should be reasonable
Navigating the website should be easy.
Services Offered
TutorEye does not offer writing services. Instead, they offer one on one tutoring online. Students who need assistance register on the site. They are then matched with tutors. They can research the tutors with information provided to them.
Prices
We paid 15 dollars for 30 minutes. Rates are pay as you go. While these prices are not unreasonable, there are no discounts available. Subscription plans are also offered. Because of this, there is no promo code to be entered when you place your order. Payment methods are standard. We did not encounter any issue making a payment. Ultimately, there are other resources that cost students less. There is also a registration fee that must be paid.
Customer Support and Site Usability
Online chat support is available here. There is also a blog. The blog posts are all in the area of academics, instruction, and tutoring. The posts are interesting, but very limited in scope. There's some other content direct at students, parents, even schools.
Writers
Quality is always going to vary with services like this. The site portrays all tutors as being very highly qualified, even when that is clearly not the case. So, matching with a truly qualified tutor is 'luck of the draw'. Our tutor provided marginally good, but not exceptional service to us. We could have found the same level of assistance for free in the local university learning lab.
Trust and Reliability
There were definitely some issues here. Many students did not feel as if they got the service they deserved for the money. Worse, tutors are paid by the hour. There were several complaints online of tutors going deliberately slowly during instruction sessions in order to charge students more.
Conclusion
We give Tutoreye.com a final rating of fair. We don't believe there is any broad fraud or scam going on. However, some of the practices of some of the tutors are concerning to us. Students also get very differing results depending on the quality of the tudors they use. Tutor Eye does not have a BBB presence either. We were also unable to find any coupon codes. After weighing the pros & cons, we recommend that customers take care before making a final commitment.