Our verdict: Not Recommended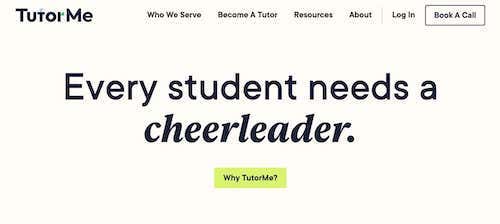 Short overview
Guarantees:
Personalized support, Quality tutoring
Payment Methods:
Available Services:
Tutoring, Writing Lab Assignments
Extra perks and features:
Tutor articles
Summary
My readers tasked me with writing a TutorMe review, and as it sounded like something new and exciting, I started working on it right away. This company emerged in 2015, and during the limited time of its work, it managed to earn the regard of multiple customers. There are plenty of reviews about it online, most of them positive. Contact it by ordering a call. You won't find the best college admission essay writing service here, but if you need help doing homework or understanding your subject, these people should be able to help you. TutorMe works on an online basis; it has a library with resources and responsive specialists, but its prices are horrifying, and it doesn't seem to favor students any longer. Do you want to understand how this service works and what you could get here? Then you'll find my findings insightful!
Pros
Library with useful resources
Plenty of subjects covered
Some tutors are professional
Cons
Concerning reviews of TutorMe
Platform targets tutors, not students
Numerous technical issues present
Some tutors are not qialified
Extremely high prices
Top 3 services
VIP Support
From $14.99 per page
PhD Writers on staff: 80%
From $12.99 per page
Using Website & Navigating Its Content
Using this website has quickly become one of the most frustrating aspects of writing TutorMe.com review. Sure, it has a good and innovative design. Its color scheme is bright, it presents images of both tutors and students, and it shares interesting bits of info with the visitors, like statistics about the number of live sessions clients held with its experts. But this is where the good news end. The site has become almost unusable for students. People who would like to apply as tutors have numerous options to do it: there are invitations and useful links at every step. But students are left hopelessly wandering from page to page in search of a way to place their request. Out of curiosity, I checked how this platform looked in the past via WayBack Machine. Students could quickly start a free trial or contact operators. Now it is impossible. When you try to log in via Google, as TutorMe suggests, you'll be rebuffed. Apparently, using Google is impossible on its site, even though it's among the options. If you don't have an account, there is no way to sign up.
Since I was determined to write a review of TutorMe no matter what, I decided to ask the company to call me. But even that was problematic. The messages surrounding this option are all about teachers hiring tutors for their students. If you are an individual person seeking assistance, you might feel discouraged and helpless since nothing seems to cater to you. No way to see how to sign up, and no way of placing a request — it is outrageous, and the company should definitely work on its functionality.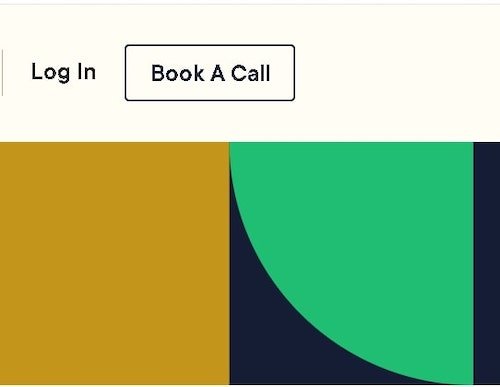 Academic Options for Students
Is TutorMe good at service diversity? Mostly yes. It claims to work with every subject, and it can review, improve, or help you with writing your essay. Students won't be able to order professional coursework help that is done from scratch, but everything else is gone. Individual clients might face issues with placing an order, as I mentioned — this is a problem that affected the score for this section. But in the end, everyone gets a custom approach. Managers develop personal demos and set the most optimal direction for customers, helping them get the kind of assistance they need.
Quality & Privacy Policies in This Company
TutorMe reviews make no mention of policies, and unfortunately, this is a common situation. Few students care about technical nuances, even though they can play a decisive role in the entire client experience. I wasn't happy with what I discovered. There are no revisions or at least an alternative to them, and refunds don't seem to be functional. If a tutor is unprofessional and a client doesn't like their work, they won't receive compensation. They'll have to pay a new tutor and hope for the best. Technically, refunds exist, but the company keeps the conditions under which its clients could receive them secret. Based on TutorMe reviews, no one had this experience – no one managed to return their money even when they didn't like the tutoring they received.
Privacy policies made me hesitate. They don't look good, but on the other hand, there is nothing incriminating about hiring a tutor, so even if someone accesses your data, they will not be able to blackmail you with anything. Still, the lack of security is grating. TutorMe collects all kinds of information about its customers. It goes to their social media profiles to establish their biography, a fact that disturbed me since I've never seen anything like this before. For all writing services I recommend collecting the bare minimum. They should not be interested in extra facts. More than that, TutorMe.com confesses that it shares this info with third parties, and the list is long.
Establishing Communication with Managers
When I placed a request for a call, I got it quickly. My manager sounded polite and engaged in our conversation, but their English was flawed, and sometimes I barely understood their pronunciation. They were too vague when it came to my questions about quality policies: I wanted to know what I should do in case I felt dissatisfied, and they never gave me a proper answer.
One Session with a Tutor
TutorMe.com reviews mostly appear positive. According to the website itself, their success rate is incredible, and the average rating from students is 4.8 out of 5 stars. But what is the real situation? I chose a tutor for an English lesson, pretending that I wasn't a native speaker and that I wanted to understand grammar. I also needed their help with four tasks allegedly assigned to me. My expert got in touch with me on time — this was pleasing. We talked for a total of 20 minutes, and I had very mixed impressions.
The tutor obviously knew English well, though I don't believe it was his first language. I agree with TutorMe reviews that some specialists in this agency know their subject. But he couldn't explain anything coherently to me. He ended up doing exercises in my stead, and while his answers were accurate, this was not what I paid for. As a student, I wanted knowledge, not just ready-made answers. It wasn't tutoring, and this guy had no educational experience, this much was clear. He wouldn't be working as a tutor.
Leaving Request for Managers & Tutors
Students should book a call if they want to speak with managers and place a request. The process is complex. These are the steps to follow:
Push the "book a call" button.
Fill in a request form listing your first and last name, contact details, school name, job title, etc. If you don't have a job, make something up — TutorMe.com reviews demonstrate the company's website is currently extremely flawed, and it doesn't allow making an account.
Answer the call and follow the instructions for setting up a personal profile.
Click "connect with a live tutor" once you're logged in.
Provide a description of your task or upload relevant files.
Enter your virtual classroom and wait for a tutor to start a lesson.
I already said it in my detailed TutorMe review, and I'll repeat it again: the whole order placement system is a mess. Students will lose a lot of their time trying to figure out how to register. Booking a phone call is for teachers or organizations, not individual students, which will complicate everything further. The firm needs to make sense of its interface ASAP.
Prices for Tutoring as Discovered in TutorMe Review
Prices floored me. One minute of chat with a tutor costs $1. Maybe I could understand it better if the majority of this money went to experts. But in reality, they earn only $16 per hour. This is not normal, and I felt deeply offended on their behalf. It's offensive for clients, too, because other firms offer much lower rates.
Impressions from My English Tutor
As I already stated, my tutor seemed to know his subject well, but he didn't know how to teach me. He struggled to explain any rules, and he couldn't find any words as we were doing homework. In the end, he solved all exercises for me, which was not what I hired him for.
Any Way to Order Reassignment?
TutorMe offers reassignments when clients aren't happy with their tutors, but if you hope to return your money, forget it. The chances of this happening are nearly non-existent. You can go through many tutors, but you'll have to pay for their help each time.
Tools & Resources for Students
The company claims to have multiple resources for its visitors, but it's a lie. There are articles for tutors, not for students. Ebooks, webinars, and case studies are missing even though the platform advertises having them. I felt disappointed and bewildered — it's not clear who this site is even for. When working on dissertation writing services reviews about companies. I expect them to target students. This site seems to favor tutors first and foremost.

Interesting Information from TutorMe Reviews
I found some online reviews about this company, but most of them made me feel dubious. A big number comes from tutors, not students. Positive comments often sound fake.
SiteJabber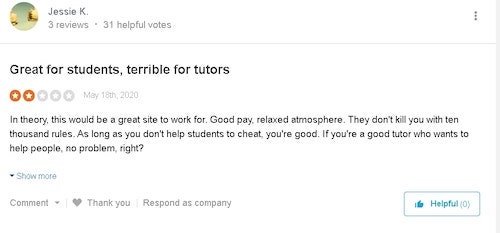 Only one review is present on this site, and it comes from a tutor. It's cryptic but obviously expresses dissatisfaction.
TrustPilot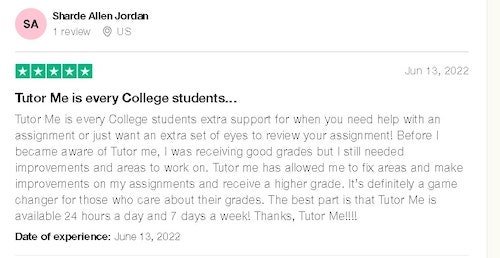 This review seems positive but in a suspicious way. It repeats the name of a company too many times, clearly for marketing goals; it appeals to other students with encouragement, telling them what a great firm this is instead of voicing their satisfaction in general as real students usually do.
Reddit

Most Reddit reviews of TutorMe are not happy. People had bad experiences, including with the website and unauthorized charges.
Social Media
The firm has a Facebook account, but guess what? It focuses on tutors once again! Twitter is active but doesn't have active followers.
Faq
Is TutorMe legit?
This platform provides real tutoring services to a variety of clients, including organizations and individuals. It is legit.
Is TutorMe safe?
It collects too much data about its customers, and it can share them with too many other parties. It means that it isn't entirely safe.
Is TutorMe reliable?
This company is only partly reliable. It has good tutors who are capable of delivering top services, but it also has those who are less qualified. They cannot provide sufficient help.
Is TutorMe scam?
No, it is a real firm with real experts. It might not always provide quality services, but it won't scam you or leave you with nothing.