Our verdict: Not Recommended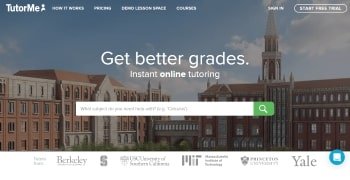 Top 3 services
VIP Support
From $14.99 per page
PhD Writers on staff: 80%
From $12.99 per page
TutorMe.com Review
When users of our site ask for reviews of specific services, we accommodate those requests as quickly as possible. In this case, we have had several requests for a review of Tutorme.com, a company that is in the business of offering online tutoring to students.
Because TutorMe is not a writing service per se, we have had to approach our review a bit differently. But we have tried to use as many of the criteria that we use with writing services we recommend as we reviewed this company.
Here is what we looked at:
The entire website contents
Products and/or services that Tutor Me offers
On-site testimonials posted by the company
Backgrounds, degrees, and other information (profiles) published about employed tutors
Pricing comparison with other online tutoring companies
Any benefits that make Tutorme.com unique in its industry
Review Criteria
We have tried to use many of the same criteria that we use for all of our reviews, even though this company is a tutoring rather than a writing service:
We want to see a company website that is well-organized, that provides clear information about its products, services, and pricing and that is easily navigated by visitors.
We want information about the professional staff the company employs – their educational credentials, their backgrounds and their experience.
We want to see pricing that is within the average range for the industry
We want to have a good experience with the customer support department
We want to see happy customers – not just from testimonials on the website but from customers who have provided feedback on the web or who have submitted comments to us directly
Tutor Me isn't a traditional writing service. Because of this, we were unable to look at such things as writing samples or blog articles. We have had to focus more on customer satisfaction, policies and processes, pricing, and other unique benefits that Tutor Me offers.
Here is what we have found.
Factor 1: Types of Writing Services Offered
There are no writing services offered. Instead, students who need immediate tutoring services make a request. They are then matched to a number of tutors who want to provide those services. It should be noted here that, while tutors are categorized by subject field, a tutor may "apply" to provide services outside of his content field. It is up to the student to "interview" each of these "applicants" and then to select a tutor he feels will best meet his needs.
It should also be noted that tutoring services are only for students from high school through graduate programs. Parents of elementary school children will not find this service appropriate.
Factor 2: Trust and Reliability
Is Tutor Me reliable? The short answer is yes, it certainly is. Students request specific tutoring services, make a tutor selection, and then get those services based upon their selection of "packages."
Not one customer of Tutorme.com has cried "foul" in terms of receiving the tutoring services they have ordered and paid for.
Obviously, the company can be trusted to deliver what it promises. And not customer has complained about breaches of privacy in their use of tutorMe services.
Factor 3: Level of Quality
This is the area where things are very mixed.
All of the on-site testimonials are highly positive, as expected. And many comments from off-site customers are positive too. They state that they got the help they needed and that their grades improved as a result.
Other students state that they felt their needs were not met and that they had paid good money without great results. They stated that tutors they were "matched" with for their choices did not have degrees in the subject field in which they needed help, and that it took a long time to "interview" all of the options before making a selection. They also stated that if they were unhappy with their selections, they could request a different tutor. But they did not get any refund for what they thought was poor tutoring, and that they had to go back and interview other tutors. All of this, they say, was time consuming.
Factor 4: Pricing and Payment
Basic pricing is based on a monthly subscription. But there are several other options. Students can use a "pay-as-you-go" method too, although it is really pricey – up to $1 a minute.
One positive note here – there is a free trial offer
Tutor Me accepts all major credit cards and PayPal as payment methods. And customer can certainly feel safe providing their financial information. Like most online retailers, TutorMe uses a secured third-party processor and thus does not collect or hold any customer financial data.
Factor 5: Additional Important Considerations
The Tutor Me website appears to be very well-organized. It is well designed. We found it easy to locate the information that we were seeking. There's also a blog on the site that contains some interesting posts. These are largely centered around high school and college level academics, and include some good tips for study skills and time management.
Concluding Comments
We can't accurately provide a rating for TutorMe. Simply put, this isn't a writing service. There are some positive testimonials, however, reviews overall are quite mixed. If you are looking for the type of help provided by writing services, you should look elsewhere. Ultimately, the pros & cons leave us a bit skeptical of the value here. Responsibility for finding the right tutor is totally placed on the customer and his ability to interview and make a good selection.
Another negative – tutorme.com is only supported by Google Chrome. If you do not use that as your normal browser, you will have to download it before you can access and use the website.
If you need tutoring services, we suggest you check out more than just this one. You may find better prices and options.
Overall, we have assigned a rating of 3 on our 1-10-point scale.