Our verdict: Not Recommended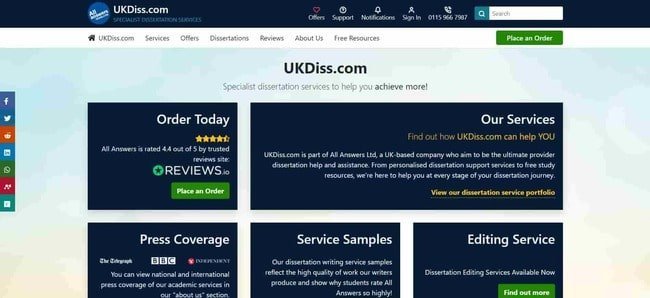 Short overview
Minimal deadline:
4 hours
Guarantees:
Rigorous Quality, Revisions, Free Plag Report, Timely Delivery, 100% Confidentiality
Payment Methods:
Available Services:
Dissertation, Marking, Capstone, CV Writing, Lit Review, Topic Selection
Extra perks and features:
Dissertation Samples
Summary
I attribute my decision to write UKDiss review to all those wonderful people who left their requests in my inbox. Many of you already know about the best writing services in the market, but time keeps passing, and before you know it, you need to start working on your dissertation. Since this company specializes in such projects, in particular, I decided to give it a try. Surprisingly, it appeared in 2003 and has almost two decades of experience. I had never heard of UKDiss before, and its online presence is almost non-existent. It has an outdated website, high prices, and interesting policies. Like most agencies, it guarantees to provide top quality, but I wanted to make certain of this on my own. That's why I ordered one chapter of dissertation and launched even deeper research.
Pros
Lengthy academic experience
Focus on dissertations
Compensation in case of plagiarism
Cons
Few reliable UKDiss reviews
No academic tools
Disappointing quality of work
Inconvenient chatting with operators
Top 3 services
VIP Support
From $14.99 per page
PhD Writers on staff: 80%
From $12.99 per page
Website and Its Interface
Any best coursework writing service online needs to have an impressive website. This is the first page visitors see when they meet the company, so it has to inspire them to stick around and place their order. As always in my work, I decided to start my UKDiss.com review with website analysis. I checked the front page, and my first thought was that I was transported at least a decade into the past. The homepage looks outdated and overstuffed with various info. There is no unique design or even preferred color combination, just rows of boxes with explanations or links to explanations about a company.
I also consider this platform confusing. Yes, it has all the key information a client might want, such as prices, range of services, and ways of contact, but it isn't easy to find them, and when you do, it might take a while until you understand anything. Prices are a good example. UKDiss offers info about the cost of half of the page, then randomly for several pages, and none of the numbers seem to match. As for content, it's majorly fluent, though it has mistakes that a good proofreader could fix. Look at this sentence: "We understand the frustration that student's face…" Clearly, it should be "students," in plural form. I feel like a site of such an experienced provider could look way more professional and elegant.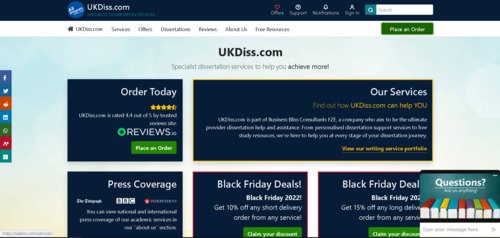 What Services Are Present and Are Samples Available?
As you already guessed, this agency focuses on providing dissertation services. I noticed that some UKDiss.com reviews described other features, like CVs and marking of their projects. This is true: you could order an online assessment of your completed task, literature review, dissertation, or a part of it. There is nothing wrong with specializing in one area, but this limits choices, hence the lower rating. Only some students will be able to find assistance here.
Samples play a big role in my reviews. They prove writers' qualifications and entice visitors into placing an order. I was pleased to see that UKDiss has its collection, and it's rather extensive. It includes dissertations and chapters on various topics. I picked one randomly to see if its quality was satisfactory.
Title: Business Dissertation Proposal
Length: 10
Analysis: This is not the best example of a dissertation. It has numerous language and academic flaws, such as the overreliance on passive voice, overusing informal words like "very," and wrong punctuation. Most sources are good, and ideas are occasionally insightful, but this is not the level any dissertation should have.
Quality: Medium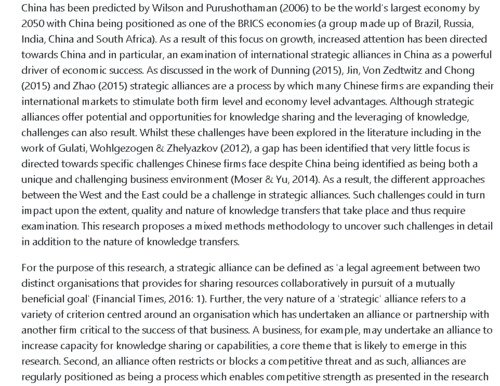 Legal Attributes of UKDiss Review
Reading the company's policies is essential. You won't find their discussion in reviews about paper writing service on Reddit or elsewhere since most students don't like to dwell on this topic. They skip policies and hope for the best, even though this might have severe consequences. When working on this review, I went through every line, and my findings concerned me. UKDiss promises to protect clients' privacy, but then it lists all the info and endless third parties it might share it with. There are marketers, financial operators, storage operators, etc. It's difficult to follow them and all their rules. Be aware that your sensitive information might end up in the hands of people you never intended to hire.
Another thing UK Diss reviews didn't discuss is the specifics of refunds. It is possible to get your money back, but the company itself dictates when and how it happens. Bad quality, late arrival, deciding that you don't want this project after all — none of this might make you eligible for a refund. As the company claims, once you pay, you acknowledge that this is it. A weird aspect is that the company is ready to work with children who are 14. This isn't legal in other agencies, and I found it surprising. What I loved was the compensation for possible plagiarism. The company promises to reimburse its clients by giving them £5,000 if they present evidence of copied content. This is generous.
Four Attempts at Talking to Operators
Is UKDiss good at communication? Not at all. It doesn't have 24/7 chat, a fact I found outrageous. If you have questions, you can leave them in a special form, and then managers will make contact. Sometimes it takes them hours, and this slow back and forth is really frustrating. Operators themselves were mostly nice, but I cannot call them helpful. They barely understood their own company's rules and gave me contradictory answers a couple of times. Basically, every person presented a new fact. I was confused. It's astonishing that over these years, UKDiss didn't manage to establish a proper system of communication.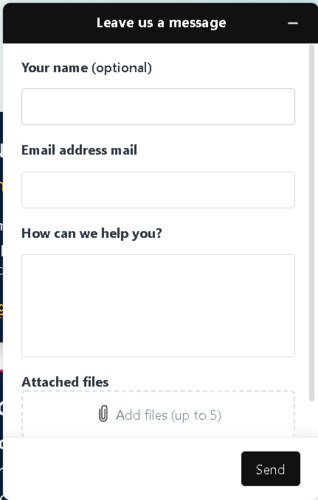 Quality of My Dissertation Chapter
For my detailed UKDiss review, I placed an order in Nursing, asking writers to create a chapter of my dissertation project. I paid $288 per 5 pages (which is about 2000 words here), with my deadline being 14 days. This is a high price. I only hoped that the results would be worth it. My writer delivered it on time, as promised, and I quickly started reading it. I felt severe disappointment. Sure, this wasn't the worst project I've seen: at least half of the ideas sounded interesting, and my writer selected only credible sources. But their manner of writing was overly simple. They made errors that made me wonder whether English is their first language. As you can see from a screenshot, there were 100 language issues identified in the text, and upon checking, I confirmed that they are valid. This work was more fit for high school, it was not of dissertation level, so I decided to try using the revision option.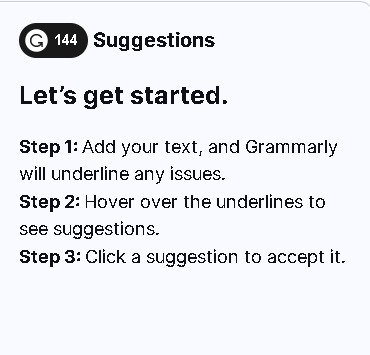 Instructions for Placing Your Order
Reviews of UKDiss never discussed how to place an order, which is why I decided to do it myself. This process seems simple, but it has some confusing steps. You should do the following:
Hit "place an order" & give details. Select your type of task, subject, grade required, length, and deadline. Share personal info for creating an account. The problem is that selecting an academic level and page size is difficult. The company offers many options that don't apply to every college or university, especially if we are talking about American students.
Choose extras. UKDiss reviews mentioned that this company offers several types of quality, which is true. You could choose an elite level for an extra 25%. I hate division in quality because it breeds corruption.
Pick marketing communication & accept terms. Choose how you wish to receive ads. Confirm you're accepting the terms. There seems to be another series of questions during this step, but I constantly get the "We couldn't load our questions, please try again" error.
Pay partly for work to start. You need to inject your account with the sum you see on the screen.
Pay the rest. At any point, release the sum that remains.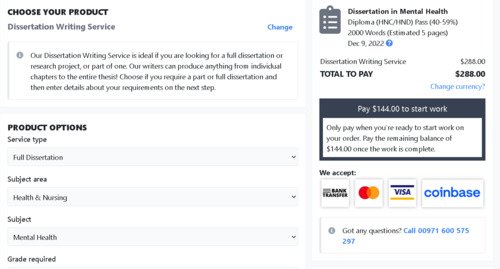 System of Prices at UKDiss
UKDiss reviews mentioned how expensive these prices are, and it's true. They are extremely high. The smallest sum is $90 for 250 words. The price is the same for all essay writing services, so it doesn't matter whether you order a full dissertation or a part of it.
You can see how the price for 5 pages changes depending on a deadline on a screenshot. Keep this in mind because the difference is significant. This company also provides discounts of up to 15% to its clients. This is a great benefit, but it works on special dates only, like holidays.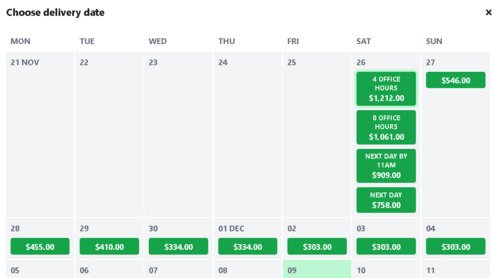 Relationship With My Writer
As I stated in my review of UKDiss, my writer failed my expectations. Their work wasn't terrible and beyond hope, but it didn't meet my demands. This makes me think that the agency doesn't check 500 of its stated experts as thoroughly as it should. Not all of them are professional enough to be working in this sphere.
How Could Revisions Help Improve the Order?
Testing revision option is common for any dissertation writing services review I write. Even when the order is amazing, I try to find some flaws to see how writers could correct them. To my frustration, UKDiss.com improved by about 20% of content after my complaint. The writer rewrote some sentences and made them more complex, but the rest remained unchanged.
Tools for Visitors & Students
This platform has no tools. The only free benefit is samples. This is upsetting since I expected more consideration toward clients during such a lengthy period of work.
Searching for UK Diss Reviews
Despite the company having years of experience, it has no reviews on the most prominent platforms. They are centered on one specific platform that I don't find trustworthy. This is suspicious because if clients were willing to review it, I guarantee that they would post their comments on several websites, especially the ones I'm reviewing.
SiteJabber and TrustPilot
Unfortunately, there are no reviews about UKDiss on SiteJabber and Trustpilot.
UKDiss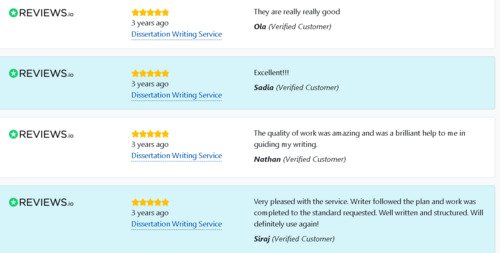 The company posts reviews on its site. They are all positive, short, and generic. This is not trustworthy.
Social Media
The company has an abandoned Facebook page and Twitter account, but they are not popular. Students don't appear to engage with them.
Show Me Your Top Services
Faq
Is UKDiss legit?
This is an old company that has been working for a long time. It functions legally, so you have no reason to worry about its legality.
Is UKDiss safe?
No. It shares information about its clients with various sources to the point where it's difficult to keep track of them all. Its refund policy is too complicated.
Is UKDiss reliable?
It depends on an expert. There are some good writers here, but others are average or, worse, underqualified for projects as complex as dissertations.
Is UKDiss scam?
No, it's not a scam. You'll get your dissertation after paying, but its quality is going to depend on a number of factors. You might not like it.