Our verdict: Not Recommended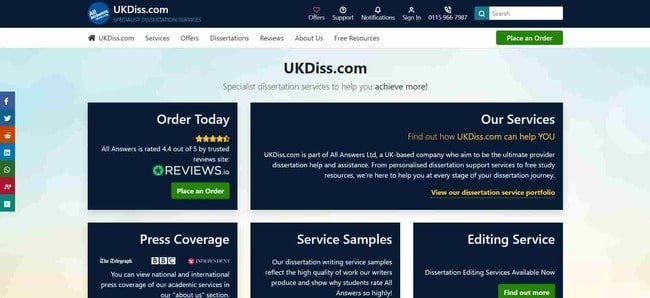 Top 3 services
VIP Support
From $14.99 per page
PhD Writers on staff: 80%
From $12.99 per page
UKDiss Review
You know very well that we like to make detailed analyses of various writing sites we come across, and when we found UKDiss.com, we thought a review should be made. When we found the platform, we looked at different aspects such as whether there are customer reviews about paper writing service on Reddit or other sites, as well as their prices, their services, and their discounts. Furthermore, we were also able to get into the possession of one of their works, helping us determine how much quality their writing has and if they're trustworthy enough. Is UKDiss reliable, or a scam? Find out in this UKDiss review.
Review Criteria
Before we get into the actual review, let's make it clear what we're taking a look at when giving a writing platform a rating.
It's important to us that essay writing services have good or at least decent reputation online. There shouldn't be too many complaints about it. But other than that, we care a lot about the quality of their papers, which includes their grammar, knowledge of the English language, and knowledge of the right structure for the respective assignment. It's also important that the writer respects the deadline.
We take a look at the payment options they approved, and the cost of their services, and whether it's fair. The transactions need to be safe and not endanger the clients' personal information or funds. Sometimes, we also care if a BBB registration exists.
Factor 1. Types of Writing Services Offered
The main service offered by this platform is the dissertation writing one. They offer to write your dissertation for you or edit it if you're out of time or want a professional reviewing it first. Aside from that, they also have a dissertation proposal service, as well as a literature review one and a capstone project one.
We noticed that they can also write a CV for you or proofread your work.
Factor 2. Reliability
When we accessed this website at first, we landed on a very crowded main page and we didn't know where to look. The homepage is full of boxes with text, and the overall color scheme looks chaotic.
As our eyes were scanning the page, we saw that apparently, UKDiss.com has a 4.4 out of 5 rating on Reviews.io. We went to look for testimonials, but we couldn't find any. We were asked to become the first to leave a review. We don't like lies and we thought this was enough to consider the website unreliable. The information presented on the main page could easily be misleading and make people place an order expecting something good. If they don't check the information, they could easily be made to believe that this site is the real deal.
Another thing we noticed is that many people who told us about this website complained about the fact that the deadline was missed many times. Not respecting the deadline is a big issue because it could get the student into trouble, and it's irresponsible on the side of the team.
Factor 3. Level of Quality
With the opinion we had so far, we weren't very hopeful when we reviewed the paper we had in our possession. But we knew we had to, so we could confirm whether the negative UKDiss.com reviews were true.
Now, the website itself has some samples available for people to check out before they order. When we discovered that, we thought this was a good opportunity to compare the quality of the writing. While more effort was made to create the samples, the same cannot be said about the dissertation we were looking at. The outline was not arranged properly, and the English used was that of someone who just learned some basic grammar and figured out how to create some sentences.
For some reason, the writer didn't put enough effort into doing research and the dissertation also ended up being written poorly, with ideas that weren't even polished as they should have.
Factor 4. Pricing and Payment Options
It took us a while to look for the prices, and this is because there isn't any table that shows the price of the services offered. Instead, you have to go to the form you would fill when placing an order to estimate the price.
We browsed a few options and whatnot and noticed that the prices are very high. When selecting dissertation writing and requesting a full dissertation on the subject of law, for the undergraduate level, we saw that a single page costs as much as $111.00, given the deadline is two weeks. You have the option to request multiple pages, but the price is considerably higher.
Discounts are available in certain situations too. For instance, you can use a promo code as the website makes them available now and then. Apart from coupon codes, you can also get a 15% discount if you refer to a friend, or get 10% off for long delivery orders.
For payment options, they accept MasterCard, Visa, Bank Transfer, WeChat Pay, and AliPay.
Additional Information
There are a few guarantees every future customer should read carefully about whenever they are planning to make an order. For instance, there's a plagiarism-free guarantee. If any work they create contains plagiarism, they will pay out a £5,000 guarantee, but we don't trust that if we consider the review lie too.
They also say that their works will go through quality checks and that they will arrive on time. This isn't too legit based on the complaints we've read from former customers. More than that, none of them declared they were successful with a refund attempt, so we're pretty skeptical.
Final Thoughts
UK Diss is not the best alternative for dissertation writing. It has its pros & cons just like any website, but we think the cons are a little too many to accept. The site has a lot to improve if it wants to live up to the expectations, so hopefully, they'll do better in the future.