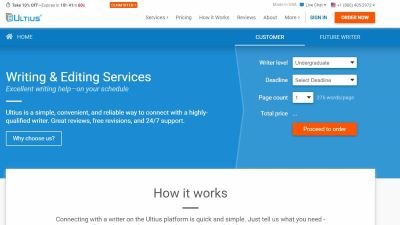 Ultius Review
Updated: May 09, 2021
Ultius.com has been in business since 2010 and states that it is a fully American company with only American writers. It offers academic and business writing products, editing and proofreading, admissions essays, and resumes/CV. We have prepared this review as an objective accounting of all aspects of the company. We have used several sources for information – the site itself, Ultius testimonials that the services publishes on the site, other customer and employee reviews found on social media and writing review sites. As well as an evaluation of a research paper we ordered ourselves. So, is Ultius legit? More importantly, is Ultius legal? The following is the result of our investigation.
Products and Services
All types of academic writing products are available, starting at the high school level and proceeding through the doctoral dissertation level. Graduate level products include theses and dissertation chapters. Business writing includes only CV and resume writing services. CV editing services are available as well.
On top of that, they also offer all sorts of academic assignments, including literature reviews, reflective journals, project reports, annotated bibliographies, case studies, critical reviews, and more. Overall, you have chances to find pretty much everything you're looking for from a writer in terms of services offered, so this aspect has been worked on.
We called the customer service department to ask questions about dissertation work, available writers, qualifications of writers, and about progressive delivery and payments. The representative was pleasant but was unable to answer our questions. She too our phone number and stated someone would return our call with the information. That never happened.
Trustworthiness
We base trustworthiness on the actual performance as it relates to following customer instructions in the production of written works, the meeting of deadlines, protection of personal information and security in payment procedures.
All Ultius customer reviews indicated that deadlines are consistently met. A few customers voiced concerns that their specific instructions were not completely followed and that they work had to be returned for revisions.
According to the site, personal information of customers is digitally protected and is not shared. As well payment procedures (major credit cards and PayPal) are processed securely through a third-party with SSL security certification.
Upon checking the Ultius Reddit posts, we discovered multiple mixed opinions about the platform. One of them came directly from someone who claimed they were an Ultius freelance writer in the past. According to them, Ultius is indeed a legit and legal company. However, they are reportedly not one of the best writing services online to their writers. Tthis could cause many writers to want to leave.
We also hoped to see something in regard to Ultius cheating, such as things a client could do if the writer would resort to plagiarism. We couldn't find an Ultius plagiarism related document that stated there is a no-plagiarism guarantee or anything of the sort. Luckily, this doesn't exactly affect whether the site is legit or not.
Based upon these factors, we can definitely state that Ultius is not a scam.
Writing Quality and Writer Expertise
The company states that all of its writers are American and that they all possess graduate degrees. There is no way to check that. In terms of writer quality, there are no major complaints, although some customers have stated that they did have to send work back for revisions before they were satisfied.
When you're trying to order an Ultius essay, you will see that there are three types of writers available. Thanks to this, the customer can simply choose the writer they want based on the quality they're looking for. Of course, certain categories of writers will come with additional costs.
The writer categories you have to pick from when you're making an Ultius writing submission includes the best available, graduate writer, and requested writer. When you choose the "Best Available" option, you are giving the site permission to find a writer for you. They will search for someone who is best suited to complete your work, in their opinion. This is a way to ensure the paper ends up having the quality that you want.
Then, you have the "Graduate Writer" option, which pretty much includes some of the top performers of the writers of the site. These writers are selected for this category based on their order history, credentials, and many other factors. What's great is that your order takes priority. You will have to deal with a +20% cost to have a writer like this, though.
Lastly, there's the "Requested Writer" option. This option is great for when you have someone who is a favorite writer of yours or a writer you already worked with in the past. You will have to pay an additional 15% for this option.
Our Experience
The paper we ordered was received on time. The writing quality was appropriate for the undergraduate level, although there were some obvious grammatical issues, and the resources used were adequate. The writer make several errors in formatting and we did have to return the work for correction.
Writer expertise is assessed based upon sample writings on the site itself as well as anonymous comments from the writers themselves on employee review sites. Several writers stated that they were producing research works outside of their major fields of study, and this is a cause for some concern. As well, some of the grammar used by the writers in preparing their comments indicated that they may be ESL themselves.
Overall, our Ultius rating for quality is "Good."
The only thing we noticed is that Ultius offers Ultius jobs to people who would like to work as writers. But the reviews from those who had Ultius careers are mixed. We checked some Ultius Glassdoor reviews, and while some were positive, there were negative ones too. Not all writers had a good experience, and maybe those who didn't enjoy their time with the company were the ones lacking in quality sometimes.
Pricing and Discounts
Ultius.com prices are a bit higher than average. An 8-page research paper that we ordered was $176.00. Because there were no Ultius discounts for new customers, we had to pay that full price. We saw no mention of Ultius.com coupon codes which is common with other services, although there was a place on the order form for a customer to add an Ultius promo code that is evidently reserved for "loyal" customers. There is no definition of that term on the site, so we assume it is something awarded through customer service at some point.
On the website, though, you may end up seeing the options to get a 20% off coupon code. An Ultius discount code would be amazing for many students who are not in the best financial situation, so we hope to see more of this. One discount code we came across was an offer that requested your email address. Once you introduce your email address, you'd be able to claim the offer. So, hopefully, Ultius will take these codes more seriously in the future.
Additional Features
Ultius does offer free title and bibliography pages as well as free revisions if an order has failed to adhere to a customer's instructions. Beyond these three items, there did not appear to be any other benefits.
Conclusion
Pros:
Discount system for both new and existing customers

Help with business documents along with regular academic writing services

Mostly positive reviews on reputable platforms such as SiteJabber

Zero tolerance towards plagiarism
Cons:
Slightly higher price per page compared to other services

The website is overloaded with information which makes it harder to navigate
Our Ultius review revealed that the company is legitimately in the business of providing writing assistance to its customers. As well Ultius BBB rating is "A," another sign that it is very legitimate. If we were to discuss overall Ultius.com pros & cons, we would state that customers do get what they order and deadlines are met. Our experience and that of several other customers is that often the works have to be returned because customer instructions were not followed.