Our verdict: Not Recommended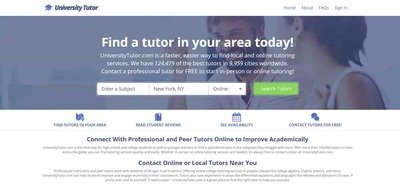 Top 3 services
VIP Support
From $14.99 per page
PhD Writers on staff: 80%
From $12.99 per page
Universitytutor.com Review
Universitytutor.com was founded in 2004 by a college student, as a site to match students in need of help with tutors who would be paid directly by those students. This is somewhat close to the business model the company has today. To provide this University Tutor review, we looked at a number of factors, one of the most important being customer reviews that we found on the web. Of course, we look at on-site testimonials, but do not give the as much weight. We have thoroughly studied the content on the website, have looked at profiles of UniversityTutor tutors, customer service, policies and processes, and more.
University Tutor Services
As the name implies, the company provides tutoring in all academic subjects to high school and college students, along with test prep. If you want to pay someone to write your paper, consider using other companies. UniversityTutor operates much as a job board. Students enter their tutoring need on the University Tutor website, it is then posted, students are then contacted by potential tutors for "interviews," and the student makes the final selection. Tutor and student agree on the price, and payment is held by the company until the end of the agreed upon "contract."
Tutoring can occur in person or online, depending on student preference and location. Right now, University Tutor boasts that it has tutors in over 10,000 cities and 125 countries
The company's role is minimal. And, in fact, the only method of contacting the company is via email.
Quality of Products and Writers
Obviously, there are not academic writing products or writers. The question becomes the quality of tutors in terms of education, background, experience, and actual performance.
Here we found a mixed bag. Customer reviews on the web range from very satisfied to very unhappy. Quality and customer satisfaction are really matters of the tutor that a student selects, so the onus is totally on the student. The company makes this quite clear and tells students that it is their responsibility to "interview" tutors and make wise selections.
Prices and Payment Options
There are no fixed prices, discounts, nor will students ever find any type of promo code or coupon code for special pricing. Prices are negotiated between student and tutor, and the company merely takes its commission. Payment options are standard – major bank cards and PayPal.
UniversityTutor Discounts
In a word – none.
Extra Treats
Because UniversityTutor does not operate as a writing service that delivers products, there are no "extras" that might be found on those sites.
Final Note
Clearly, University Tutor is not a fraud or scam. Students post their tutoring needs, select tutors, and get the services they pay for. Do we have some concerns? Yes. In looking at pros & cons, we have noted that there is not a BBB membership indicated on the site, that the company is almost too absent, and that there is a lot of responsibility placed upon the student in the tutor selection process. Tutors can come across as highly expert in their conversations with students and yet not really deliver once they are selected. For these reasons, we are providing a rating of "Fair."