Our verdict: Not Recommended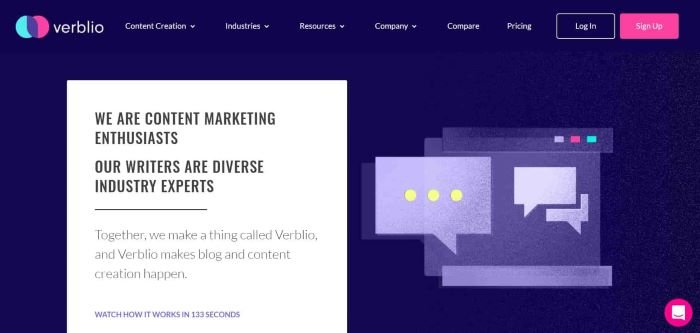 Top 3 services
VIP Support
From $14.99 per page
PhD Writers on staff: 80%
From $12.99 per page
Verblio Review
When you are in deep need of some writing help, you can never be too certain about whom you should or should not trust with your content; what should make you choose one service in favor of the other? How do we determine whether they will provide you reliable content or not?
Indeed, many websites out there have the sole purpose to scam you – but some of them may also be trustworthy. Some may give you a paper, but it may not turn out to be worthy of the price. We will try to determine whether Verblio can be trusted or if you should look for an alternative instead.
Review Criteria
When we write college paper writing service reviews, there are certain aspects that we often keep in mind. First things first, we look at the types of writing services that they provide. Do they offer academic help, or do they cater to multiple needs such as businesses or marketing? Do they only write from scratch, or do they also provide editing and proofreading?
We also look at their reliability and their ability to provide essays worthy of a good grade. If we see grammar issues, then it immediately becomes a deal-breaker for us. The security of the payment is also important – and obviously, we also care about the prices. We try to determine whether the price is fair when compared to the quality that we receive in return or not.
We will also check the responsiveness of their customer service, along with their ability to provide useful answers. We will also carefully examine their privacy policy, along with other useful information that we may come across.
Factor 1. Types of Writing Services Offered
Verblio.com provides professional marketing writing services for those that need content for their company. On their website, you can see that that they offer blog spots, website content, eBook writing, press releases, newsletters, and so on. They also provide white paper writing, which is content that you may use to inform and educate your customers.
What they don't offer (and they specifically mentioned that they don't) are care studies and term papers – from which we can assume they do not offer essay writing services for students. You do have an option for revamping your content, but this might only be useful if you already have a paper, and you want them to do some touch-ups on it. It's not, however, useful for students – but mostly for businesses in need of marketing.
Factor 2. Reliability
In terms of reliability, we cannot say for certain that Verblio is a fraud, but we cannot say that it is particularly reliable either. We looked for a BBB rating, but we could not find anything that could give us an idea. This suggests that the website has not grown enough for it to receive this rating.
From what people claim based on their experience with the platform, we also found many complaints. The deadline was continuously pushed past when it was due, and according to clients, they would not release some of the services unless you pay more. These complaints came from both writers, along with clients that used their services; access to crucial content was blocked, even though you paid for it.
Factor 3. Level of Quality
In terms of writing, we looked for samples, and we saw that they indeed offered some. By looking at their blog, we could see that the text provided by Verblio was of a high quality – one that would get you several views on your website. However, when you look up customer reviews of their services on Reddit, you will see that their reputation is not as good either.
We could not see any complaints directly related to the plagiarism of the content, but we did find some concerns about its overall originality. Their testimonials on their website boast original papers and happy customers, but every review we could find on independent platforms expressed concerns. The papers were not plagiarized per se, but they did believe they took old content from other websites and just rephrased it. This makes us doubt whether we should deem them trustworthy or not.
Factor 4. Pricing and Payment Options
Prices are quite high on their website, and the cost for a 300-word microblog spot will be $34.95. This puts a standard 1,000-word blog spot at $119. Plus, if you need a 2,000-word eBook chapter or white paper, it will cost you $359.95. This is very expensive, compared to other similar marketplaces.
That said, the minimum order amount for the website is $104.85. This means that even if you wished to take the service for a "test drive" and only order a microblog spot, you would not be able to. There's no free trial either, so if you wish to test the service first, you will have to pay for the content that you ask for. $104.85 is quite expensive just for a test.
We looked on their website, and we found no discounts, no promo code – not even some coupon codes for those that have used their services before. They do offer a 30-day money-back guarantee, but we could not find exactly what makes you eligible for a refund.
Additional Information
We do not have much else to say about this website, aside from the fact that customer support is not that reliable. Their live chat is not always available, although they do say they have 24/7 customer support. Customers also say that support always keeps them on hold, to the point where you just hang up simply because you are tired of waiting.
Conclusion
After analyzing the pros & cons, we cannot say that Verblio is not safe to use, but it's not very trustworthy either. If you are a student, you can't benefit from it – and if you are a business owner, you might not get good results. Judging from the previous experience that people had with their writers, you might want to look for someone else to do your marketing.