Our verdict: Not Recommended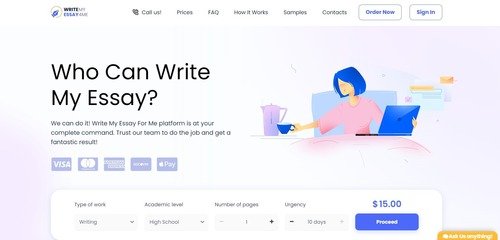 Top 3 services
VIP Support
From $14.99 per page
PhD Writers on staff: 80%
From $12.99 per page
WriteMyEssay4me.org Review
Writemyessay4me.org has been around for close to six years, and it maintains a simple and pretty scant website. To put together this Writemyessay4me review, we read through all of the content on the site – policies, links to product types, samples, blog posts, pricing, benefits and other features, as well as the testimonials that the company has published on its site. And we scoured the web for any comments and feedback that customers have posted. We also solicited feedback from any visitors and users of our site for their experiences with Write My Essay 4 Me. And, for our direct part, we contacted customer service two times, once by phone, and once by live chat, to ask detailed questions about products and service
We want to evaluate writing services with one thing in mind – to point out trusted and reliable websites offering top paper writing service. Which produce high quality research and writing for their customers.
All that we found is summarized below. Happy reading!
Services Offered
The focus of this company is academic writing help for students from high school forward. They can order anything from a basic essay, to research papers, homework help, admissions and scholarship essays, case studies, reviews and critiques, articles, speeches and presentations, lab reports, projects, and theses and dissertations for graduate students' final works.
In terms of subject field areas, there is a comprehensive listing and the statement that they have a huge number of qualified researchers and writers in all of these fields.
Prices
WriteMyEssay4Me.com prices run just a bit above average for the industry. It's interesting that there is no distinction between the price of a basic essay and a research work. The pricing is totally based on the academic level, number of pages, and deadline date. This raises a bit of a red flag for us. Most professional services do have differentiated rates for the varied complexity of products.
Payment processes are safe. WriteMyEssay4Me uses a third-party SSL-certified payment processor, and financial information is secured. The company itself does not collect or hold any customer financial information.
Discounts and Additional Features
Customers will find no discount plan on the website. There are not coupon codes for new or returning clients. When we asked customer support about this, we were told that, for large and complex orders, customers can request a discount, which is usually approved. As well, there may be an occasional promo code for a discount posted on the site. It also looks like customer can sign up for company notifications, and special pricing and discounts may be provided through those.
We also could not find any special benefits, other than the right to request up to three revisions to a finished product. This is a "bare bones" company in most every respect.
There are policies that govern customer satisfaction and privacy, and they are standard for the industry.
Another point: There is communication between customers and their assigned writers, but this is through email. It is not ideal, considering that many students have urgent deadlines to meet, and email is certainly slower than messaging and chat.
Customer Support and Site Usability
There is no contact phone number for WriteMyEssay4Me, and the only means of communicating with customer support is through live chat. Unfortunately, that is not fast or efficient. Every time we asked a question about policies or products, there was a long pause before we received any kind of an answer. This it typical when writing companies use answering services rather than have their own trained agents. Overall, our experiences with customer support were disappointing. We were told, though, that we could get a 180-page doctoral dissertation completed within 6 days for $4680.00 – that would be somewhat of a miracle, considering that an original research project is required for these projects.
The site itself is simple and clean and relatively easy to navigate. There is quite a bit of content, along with samples and a blog. We reviewed several of these pieces, along with the website content itself, to get a handle on writing quality. Frankly, we were disappointed. Given the grammatical, structural and word usage errors, it was obvious the Write My Essay 4 Me use ESL writers.
Writers
There is no information about the company writers on the site. To gauge the quality of what they produce, we had to rely on customer comments and feedback, as well as our own experience. Here are our findings:
Customer complaints relate to poor writing, poor responsiveness of writers, and failure to use appropriate resource materials for college level research.
The site itself is filled with the same types of grammatical and structural errors. It certainly does not inspire confidence in quality academic writing.
As stated above, samples and blog posts are poorly written, even though topics are interesting and could otherwise be helpful.
In all, while we find that Write My Essay 4 Me is not a fraud or scam. It is a legal writing service that takes orders and delivers products to its customers. The issue we have is that quality is poor, and writers are not native English-speakers who can produce the types of pieces that English-speaking students need.
Conclusion
Overall, as we look at pros & cons, this company is not one we can recommend. Most customers agree with our assessment. Research and writing quality is poor; communication between customer and writer is slow; customer support is lacking. All of these things result in an overall rating of 2, on our 1-5-point scale.