Our verdict: Not Recommended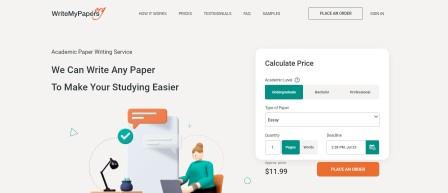 Top 3 services
VIP Support
From $14.99 per page
PhD Writers on staff: 80%
From $12.99 per page
WriteMyPapers Review
We are not certain how long WriteMyPapers.org has been in business. But we have had some users of our site submit feedback and comments and ask for us to review the company. While we certainly take our users' comments into account, we conduct an objective review, based on the same criteria we always use.
Review Criteria
The common criteria we use to evaluate any essay, research, and term paper writing service includes the following:
products and services
information provided on the company website
samples (when available)
prices
discounts
information on writers
customer reviews that we solicit and find out on the web
policies
guarantees
and any other key information we can find.
Our goal is to determine if a writing service is legit, safe, reliable, and trustworthy and if we can recommend it to those looking to avoid any scam or fraud because there are many of these in this industry.
What follows is our objective review of Write My Papers.
Factor 1: Types of Writing Services Offered
This writing company might be a student's dream come true, considering the wealth of products and services it offers. These are all listed in a drop-down menu on the writemyapers.org home page. Take a look:
Any type of academic writing from scratch- ghostwriting
Admissions essays
Personal statements
College paper writing
Coursework of any kind
Theses and dissertations – any sections or chapters
Online classes
Reports
Speeches and presentations
Research papers
Term papers
Tutoring
Case studies
Lab reports
Research proposals and projects
More
It should be noted that Write My Papers is specifically for undergraduate and graduate college students. The company may take on high school student orders, but it is really not designed to do so. So high school students may need to find an alternative service for their needs.
Factor 2: Trust and Reliability
These are important things to think about. Trust and reliability from an academic writing service mean the following:
Written policies are in place and honored by the company
Customer confidentiality is maintained
There is a guarantee of non-plagiarism
There is a guarantee that orders will be delivered on time
There is a guarantee of customer satisfaction, via revisions and a money-back policy.
In short, these things are promised by most writing services companies. Living up to them is the difference between a firm that is professional and ethical, and one that is not.
From what we have been able to learn from customers, it looks as if Write My Papers generally adheres to what it has promised. However, there are customer comments with complaints about delivery deadline delays, difficulty in getting revisions and refunds, and issues with customer support.
All customers who have submitted comments or feedback do state that their confidentiality is protected, that plagiarism was not present, and that their payment methods have been safe and secure. On a 5-point scale, then we are giving the company a 2.5 in the criteria area.
Factor 3: Level of Quality
Quality of products is, of course, the most important criterion by which a writing service should be judged. We use a couple of factors in making an assessment of quality.
First, we read through the content on the website and judged the grammatical correctness. Much of the content is in a question-answer format. When longer content is provided, such as information about college admission products, we did find some of the typical word usage errors that ESL writers make. That, alone, though, should not eliminate the use of the service.
Second, we read three of the sample products – one on education, one on psychology, and one on ethical issues in technology. First, they lacked titles. One had an abstract that did not relate to the content of the paper, and in all three instances, it was difficult to find a solid thesis statement. In terms of grammar and composition, we also did find errors typical of ESL writers.
Third, we solicited comments from actual customers and checked out major review websites (e.g., SiteJabber and Trust Pilot). We also checked Reddit but found no comments from student communities. Here is what we did find:
Many customers stated they were generally happy with the products they received and were able to fix the few errors they may have found.
Many customers also were critical. They stated poor writing quality as their major issue, but also lack of good customer support and lack of response from their writers when they asked for progress reports or revisions. Some stated that the lack of quick revisions meant they missed their own deadlines. There were a few complaints about the quality of research resources.
It should be noted that the percentage of customers with negative comments often outweighs the percentage of those who are satisfied, not just with writing services, but within any industry.
Factor 4: Pricing and Payments
According to the company, pricing is based upon several factors – the type of product, the deadline, the academic level, and extras that are chosen during the ordering process. An undergraduate college student will find that a basic piece of academic writing, with a 14-day deadline, will run $11.99 per page – certainly affordable, if not downright cheap in comparison with other companies. Certainly, that price falls within the low-average range for the industry.
From this low price-point, costs go up to as high as $56 per page for Ph.D. level writing with a short deadline. Admissions writing is really expensive, beginning at $47/page all the way up to $227/page, because, as the company states, it only uses its best Ph.D. writers for these orders.
And there are extras. Free "extras" include title and bibliography pages. These are consistent with every writing service.
But then come to the fee-based extras, and there are many. Students will pay more for a higher-level writer, VIP customer support, text messaging on progress, a plagiarism report, and a table of contents. Taking all of these will add a lot to the final cost.
In terms of discounts, new customers receive 7% off their first order, and there is a coupon code to place on the order form for this. There are no set discounts beyond this, although the company does state that it will periodically email discounts and promo codes to subscribers. What it does offer is a "bonus" program. Students can earn bonus money toward future orders, based upon each order cost.
Factor 5: Additional Important Considerations
There really are no special features that set Write My Papers apart from other writing companies, other than that they only serve college students.
Concluding Comments
If we look at the pros and cons of WriteMyPapers.org, we can say the following:
The company is a legal and established entity that provides writing products and services.
Students do receive what they order
Customer satisfaction is mixed. Some are quite satisfied, while others complain about slow responses, poor writing quality, and resources that are outdated or too elementary for the college level
Prices for admissions products are some of the highest we have ever seen
The cost of extras can increase basic prices a lot.
Overall, on a 5-point scale, we are providing a rating between 2-3.