Edusson.com
https://edusson.com/
Pricing

4.6

Support

4.8

Quality

4.8

Delivery

5.2

Usability

4.7
Extra Features:
Payment Methods:

PayPal

Discover

American Express

Master Card

VISA

Support:

Live chat

24/7/365

US Toll-Free

UK toll-free

AU toll-free

Additional Features:

100% Privacy

All Subject Areas

All Formats

PowerPoint Presentations

Writers are Native English Speakers
Edusson.com Review
The following is our official rule of edusson.com. We have written it in hopes of educating students and others about this company. At the end we will provide a final recommendation.
Review Criteria
We base our review criteria on several factors. These are pricing and discounts, quality work, customer service, and website design. Finally we check out each services' reputation among students and consumer groups.
Factor 1: Types of Writing Services Offered
The website content focuses largely on academic writing services including the usual, essays, research papers, and term papers. However, it appears as though any kind of writing can be requested. It's just a matter of finding an available writer who is qualified. In addition to writing and editing, there is also a subscription service available. This service provides essay ideas, samples, etc. in exchange for a monthly or annual fee.
Factor 2: Trust/Reliability
As far as we can tell, Edusson is not a fraud or scam. We did receive an essay for the payment that we made. There are also customers who have been quite happy with their services. It is important to make note of the fact that they are not BBB accredited. Reviews on the compay are mixed.
Factor 3: Level of Quality
The essay we received as part of writing this review was of low average quality. It was written on the correct topic, and the writer followed our instructions. However, there were multiple spelling and grammar mistakes. Worse, the writing lacked the detail and insight that instructors expect from college level papers. Turned in, this would have likely been a grade C paper. Not acceptable for writing we paid for.
However, we do understand that writers aren't perfect. What we are more disturbed about was the lack of help or responsiveness when we attempted to contact the service about the quality issues we saw. We were ignored, and then when we persisted, rebuffed.
Factor 4: Pricing/Payment
Edusson prices vary widely. We received bids ranging from 15 to 35 dollars per page. Obviously difficult assignments are going to cost more. Likewise, the more experienced and reputable a writer is, the more they will charge. We did not see any discounts on the website. We checked online, but saw no coupon codes. There was also no plce to enter a promo code when placing an order.
Factor 5: Additional Important Considerations
Because it's a bid site, Edusson doesn't offer much in the way of extras. They have plagiarism scanning, but that's about it. Basically, students get what they get based on whatever agreement they come to with their writers. There are testimonials on the site. They are, of course, very complementary with each one offering a high rating. There's a blog, but it's of mediocre quality.
Concluding Comments
Edusson has a great website. There is no doubt about that. In the list of pros & cons, this definitely stood out as a positive. Unfortunately, due to our overall experience as well as the customer reviews that we read, we cannot reccomend this writing service to our readers. The quality is too hit and miss, and the responsiveness to issues is simply not acceptable. This appears to be a company that is spread to thin for its capabilities and infrastructure. Rather than risking your academic reputation with Edusson.com, please consider using another website.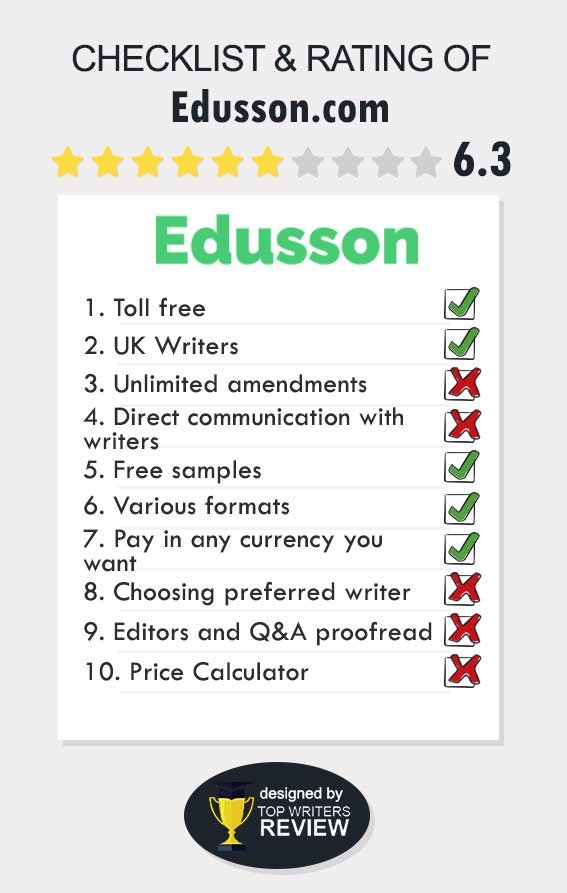 6 Customer Reviews of "Edusson.com"
Pricing

Support

Quality

Delivery

Usability
Georgia
commented
Edusson.com
I had to ask for a revision multiple times because my writer didn't care to read my instructions to the end. Took so much time!
Pricing

Support

Quality

Delivery

Usability
Graham
commented
Edusson.com
What I got in the end wasn't a unique paper at all. It was a strange mixture of passages from numerous texts of different styles. Of course I wanted to have my paper rewritten but the support service refused to help me with that. Such a waste of money!
Pricing

Support

Quality

Delivery

Usability
Savanah
commented
Edusson.com
Gross support level. I haven`t seen such irresponsive team ever in my life. The other things like prices, website responding and quality of the provided writing work are not that bad. I also saw a discount alert on theirs, but no chance for me on getting it somehow =/
Not scammers but the quality is terrible.

Nice website and friendly support. ...

Could have been better. Their quality sucks.
View ALL comments