Essay-Company.com Review
We are not certain how long Essy-Company.com has been in the writing service business – there is no information about this on the site. We do know that it is at least a couple of years, because we have found customer reviews that go that far back. Age, however, doesn't matter. What does matter are the factors that make up a professional and valuable writing company – the services it offers, the quality as determined by actual customers, its customer support, the products and services it offers, its prices, added benefits, and so forth. With these in mind, we have investigated Essay-Company and can give our readers the following information.
Services Offered
Essay-Company lists all of the products and services it offers – essays, research papers, theses and dissertations, term papers, book reviews, coursework/homework help, editing, and resumes. There is a drop-down menu on the order form that goes into more detail, but students can find any type of academic writing products or services, even admissions essay writing.
Prices
We found that Essay-Company.com pricing is within the average range. A high school student will pay $11.20/page for an essay with a 20-day deadline. Ph.D. students will pay up to $44.95/page with an urgent deadline of hours, rather than days. We ordered an 8-page college-level research paper with a 7-day deadline and paid $159.60.
Discounts and Additional Features
If you are looking for coupon codes for discounts, they are not posted or advertised on the site. However, if customers do want a promo code for some type of discount, they can provide their email addresses and subscribe to emails that will give them discounts. We also discovered that we could get a discount by engaging in live chat too.
Essay-Company also offers the standard free benefits – title, bibliography, and tables of contents pages, and the promise of free revisions and plagiarism-free products. It claims to have 0% score from its plagiarism scans, but this is obviously an exaggeration. The common 2 – 3% is what almost every scan produces, and that is fully appropriate. The site also states that every piece is proofread by two separate editors before it is released for delivery. This we see as "overkill" and another exaggeration.
Customer Support and Site Usability
Customer support agents can be contacted by phone or live chat, and we did both. It was difficult to get detailed answers to our questions, and that is of concern. It indicates that these are answering services, not actual employees. The other big "red flag" was the promise by one of those agents that we could get an entire Ph.D. dissertation in 7 days. This would truly be a miracle.
Our issue with the site is two-fold. While it has standard links that we see on most sites, and while navigation is relatively easy, there are just walls of text, in small print no less, and much of it is so repetitive. No one really wants to read all of this – the company would be better off with large headings and greatly-reduced content.
The other concern is the quality of the Essay-Company site text. There is a lot of awkward wording and phrasing, indicating ESL writers.
Writers
The company states that all of its writers have Master's and Ph.D. degrees. But, of course, the evaluation of writers can only be made by the quality of the products customers receive. The on-site testimonials are all favorable – we read them but do not put much stock in them. Off-site, however, there are complaints – complaints about quality and lack of responsiveness of writers when customer try to contact them. We found the same issues through our experience. The writing and resources were simply not the quality that is expected of college-level writing.
There are samples on the site. While the writing wasn't too bad, it was quite elementary, there were no thesis statements, and the resources were quite generic and all secondary. We reviewed two samples, and paper on TV and Violence, and an essay on Safe and Unsafe Drivers. The latter had no conclusion either.
Overall, we can say that Essay-Company.com is not a fraud or scam. In terms of quality, however, our review is not finding greatness. As well, there is no BBB membership or rating, something that we do like to see.
Conclusion
We have studied the pros & cons of this writing service. We do find far more cons than pros, specifically exaggerated claims, lack of responsiveness, and mediocre quality. As a result, we are assigning a rating of "Fair to Poor." We cannot recommend Essay-Company.com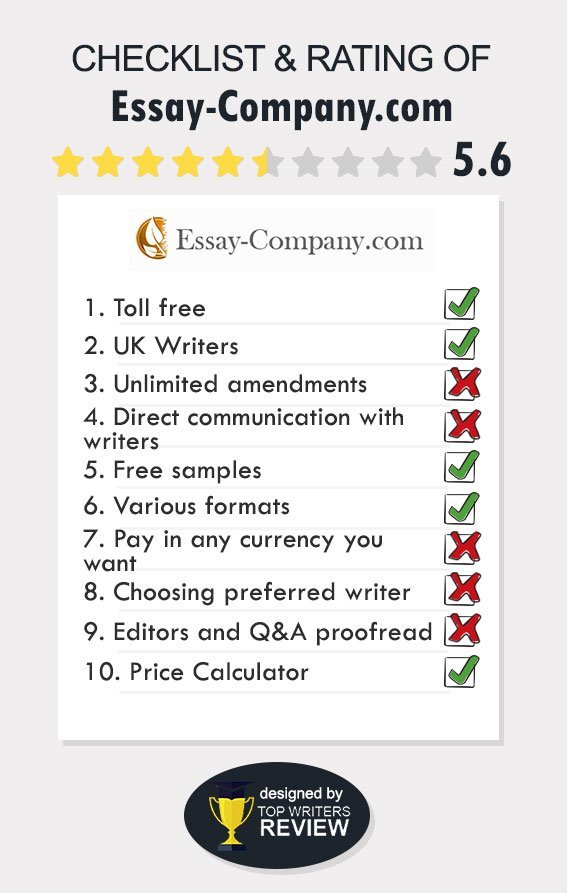 I needed a movie review 5 pages long, in 72 ...

I've been using Unemployed Professors for over ...

I payed a ton for the paper that didn't even ...
View ALL comments