Rephraser.net Review
Rephraser.net is not a writing service in the traditional sense. This is a company that focuses solely on re-writing, not on crafting original writing products for its customers. Our review of Rephraser, though, has taken into account the same factors that we always use – the information provided on the website, customer testimonials, the offered products and services, prices and discounts, other benefits, and, most important, the quality of products, as evaluated by customer reviews and our own order of a piece of writing. We also assessed our own experiences with customer support. This is what we found.
Services Offered
Rephraser markets its services to academic and business customers who have found writing pieces that they like, want to use the ideas and concepts, but want these pieces to be attributed to themselves as the authors. And so, they want someone to re-write them, so that they will not be marked as plagiarism.
Enter Rephraser.net. This company takes orders from students and business professionals who upload the pieces they want re-written, and then uses its employed writers to re-write the pieces, perform a final check for plagiarism, and then deliver the finished pieces back to those customers.
According to RePhraser, all re-writing is completed manually, not through the use of "spinning" software. The company offers its re-writing in to anyone, not just students, although students are obviously a big chunk of its business.
Prices
It is difficult to compare the pricing of Rephraser with other writing services, because they do not craft original writing from scratch. But for those who are considering using their services, they will need to submit their orders and receive a cost before submitting their orders. Pricing seems to be based on the type of document to be re-written, the complexity of the terminology that may be involved, and the deadline – anywhere from 6 hours to 7 days.
We ordered the re-writing of an 8-page research paper which we pulled from an internet database, and our pricing was $67.14 with a 7-day deadline. Had we requested a 6-hour deadline, it would have been $201.41.
Discounts and Additional Features
There are two offers for discounts – 20 or 25%, though we are not sure how that is determined. The pricing we were given reflected 20%, or so they say. Customers are given a promo code on the site and there are evidently other coupon codes for higher discounts, but we could not find them. Customer service agents told us they would be advertised if we kept coming to the site to find them.
There are not a lot of additional features offered by this site – the business model is simple. You place an order, upload the piece you want re-written and they deliver it back to you. If you want changes to the final draft you receive, these will be done too. And every customer gets a plagiarism report to show that the re-written piece will pass a plagiarism scan.
Customer support and Site usability
Agents can be contacted around the clock by phone and live chat. We did so. We were told the same things that the site content stated. Digging in for more detailed answers, we were told to check the FAQ link on the site.
The site itself is easily navigated and very simple. This is because the service focuses only on one activity – re-writing exiting content to make it "original." There are samples of re-writing, and we did review a couple of them. They were adequate, but some were missing solid thesis statements and paragraph toic sentences. Transitions in some cases were awkward too.
Writers
The company states that all of its writers hold degrees and have plenty of experience in writing and editing. We have no reason to doubt this, except when we assess the quality of what those writers deliver.
There are customer reviews which claim that the re-writing is flawed and that, in some instances, it does not pass the plagiarism scan that their institutions use. When we evaluated the paper we received from them, we were disappointed in structure. Topic sentences for paragraphs were often buried in strange places or non-existent. And transitions between paragraphs were awkward. When we requested revisions, we got them, but they were little better than the original draft.
The other issue we experienced was some sentence structure and word usage errors – errors that are indicative of ESL writers or the use of spinning software.
Certainly, Rephraser.net is not a fraud or scam. It does deliver orders and delivers them on time. The question is one of quality. We also must note that this company does not have a BBB membership, something we do like to see.
Conclusion
There is probably a place for re-writing services in this industry. And that re-writing should be done manually. As we look at pros & cons of RePhrasing.net, though, we have concerns about quality and the claim that all of their work is done manually. We have therefore given the company an overall rating of "Fair." If you order a product from them, you will need to run your own plagiarism scan and review the piece very carefully.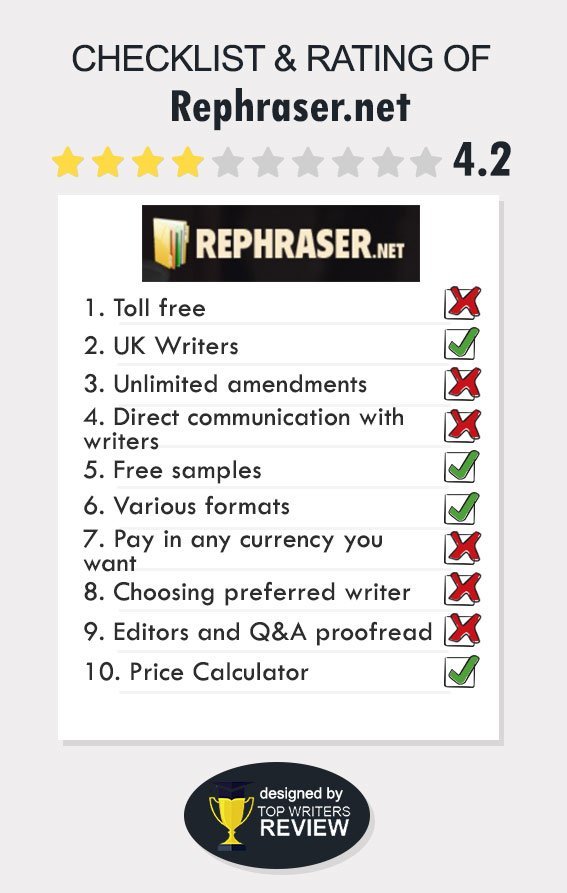 I needed a movie review 5 pages long, in 72 ...

I've been using Unemployed Professors for over ...

I payed a ton for the paper that didn't even ...
View ALL comments