SpeedyPaper.com
https://speedypaper.com/
Pricing

3.5

Support

3.4

Quality

3.1

Delivery

3.6

Usability

3.9
Extra Features:
Additional Features:

Price Calculator

Plagiarism check

Money back guarantee

100% Privacy

Free Revisions

6-hour delivery option

Support:

Live chat

24/7/365

US Toll-Free

Security:

DMCA protect

Comodo

Payment Methods:

American Express

Master Card

VISA
SpeedyPaper Review
SpeedyPaper.com purports to be a US based company with its support services based in Ukraine. They have been around for a while now and say that their mission is providing high quality, plagiarism free papers.
A swift look through the grammar and spelling of their, "About Us" page might make you want to think twice about the "high quality" aspect of this statement. For example, "Searching for proficient writer who is ACTUALLY competent in this field of studies" is hardly a good advertisement for either the writers or the essays.
Speedy Paper testimonials are pretty scathing about the quality aspect here, and it is probably the most important point for any potential customer.
Speedy Paper Services
There are no services listed at all - it is entirely ignored, and there is no indication - aside the price list - as to what services this company actually provide.
Speedy Paper rating sites and scores all tend to indicate that the lack of information, regarding the services available, and the scarcity of detail are very off-putting.
Quality of Products/Writers
Speedy Paper says that it currently has 413 active writers on it's books. These are said to have delivered a 96.3% satisfaction rate.
The company says that they recruit their writers from LinkedIn - which is very worrying, and they simply say that they match LinkedIn writers who reply to jobs that they post! That is hardly a way to get your paper written … they state that they ask for certain qualifying conditions to be met - but do not say that these are verified or checked up on.
There are no examples of any previous work or assignments on the site. There are no reviews. There are no testimonials. There is absolutely nothing to make us think that this company has ever undertaken a student assignment at all.
SpeedyPaper customer reviews on it's own site are all complimentary and very happy with the service - this is not borne out, at all, by the external reviews and we would suggest that you treat these internal reviews with a degree of healthy scepticism.
Prices and Ways of Payment
SpeedyPaper.com prices are based on whether the paper is an editing or proofreading job, a problem-solving exercise or an essay which is to be written from scratch. The latter, is, of course, the most expensive option of the three.
As a comparison we asked for a bachelor level paper of 10-pages, to be done on a 14-day turnaround and the subject of economics. The price we were quoted was $110 - this seems extra cheap by comparison with some other essay sites.
Payment is via Mastercard, Visa, American Express, Diners Club and JCB together with PayPal and Discover.
Discounts
SpeedyPaper discounts are simply non-existent - there is no reference to any discounts anywhere - not even an explanation as to why they are not offered.
SpeedyPaper.com coupon codes are non-existent.
Speedy Paper promo code are also non-existent.
Extra Treats
The only "extras" we could find were a free plagiarism report and revisions.
Speedy Paper now has a Facebook site too - and this is current and up to date.
SpeedyPaper review sites mention the paucity of offers and other "freebies."
Final Note
SpeedyPaper.com pros & cons mostly revolve around the standard of the writing - which is, apparently, appalling at best, and terrible at worst. There are numerous reviews and comments about these aspects of Speedy Paper's operations - none of which are too impressed with the way in which Speedy paper conducts its business and recruits its "writers".
Many of the reviews we read said that SpeedyPaper is not scam, however, some vehemently disagreed with this, even going so far as to accuse the company of using Google translate for their essays because the papers were written by English learners and not native speakers at all.
We would suggest extreme caution in any dealings with this company and a thorough check of their history and reviews on external websites.
SpeedyPaper BBB (Better Business Bureau) membership or affiliation could not be confirmed.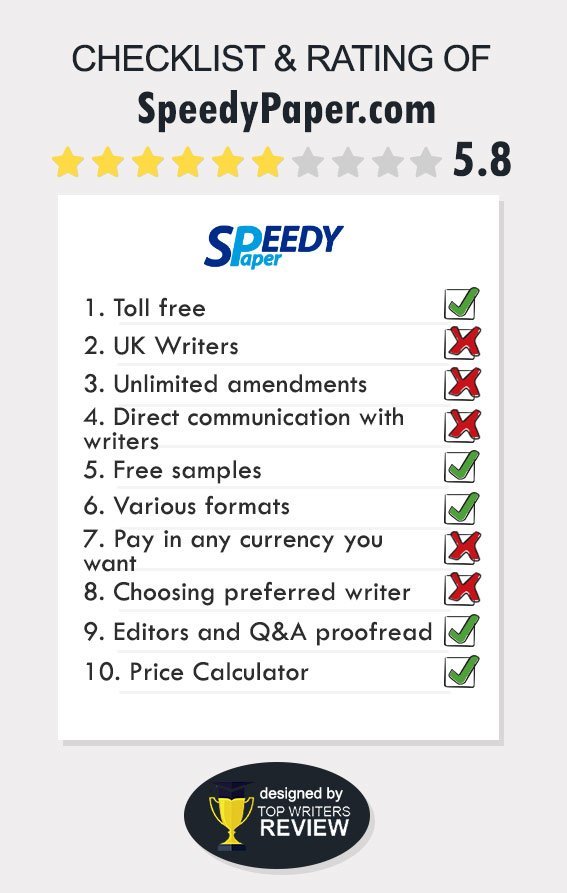 12 Customer Reviews of "SpeedyPaper.com"
Pricing

Support

Quality

Delivery

Usability
Gladys
commented
SpeedyPaper.com
If you think that "speedy" means you`ll get your paper done within a short period of time you`re mistaken. It takes them a few days to write a simple essay and a few weeks (at best) to complete a paper. Plus, too expensive for such services.
Pricing

Support

Quality

Delivery

Usability
Sophia
commented
SpeedyPaper.com
It`s funny that guys who use the word "speedy" in their name are the slowest writing service I`ve ever worked with. The essay I needed was ordered 2 weeks in advance. And after that, it was still not ready before the deadline. I asked for a refund but surely, didn`t get my money back.
Pricing

Support

Quality

Delivery

Usability
Ianna
commented
SpeedyPaper.com
The speech outline task I gave to speed papers. Well yes, their approach was fast enough, but their quality was quite awful. I couldn`t give a positive recommendation to a resource like that at any point.
Not scammers but the quality is terrible.

Nice website and friendly support. ...

Could have been better. Their quality sucks.
View ALL comments