UKEssays Review
UKEssays.com opened its doors in 2003, under a different name, and now claims to have 4000+ freelance writers and an administrative staff of over 30 people in its offices. For an online writing service, especially considering the industry competition, this is extraordinary growth and staff levels. We decided to complete a review of this company based upon our site user requests. We used our standard criteria for this evaluation – information on the UK Essays website, testimonials on that site, information about writers, quality of products and customer support, customer reviews we found elsewhere on the web, and our own experience with ordering a research paper and with the customer support department. Here is what we have found.
Services Offered
UKEssays is based in the UK and obviously promotes its services primarily to UK students, although it offers writing assistance to U.S. students too. The focus is entirely academic, from high school through graduate level programs, and products include virtually every type of writing or coursework a student might be given. Editing services are also provided.
Prices
UKEssays.com prices are the highest we have ever seen in the industry. Our 8-page paper, with four resources and a 7-day deadline, was priced at $529.00, or about $66/page. This was one of the major reasons that many of our users asked us to investigate. For this pricing, we expected a perfectly-appointed piece of writing.
Discounts and Additional Features
Given the pricing, we were surprised to find no discounts, and when we checked with customer support, we learned that there was no first-time user promo code, and no coupon codes were regularly offered. This was certainly disappointing considering the prices. Again, we were looking for an amazing piece of writing to be delivered to us.
There are no additional features beyond the products and services that are offered. The customer support department I not open 24-hours a day, and that can be a problem for students in the variety of time zones served. There are published policies, and, in reviewing them, we find them to be standard.
Customer Support and Site Usability
As stated, the customer support department is not available all the time, so we had to watch time zones when we wished to speak with them. Anyone living outside of the UK will have to use the international number, but that is difficult from cell phones in various parts of the world. There is a UK Essays chat line, but it, too, is only available during business hours.
The site is well-organized, with links to informational pages. There are footer pages that describe the main services, as well as a section titled "useful resources." We opened the resource titled "dissertation examples and then accessed the samples related to education. The piece of writing we ultimately selected was quite a number of pages with no section headings, no transitions from one thought to the next, and made us wonder if the UKEssays really knows what a dissertation is supposed to look like.
Writers
The company claims that all of its writers have degrees and plenty of experience in academic writing. We decided to check on the application process to become a writer. Applicants must submit their academic credentials and then write a personal statement. This is pretty minimal.
We looked at customer reviews that we could find, and the feedback was pretty much the same – over-priced for low quality received and lack of ability to get a hold of someone when they had issues or needed revisions.
The paper we received was mediocre at best, and contained a number of grammatical and word usage errors. It was a disappointment.
Still, we have to say that UK Essays is not a fraud or scam. We did get our piece and it was delivered to us on time. For the price, however, it was certainly not worth it.
Conclusion
As we consider pros & cons, we can only say this. The company is over-priced for what it produces; there is no BBB membership; customers are generally not satisfied with their products; and the company does not get high marks in the area of customer service. All in all, we are giving a rating of "Poor." We have certainly seen far worse writing, however, not at this price. Unless students have money to burn, we cannot recommend anyone use this writing service.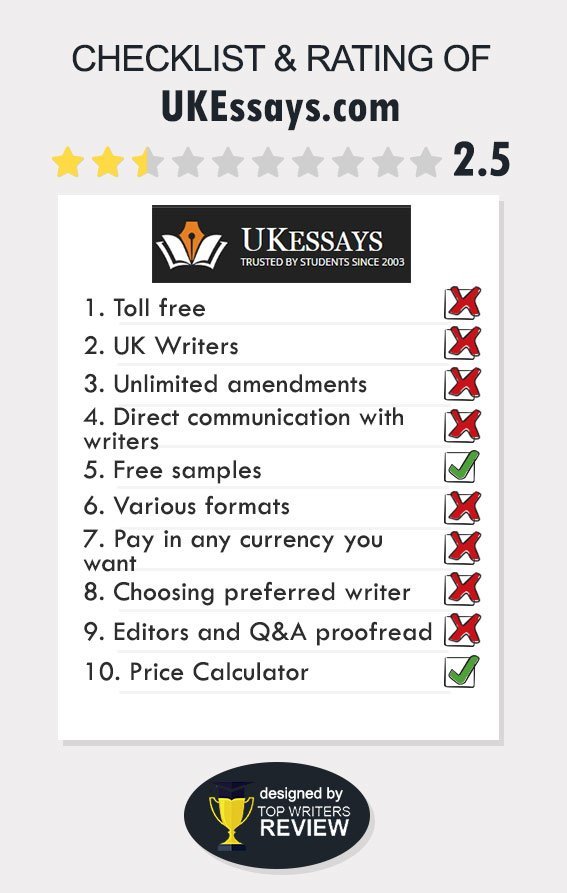 I needed a movie review 5 pages long, in 72 ...

I've been using Unemployed Professors for over ...

I payed a ton for the paper that didn't even ...
View ALL comments