Our verdict: Not Recommended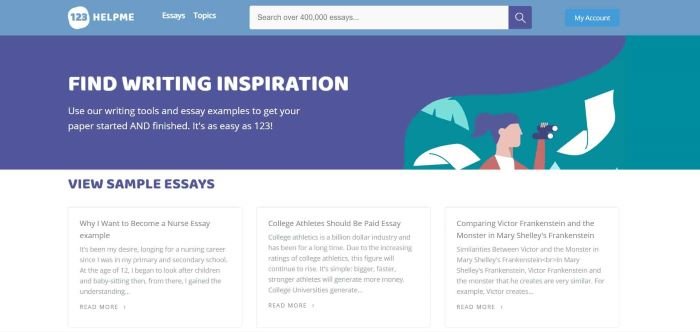 Short overview
Guarantees:
Refund Policy, 100% Confidentiality of Personal Information, Maximum Customer Satisfaction, No Hidden Charges, Non-Plagiarized Content, Timely Delivery
Payment Methods:
Available Services:
Academic Paper Samples
Extra perks and features:
Anti-Plagiarism Tool, Citation Tool
Summary
To truly understand what this service is all about, customers should read this comprehensive 123HelpMe review. Today I will discuss what services they offer and how customers can avail them. After this, I follow it up with my own and other customers' experiences. 123HelpMe is a vast writing database with samples of essays, research papers, and other academic writings that students can download and use for their own academic needs at school or college. This online library allows students looking for professional coursework help to search and find whatever essay or paper they want. We tried the website's services before writing our review and cleared a few things regarding their work. The website seems to be legit but there is no way to assess the quality of an individual writer's skill since anyone can upload papers here. There is no way of telling if the papers are original or plagiarized. 123HelpMe offers no custom writing, editing, or proofreading services. All one has to do is register on their website and download the essays of their choice after paying a fee. The quality of their essays is not consistent. Some of their essays are good and some are very unimpressive. It is also extremely difficult to get a response from the customer support team, and refunds are seldom approved. As exciting as the prospect of having an unlimited number of essays to choose from is, the fact that none of them are verified to be original is worrying. To summarize and to answer the question 'Is 123HelpMe good', our response would be no. We don't recommend this service to students.
Pros
A wide variety of topics to choose from
Website is easy to navigate and use
Useful free services like plagiarism check and style guides are available
Cons
Payment options are not specified
Customer service isn't as prompt as advertised
Quality of writing is inconsistent
Top 3 services
VIP Support
From $14.99 per page
PhD Writers on staff: 80%
From $12.99 per page
Overview of 123HelpMe Website
College students have a lot of things to worry about such as filling out applications, writing college essays, finding the best personal statement editor services, and more. Being able to use a website like 123HelpMe would be a great help to students during such a stressful time.
In our 123HelpMe.com review, we have gone over a variety of criteria used by reviewers to judge a website and its services. Some of the things we are yet to talk about are the website and the navigation on it, user experience, and site usability.
The website is well-designed. At first glance, a customer would want to scroll and check out the services further. The navigation is also quite helpful as they have important headings on the very top banner of the page along with a search bar. Customers can also navigate to the home page easily by tapping the logo in the top left corner.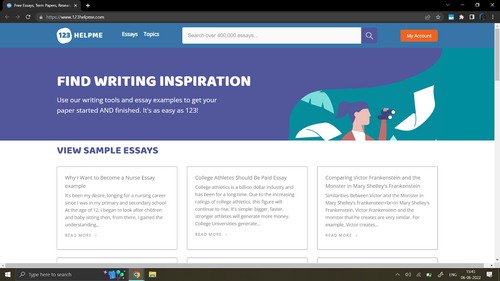 The home page starts with sample essays on a variety of topics and then comes a list of the different essay topic categories the website offers. You can then scroll down to read 123HelpMe reviews by customers that can help you determine whether you want to go with the service or not. Overall, they have a solid homepage and website that enriches the customer experience.
Apart from these listed advantages, their website also helps guide customers to their social media profiles as well as a contact page in case of any dissatisfaction. 123HelpMe is trying to build a website that shows customers that they can trust their services. In its few years in the writing services market, the website has done fairly well when compared with other essay companies.
To those customers wondering 'Is 123HelpMe reliable', I say yes, to an extent. The website has garnered a decent amount of students looking for academic help in writing and has truthfully attempted to do so as well as it can. However, it needs some major improvements in areas like verification and essay plagiarism checking to make sure that customers get the best services.
Types of Services Offered by 123HelpMe
123HelpMe offers a variety of essays, research papers, and other academic writings for students at a base cost. These sample essays are pre-written and will not be edited or customized for each user. All you have to do is visit 123HelpMe.com, log in or create a new account, look for your topic and download an essay you like after making your payment.
Apart from the broad categories available on the site, you may find essays in topics like science, business, humanities, literature, or social issues. There are a variety of subtopics you can choose from for whatever assignment you have to submit. There is also a useful Writing Help section on the website where you can avail free plagiarism test services, grammar checking services, and more.
You can find an analysis of a random essay sample from this website below.
Title: College - Is It Worth it?
Length: 3 pages
Analysis: Here is an example of a sample essay in which we are writing a review of 123HelpMe. The topic is 'College - Is It Worth it?' - an important question that every high-school graduate has asked themselves. The 1200-word essay starts with an introduction to why there are people on both sides of the argument and a detailed dive into the reasons for this.
The grammar of the anonymous writer was quite good, and they seem to have a good grasp of the English language. They also understand the importance of clarity and precision for the given topic and stick to them throughout the essay. Their writing is simple, with very few mistakes, and no plagiarism. This is a well-written essay with factual arguments and persuasive language. However, reviews of 123HelpMe say that there can be improvements in the sentence structure and overall readability of the essays.
Quality: Good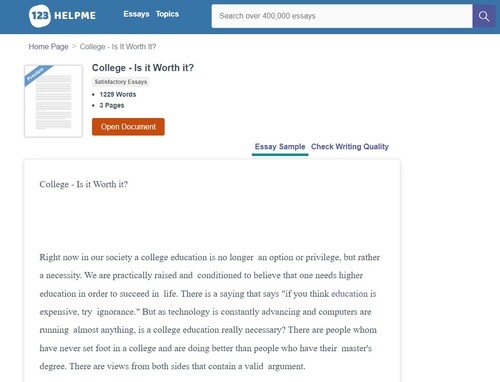 123HelpMe Review of Offered Guarantees
123HelpMe claims to offer a few guarantees for customers of the website's services. They are:
Refund Policy in case of dissatisfaction
100% Confidentiality of Personal Information
Maximum Customer Satisfaction
No Hidden Charges
100% Original Content
Timely Delivery
Most of the time, the company doesn't provide refunds. In very extreme scenarios, customer support discusses the possibility of a refund with the company manager independently and the amount of refund is determined based on that.
As for the other guarantees, www.123helpme.com reviews say that not all of them are followed by the company. Customer support is seldom provided on time and there is no guarantee of the writers being Native English speakers since most of the time they are unknown. Content originality can not be guaranteed either because of the same reason.
Customer Support at 123HelpMe
Customer service has always been a challenging area for websites in this particular market. Most online dissertation editing service companies promise 24/7 support, but often fail to respond when clients have urgent queries. Let's take a look at 123HelpMe support.
Unlike most writing help websites, 123HelpMe doesn't have an interactive chatbot. Instead, they have a 'Contact' section which leads to a form that customers can fill out. In this form, you would have to enter your email address, your name, your subject, and your message. There is no guarantee as to when you will get a response, or if you ever will.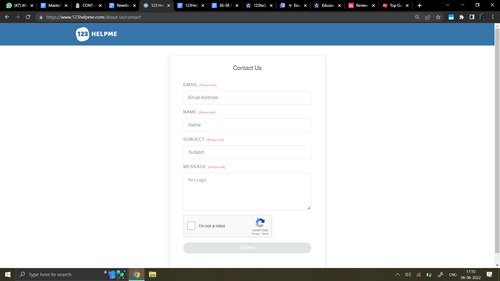 123 Help Me reviews as well as our personal experience using their website tell us that customers are not going to receive support on time because there is no interactive chatbot or email that customers can contact in case of any queries.
My Experience and Essay Quality
123HelpMe says that it wishes to give you a solution for your academic writing needs within seconds. While that is an exaggeration, it is not very far-fetched. It does take you only a few minutes of searching to find an essay of your choice at a rate of $2 for access.
Same as other people who wrote 123HelpMe reviews, I found my essay quite mediocre and with a few grammatical errors. My personal experience while using 123HelpMe gave me an overall understanding of their essay quality. My topic was 'The Best Fruits to Enjoy in Summer' and I found a 1000-word essay on it. It required some basic improvements but seemed to be free of plagiarism.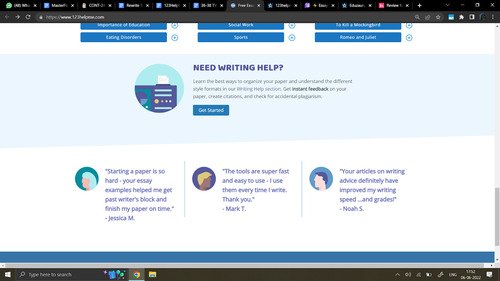 To wrap up, I think 123HelpMe is a decent choice for students looking for professional coursework help who need last-minute assignments to submit. However, do keep in mind that you will not be getting customized writing and will more or less have to add more content to personalize your essay. If your topic is too specific or belongs to a particular niche, you'll probably have to do some research of your own.
123 Help Me Reviews of Their Ordering Process
There is no specific ordering process at 123HelpMe, since it's a library of essays and papers. All you have to do is visit the website, check out the various samples as well as essay topics, select the one you like, log in or register with your details, and pay for full access to the essay. This process is quite straightforward and doesn't take more than 15 minutes.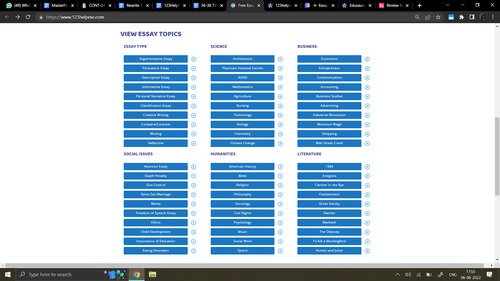 Pricing and Discounts at 123HelpMe
There is a detailed 123HelpMe review by customers that talks about the pricing and discounts offered on the website. Unlike its custom writing counterparts, 123HelpMe offers a two-day trial to new customers and charges them only $2 for full access to a paper. They also have limited-time offers that allow customers to access multiple essays for just $2.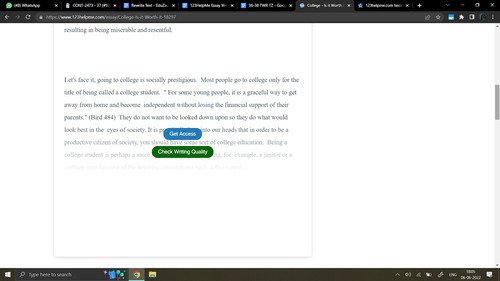 There is no pricing page for essays overall but there is independent pricing for each essay. There are also no promo codes except for the limited-time trial option mentioned above. The pricing is very affordable to students who are low on cash. However, the website does deceive customers who don't pay attention, as they state that they offer "free" essays on their home page, which is false. Customers also have to cancel their two-day trial manually, or else they will be charged in full.
123HelpMe Writers' Proficiency
123helpme reviews suggest that there is a wide contrast between the quality of essays on the website. Some essays are very well-written with good research and grammar, while others are very basic with not much effort put into them. The website also doesn't have control over who gets to upload articles, which makes it easier for unskilled writers to try and make a quick buck with disregard for the quality of content they are producing.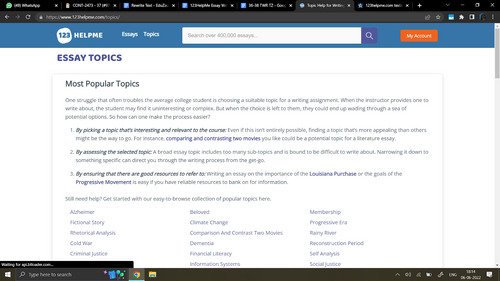 My essay was written by someone with satisfactory English language writing skills as well as decent research skills but they weren't able to make my essay very engaging. Despite the casual topic, it felt like a heavy and boring read. Customers looking for essays cannot choose a writer and will have to go with whatever material is provided.
23HelpMe Review of Revision Policy
There's no revision policy at 123HelpMe as they don't sell writing services. You can buy pre-written papers on this website.
Offers and Extra Services at 123HelpMe
123HelpMe offers a two-day trial period when customers can access an unlimited number of essays for $2, but this is a limited-time offer that isn't always applicable. Other than this, they have a bunch of free plagiarism test services as well as grammar checks.
Online Reputation
While most 123 Help Me reviews mention that their website provides decent essays at affordable rates, some more specific reviews talk about the few underwhelming aspects of the service. Customers question the authenticity and originality of some essays and wonder how they can verify them. Plagiarism remains a major concern for most of these students. The company doesn't seem to respond to any of the reviews, positive or negative.
TrustPilot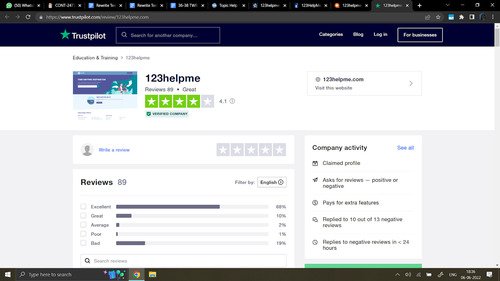 There are 89 mostly positive reviews about 123HelpMe on Trustpilot, while an overall company rating is 4.1. Unfortunately, I wasn't able to find any reviews about this service of Sitejabber.
Social Media
123HelpMe has a Facebook page, Instagram page, as well as a Twitter profile where they post memes as well as advertise their essays. They stay updated on modern social media trends and create content that engages their followers on all three platforms.
Show Me Your Top Services
Faq
Is 123HelpMe legit?
Yes. 123HelpMe is a legitimate essay platform that offers a variety of pre-written papers for students looking for last-minute solutions for their assignments.
Is 123HelpMe safe?
Yes. 123HelpMe is a safe service offering 100% confidentiality and protected payment methods to customers.
Is 123HelpMe reliable?
Yes. 123HelpMe provides customers with their essays on time and is a very reliable service.
Is 123HelpMe a scam?
No. Although the website and its services can be improved, 123HelpMe is not a scam and is a completely secure service for students to use.