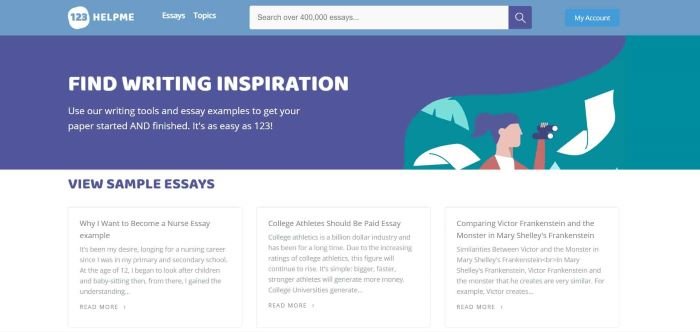 123Helpme Review
This is our review of 123Helpme.com. Unlike other companies we review, this is not a writing service website. Instead, it is a library of essays and research papers that students may download for their own use. In spite of these differences, we decided to give 123helpme a try. The following describes our experiences.
Review Criteria
While we cannot measure things such as writer's professionalism, on time delivery, or customer service in this case, we did try to stick to our other review criteria These are pricing, quality of writing, and overall website quality and experience. We also attempted to find them on the BBB, but found no results. The customer reviews we read were mixed.
Factor 1: Types of Writing Services Offered
123 Help Me does not offer writing, editing, or proofreading services.They have a library of research papers and essays that students may access for a fee.
Factor 2: Trust and Reliability
We didn't find this website trustworthy or reliable. Anyone can upload or download papers here. There is no attempt to control quality or prevent plagiarism. Students are led to believe these are academically sound papers, when they simply are not.
Factor 3: Level of Quality
We accessed and read several papers. Quality varied widely. Some were quite good. Others were clearly generated by unskiled writers likely working for low paying content mills.
Factor 4: Pricing and Payment
Because no writing services are offered here, it's difficult to compare prices. There is no price per page. There are also no discounts or coupon codes. The closest thing to a promo code was an offer to access the essays on the website for $2 for two days. The other options are paying an annual subscription fee, making quarterly payments, or paying a monthly fee. We chose the option to pay $2.
While the pricing is not extremely high, we were still annoyed due to several factors. First, visitors are led to believe they have access to free essays. It's not until they attempt to open one that they are told they must pay a fee. In addition to that, users must manually cancel their trial.
Factor 5: Additional Important Considerations
123 Help Me does have some free tools and utilities. Students can check for plagiarism their writing and for spelling and grammar issues. There are also style guides for the various citation formats. These are certainly useful, and there are testimonials online praising them.
However, these are all things that can be found on the best writing service websites as well as on many college and university websites. So, while these extras are nice, they don't make up for quality control and other issues. Students also don't need to rely on this writing website for these tools.
Concluding Comments
Pros:
One can gather some useful ideas for subsequent research and writing

A huge database of completed academic papers

Multiple subjects and topics are covered
Cons:
Many provided samples are of very low quality

No confirmation of quality and adherence to academic writing standards

Lack of professional support from currently active writers
Unfortunately, we are not able to recommend 123Helpme in any way. To be clear, in spite of their claims, 123HelpMe.com is not a custom writing service. Instead, they simply offer essays for sale that have been written by others. Why they may not be a fraud or scam, they certainly have no quality controls to protect students from accusations of plagiarism or from getting low quality essays. A student has no way of knowing if the essay they download has been used and submitted by other students. That's a dangerous thing. Taking this into consideration as well as weighing other pros & cons, our final rating of 123 Help Me is poor.