Our verdict: Not Recommended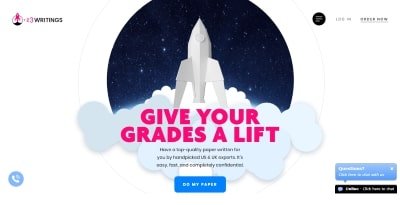 Short overview
Guarantees:
Confidentiality, Open Communication with Writers, Revision Policy, Refunds, No Plagiarism
Payment Methods:
Available Services:
Writing, Editing, Proofreading, Other
Extra perks and features:
Apple Pay, Google Pay, Blog with Articles
Pros
Decade-long experience
Direct communication with experts
Blog with academic articles
Cons
Expensive prices
Unprofessional communication
Problems with quality
Top 3 services
VIP Support
From $14.99 per page
PhD Writers on staff: 80%
From $12.99 per page
123 Writings Review: Interface, Design, Website
To find the best essay writing service we could recommend, we start with analyzing websites. 123Writings has a modern but ultimately inconvenient design. The front page has images of rocket launchers and astronauts exploring new locations. This is fitting as writers have to constantly widen their perspectives by taking on new projects. Info about a company is presented in a humorous way. Writers are called "keyboard masters" while IT team got the name "watchdogs." Content is mostly fluent, though we found some punctuation issues. It's clear that one and the same writer is responsible for it because they constantly put commas incorrectly. If you want more details about 123Writings, you need to click on the black circle on the upper left side of the page and pick your category of interest. This is where the problems started.
123writings.com fails to provide comprehensive info about its services. You see links and keywords with similar names. For example, there are "buy essays," "do my paper," "do my homework" and other categories like this. None of it tells you what specific academic options you could find in this company. Pricing is not convenient because you only see how much 100 words cost. Students need to create an account before they see what services are available. This is not a good approach. Website discloses only general information.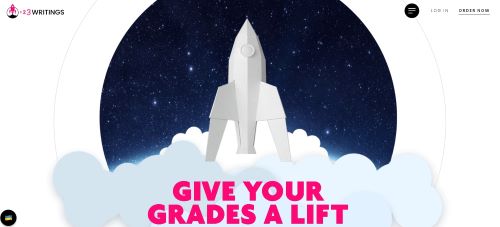 What Academic Services Are There for You?
After we came up with 123writings login and password, provided my phone number, and made an account, we got access to the list of services. The first and biggest one is writing. Students have lots of options here: movie, book or play reviews, applications, annotated bibliography, outlines, reaction or term papers, assessments, or research. Large projects like thesis or dissertation are supported, too. You could order writers to perform an interview, write a speech, or work on a lab module. Subjects are diverse as well: they cover tasks ranging from Math assignments to creative writing and poem composition.
But is everything really perfect? Several 123writings.com reviews complained that writers accept only some orders. Others are rejected, especially if they are complex. We performed my own experiment: we asked for a multi-layered PowerPoint Presentation with various sources, deep research, and a big number of slides. Writers weren't interested. One reviewer failed to find an expert for their creative short story on a specific topic. So the diversity of services is dubious since a big part of them don't seem to function.
Guarantees from a Company
123 Writings promises to do revision if clients don't like their paper. But it should happen within 10 days – a day later, and managers will deny your request. Refunds are present, but they come with numerous conditions. One of them concerns timely delivery. It is not a guarantee: in its policies, the company states that there might be delays, and in these cases, students could receive only a partial refund. This is unacceptable. If an essay is full of grammar errors, customers might get up to 30% of their money back, and only if they point out these mistakes by themselves. Confidentiality and originality are guaranteed, but this isn't enough to compensate for other limitations.
Communication with CSR
After creating 123writings account, we decided to speak with operators. Customers could do that via chat, email, or phone number. The first support representative made us feel welcome. They made some language mistakes, as you can see on a screenshot — "tell me if any help needed" is an incorrect and awkward construction. Other than this, they were nice and helpful. But every other operator produced a negative impression. After we voiced some complaints, support team instantly got hostile. Their replies turned rude and started coming after big pauses. By the end of my experiment, we were disappointed and frustrated.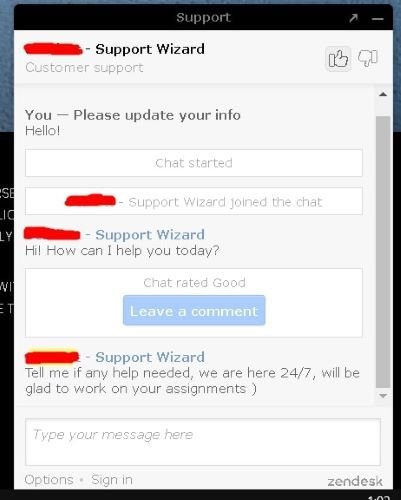 Quality of my Order: Essay, Delivery, Price
To understand if an agency employs top dissertation writers who have sufficient experience, we always test papers they write. 123writings.com review wasn't an exception. We ended up placing a simple order in Business. It included 5 pages of college-level content with 5 academic sources that we wanted to be delivered in 2 weeks. Despite these simple terms, we paid $149.60. More than that, by my deadline, the paper wasn't there! Operators told us not to worry and that it was on the way, but hours kept passing with no news. We tried to get in touch several times, but all we received were increasingly annoyed replies. Finally, more than 12 hours later, the essay arrived, and my team began to evaluate it.
The first thing we noticed in123 writing's work was weak sources. There were 4, not 5 as we asked, and only one was an article with DOI. The rest were .com or .net websites and included blogs. Thesis was flawed since it started with words "this paper is going to…", which is a common mistake. Content was good enough for high school but definitely not for college students. The number of grammar mistakes astonished us: we checked the document via Grammarly and it found more than 70 issues. Plagiarism was a cherry on top of this spoiled cake: some sentences were copied completely and not cited. We demanded immediate revision.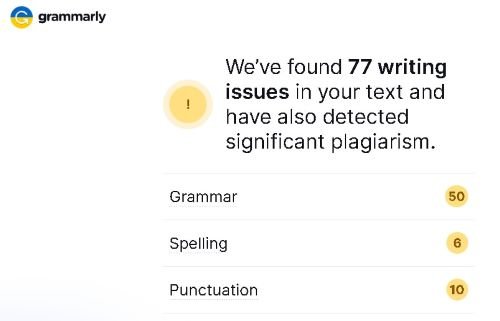 Order Placing Steps
123 writings reviews don't discuss order placement, but we think it's an important element. In this company, those who plan to order their essay need to cover 5 steps. Sounds simple, but in reality, the process is troublesome.
Creating an account. Numerous students want to see what paper they could order without sharing their private information. In this case, they have no choice: to proceed anywhere, they must start by providing their email, cell number, name, and password.
Sharing key details. The second step is choosing the type of service you want, picking deadlines, pointing out academic level and kind of paper. There is an option between "native" and "fluent" speakers. We're going to discuss it later, but in short: we don't approve.
Explaining instructions. At this stage, students need to provide the title of their paper, pick its size, formatting, number of sources, and upload files they consider important. They could also type their instructions right in the box.
Reviewing your order. Look at info you provided to make certain everything is accurate.
Paying for essay writing. Proceed to check out, select your payment method and buy writer's assistance. You only see your sum at this step. You could pay extra for the "best expert," whatever that means.
Registration and extra charge for fluent and professional writers are drawbacks. Also, the company tries to mislead customers in this order form. Stuff like title page, formatting, and revision is shown to cost a ton, but 123Writing generously offers not to charge you for them. Considering that these things should be free either way, this is outrageous.
Prices for Different Types of Services
How about 123Writings prices? Unfortunately, they are extremely high. Whenever we're working on general research or personal statement writing service review for my visitors, prices are one of the most essential aspects we pay attention to. Cheap academic services are suspicious, so any price lower than $10 for 1 page is a sign of danger. Real experts require real payment for their work. Average prices range from $12 to about $15.
During review of 123Writings, we found the situation confusing. Prices are shown for 100 words, but this is strange because few students will consider such a model useful. Typical order is at least 1 page, which is 300 words. Here's how much each type of service costs:
| | |
| --- | --- |
| Service | Minimal price per page |
| Essay writing | $17.55 |
| Editing | $11.70 |
| Proofreading | $9.96 |
In reality, these services are even more expensive. My order was simple and had a long deadline, but we still paid almost $150. Such prices are too high. The small difference between editing and proofreading is also confusing as these are two very different services. With the quality we got, this is a rip-off.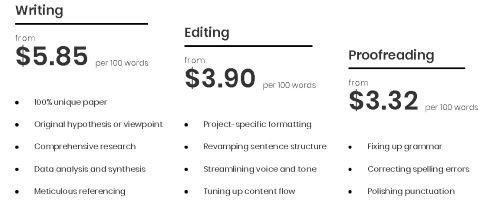 Writers' Proficiency
Are experts who work for 123writings reliable? My experience was negative. From positive things, there is a way to speak with your writer before you hire them to make sure they're the right fit. Everyone we talked to made language mistakes, so this wasn't reassuring. Some writers were harsh or annoyed. Besides, the choice between native, fluent speakers is dubious. Not every native speaker is fluent; every writer has to know English perfectly, so there is no point in such distinction. Paying extra money for the best specialist is offensive. Customers are automatically eligible for a professional.
Are Revisions Efficient?
Since my order was bad, we asked a writer to revise it. They argued for a long time, and when they agreed, it took them more than one week to complete. By that time, no student would need it. More than that, when we looked at the paper, we couldn't believe my eyes. The writer corrected thesis, but everything else remained untouched: some paragraphs switched places to confuse us. This increased my disappointment.
Loyalty Program and Extra Features
The more orders customers place, the more points they collect. Later they can get permanent discounts on this basis. But the terms are tough: you'd need to pay over $750 for a 5% discount. From extra features, there is blog with articles, but many of them are low quality. 123Writings has no samples, and it criticizes other agencies for having them, though samples are always a plus. Besides, look at how terribly this section is written. It clearly wasn't proofread.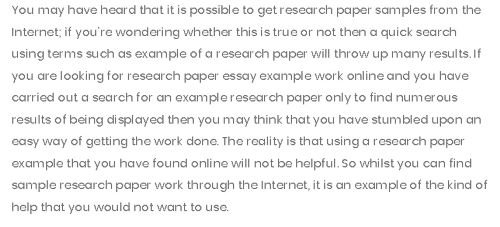 123Writings Reviews and Social Media
This company has few online reviews. Most of them are positive, but they also have dubious nature. Here is the breakdown site by site.
SiteJabber

There are 8 positive reviews on this platform, but most of them sound fake. Look at this one. Does it sound authentic? So much excitement is atypical for essay writing. The company answered some reviews but not others and the replies were too generic to be reliable.
TrustPilot

From reviews of 123writings, there is just 1 here. It's positive, but we can't say we trust it. The details and the last phrase make us doubt its authenticity.
Social Media
123Writings doesn't have social media accounts. A company with a similar name has Facebook and Twitter, but these pages are abandoned.
Faq
Is 123Writings legit?
Yes, this is a real academic writing company with experts who are ready to help you 24/7.
Is 123Writings safe?
It has some dubious policies. Getting quality revision or full refund is almost impossible, but your privacy is protected.
Is 123Writings reliable?
Not from what we've seen. Some of its writers lack proper qualifications and they can let students down.
Is 123Writings a scam?
The company works legally and follows American laws. But customers might not get the results they paid for.