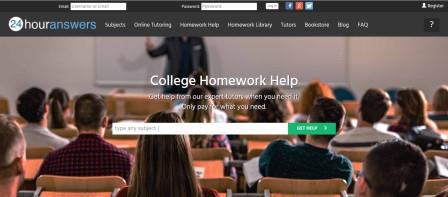 24Houranswers.com Review
24HourAnswers.com has been in operation since 2005, and its business model is a bit different from traditional online writing services. It is a company based in New York, specifically to serve college students, at both undergrad and grad levels. It focuses on assignment help rather than providing actual top essay writing services.
In conducting a review of this academic assistance agency, we have had to look at our normal review criteria a bit differently. But we have been able to locate many customer reviews posted on the web; we have explored the company website; we have analyzed the website content/information and have read a few blog posts on that site. In addition, we made obtained feedback from those who have used 24 Hour Answers services.
Here is all that we discovered.
Factor 1: Types of Writing Services Offered
24HourAnswers does not provide writing products or services per se. Instead, it offers two basic types of help to students. First, students can request help with homework assignments, and this does include some advice on writing assignments. Second, students can request online tutoring from one of the employed tutors who, according to the company, hold graduate degrees in their tutoring fields.
The other resource includes a "library" of previous questions and answers/solutions that the company tutors have provided. For a fee, students can access these and search for answers to their assignment problems.
There is also a blog with some interesting articles.
Factor 2: Trust and Reliability
To determine this, we have to look at what customers have said about their experiences with 24answers.com, as well as the information we can find about the tutors that are hired.
Basically, most customers state that they do receive the homework help they request and those who have used the tutoring service are provided with a tutor for the help they need.
The issue here is how reliable the services are and if the company can be trusted to provide both quality services meeting the timeline requirements of its customers.
At this point, we can state that 24 Hour Answers is not a fraud or scam. It is a fully legal company with several contact methods and a physical address.
We make this distinction because it appears they can be trusted to deliver at least minimum services. Students do receive homework help and tutors once they make payment. Our final thought is that they are reliable in terms of delivery, but not necessarily the execution.
Factor 3: Level of Quality
There are definitely some issues related to quality. Many former customers state that they received homework help that was incomplete or inadequate. While they received answers to their questions and problems, the explanations, especially in STEM areas, were not as understandable as they needed to be.
In terms of tutoring, we spoke with a student who ordered one session in math. While they had good communication with their tutor, when they stated that they did not understand explanations, they were not provided with anything but the same explanation again. Now, this may vary with tutors, but they were not satisfied with theirs. Other customers have stated the same, while others have been fully satisfied. It seems that it all depends on the individual tutor a student receives from 24HourAnswers.com. Our suggestion? Be careful as you "interview" tutors who are bidding to work with you.
Customer support is provided via several methods – telephone, live chat, email, and even snail mail. Again, feedback is mixed. Some students complained that they had not made a good first choice and had to go through a lot of hoops to get a different tutor. And no refunds were provided unless the original tutor just did not "show up."
Factor 4: Pricing and Payment
There are no set 24 Hour Answers prices. Everything is negotiated between student and tutor. A student opens an account and poses a homework help question or need. Qualified tutors then present quotes, and the student chooses. The same goes for tutoring services.
Students can also buy pre-answered homework questions that are published on the site. Prices for these range between $1.00 - $5.00.
Customers should not look for any discounts or any type of promo code for a reduction in price.
Payment may be made via any major credit card or PayPal, and it is processed through a safe and secured payment gateway.
Factor 5: Additional Important Considerations
There really is no additional information to provide here. There is a blog with some interesting topics, but it has not been updated since 2016.
When we review sites, we also take the time to study policy pages. We do this because students pay good money for the help they receive from these sites, and policy pages are binding documents that outline rights and responsibilities. We think it's important that policies are clear and easy to read. That is not necessarily the case here.
The privacy policy indicates students may delete their account. However, the information remains, as it can be reactivated at any time.
There is no mention of GDPR in the privacy policy.
Information does not appear to be shared with third parties.
Overall, the policy pages are not very informative. They are very brief when compared to similar websites.
Concluding Comments
Pros:
A new model of assisting that suggests either homework help or online tutoring

Good online reviews that confirm the quality of assistance

A lot of experts in various spheres including rare ones such as Engineering

Safety of use is guaranteed

Bookstore and library service is integrated

Up-to-date blog with useful tips
Cons:
Interface and order form are not intuitive or user-friendly

Absence of set prices which may be inconvenient sometimes

Satisfaction rate related to tutors' work varies
We are not "high" on this company. As we look at pros & cons, we find that homework and tutoring help quality is not consistent and that is definitely a "con." There does not appear to be quality control in place.
We would caution students in using this service. There doesn't appear to be legal issues such as fraud accusations, but the quality problems are quite clear. We are providing a rating of 3.