Our verdict: Not Recommended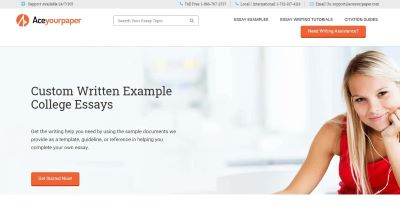 Top 3 services
VIP Support
From $14.99 per page
PhD Writers on staff: 80%
From $12.99 per page
AceYourPaper Review
21 years is a long time to be in business, and that is how long Aceyourpaper.com has been in the writing service business. Given that it launched in 1998, it was one of the newest online writing services at that time. Over the years, Ace Your Paper has not changed in its original mission, nor has its website changed a great deal, except for sample essays and perhaps the content of the tutorials.
In preparing this review, we have used all of the same factors that we do to help students find an excellent academic writing service. The content on the website itself, testimonials that are posted on that website, sample writings, customer feedback outside of the website and that have been submitted to us, prices, additional perks, policies, our experiences with customer support, and any other information that we have been able to get. The following are the results of our investigation.
Services
The website is well-organized and clearly explains the services it offers. There are three basic services:
Original essays crafted by company-employed writers.
Example essays which users can purchase to use as models for their own writing.
Writing tutorials on everything from essay introductions, to development of thesis statement, to conclusions.
In general, Ace Your Paper focuses on college student writing needs – essays, research papers, critiques, analyses, book reviews, case studies, and presentations. In addition, it provides application, and scholarship essays, as well as personal statement editing and proofreading. There is a listing of "corporate writing," but we were unable to find any specific product offers that related to business writing. We are assuming that perhaps this relates to students in business majors.
In terms of other services, Aceyourpaper.com offers writing tutorials, sample essays for download, citation generators, and tools for such things as paraphrasing (which we would not recommend using).
In sum, we can say that Ace Your Paper is legal and reliable in terms of the products and services it offers.
Quality of Product and Writers
This is the key element of any writing service – what quality do customers receive? Of course, the quality of products depends upon the quality of writers that a writing service uses. In the case of writers, Aceyourpaper.com states that it uses only highly qualified researchers and writers who are native English-speaking professionals. As such, we would expect that they are degreed individuals, in the topics of customer orders, and that they are assigned to orders based upon those qualifications. As to specific qualifications in terms of degrees and certifications, we are given very little information.
In evaluating the quality of products, we have to rely on our own assessments of the writing samples provided on the website and what we have found or received from actual customers. Here, the verdict is somewhat mixed.
While some customers are satisfied with their delivered products, others expressed concerns about quality, specifically incorrect phrasing and word usage and adherence to the specifics of their instructions. Some expressed concerns about communication with their writers during the process, and, while they can request revisions, they must go through customer support rather than communicating directly with their writer.
There does not appear to be a quality control function by which a staff of editors review completed products before delivery to the customer. Implementing such a function would do well to ensure that products meet the expectations of customers and reduce the number of revision requests.
Sample essays published on the website are on a variety of topics, and students can search for these and download them to use as models while they craft their own. We found those to be mixed in terms of quality. Some lacked solid thesis statements and good transitions between paragraphs/sections. The essays we accessed were on pretty unique and uncommon topics, and we wonder how many students would actually need sample essays on those topics.
While the company offers "free" sample essays, we also discovered that, indeed, to access a full sample, the customer will have to pay $14.99. We call this a "bait and switch" in the business.
Prices and Payment Options
AceYourPaper.com prices are posted on its site. For original writing, with a 15-day deadline, students will pay $18/page. For urgent deadlines of a few hours, the price goes up to $50/page. We find it odd that there is a single price, no matter what the type of product is. Thus, a student who wants a basic essay will pay the same as one who needs a complex research paper. This means that a writer works for the same amount of pay per page no matter what he may be assigned.
Payment options are the same as most other writing services – major credit/debit cards and PayPal. Customers can feel fully safe providing their financial information because the company does use a secure, third-party payment processor. In short, the payment processes can be trusted, without exception.
Discounts
There is only one discount offer – 10% for a first-time customer. After that, regular prices prevail. We checked on this with customer support, and there are no other discounts available.
Extra Treats
Ace Your Paper offers free title and bibliography pages, as well as a free APA and MLA citation generator, and a few other tools, such as paraphrasing.
During the ordering process, students can take advantage of fee-based extras, including a one-page summary and a "premium" support option. We are not certain what premium support means, as well as an extra fee for SMS messaging. There is no free or fee-based option for a plagiarism check or a quality control function, something that we usually like to see.
Final Note
As we look at the totality of this company, we have mixed reactions. On the one hand, it has been around for a long time and is certainly reliable. On the other hand, there are some concerns about quality and the lack of a quality control function. The company offers some additional benefits but none that are outstanding. Overall, we are giving Ace Your Paper a rating of 3, on a scale of 1-5.