Our verdict: Not Recommended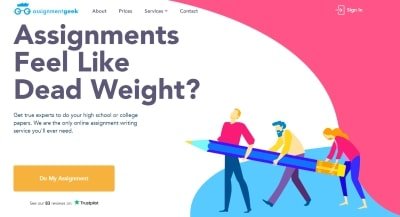 Short overview
Minimal deadline:
3 hours
Guarantees:
Secure Payments, 100% Originality, Data Protection, Revisions, Refunds
Payment Methods:
Available Services:
Writing, Editing, Proofreading, Others
Extra perks and features:
One sample
Summary
My AssignmentGeek review follows the repeated requests of my readers to check how this company is working. Every student hopes to find the best helper because college tasks might get brutal, causing endless sleepless nights, tiredness, pressure, and other unpleasant things. AssignmentGeek appeared in 2013, and it has an interesting name that draws people's attention. Online reviews from customers verify its experience, though some of them are negative and many sound fake. I was curious to see if these writers are really talented geeks or if they are as underqualified as some clients complained. To do that, I studied the website, analyzed prices, placed an order and evaluated its quality. What can I say? Inflated costs don't correspond to stated professionalism. But safety policies seem secure, ways of communication include email, phone number and chat, so if you're interested in how this company copes overall, I invite you to retrace my steps and see what I've uncovered!
Pros
Pleasing interface
Numerous services on offer
Acceptable privacy conditions
Cons
High prices for content
No free extras for students
Low quality level
Scandalous revisions
Top 3 services
VIP Support
From $14.99 per page
PhD Writers on staff: 80%
From $12.99 per page
Looks Aren't Everything — Or Are They?
Before I proceed with AssignmentGeek.com review, let's make something clear. All top essay writing services should have a great-looking interface. This isn't always the case and exceptions could happen, but the homepage is a visit card that can tell a lot about a company. When I first accessed AssignmentGeek, I was mostly pleased. Three people carrying a huge pencil and some of them collapsing under its weight is a great illustration of students who find homework an overwhelming chore. Sections are relevant: you could find info on prices, services, contact details, and data about a company without any problems. Content is largely fluent, but I found it too basic. There are few interesting turns of phrases or details, everything is generic. The only unique feature is the company's history. It has vivid illustrations and fun facts.
What I didn't like is the lack of AssignmentGeek reviews in their entirety. The site directs its visitors to TrustPilot and doesn't offer an option to leave a comment on its own platform. To me, this says that it is afraid of possible criticism or coming across as fake if it chooses to post only positive feedback. I removed another star for the way the website loads. The pictures materialize as you scroll down, and it doesn't always happen instantly. The effect is problematic and it tires the eyes easily. Some improvements are needed to make this site look flawless.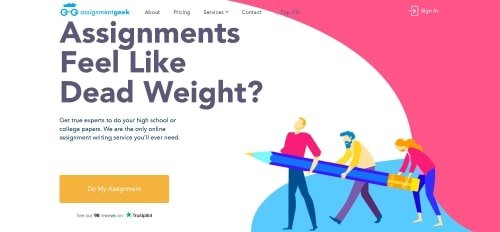 Services and Samples
I found it interesting that reviews of AssignmentGeek discuss the most different services. Some students mention writing; others talk about editing or online exams. When I checked the list of offers personally, I realized that it's true. The company provides various types of assistance, from essay writing to dissertation crafting, professional editing, subtle proofreading, etc. It has an option that it calls "other," and it includes creating writing, coding help, online classes, dashboard exams, and so on. I was happy with such a diversity.
Another thing any best college essay editing service should have is samples. Yes, it is not obligatory, but it is a sign of good will toward customers. Assignment Geek reviews never said anything about samples, and sadly, I saw that this is a result of their absence. The company has only one free essay, and it falls into creative writing genre, meaning that no one will really benefit from it. I didn't understand this approach: they should have added more samples or none at all. I still decided to test it because free papers show what quality you can expect as a paying client.
Title: Catcher in the Rye — Alternative Ending
Length: 2 Pages
Analysis: This unusual sample is weak. The writer used simple language and some awkward constructions, ruining the impression further with tautology. "See," "school" — they repeat these words too often. The ideas themselves are underwhelming. There is nothing special or interesting about them, and I wouldn't be interested in such an ending.
Quality: Low-to-Medium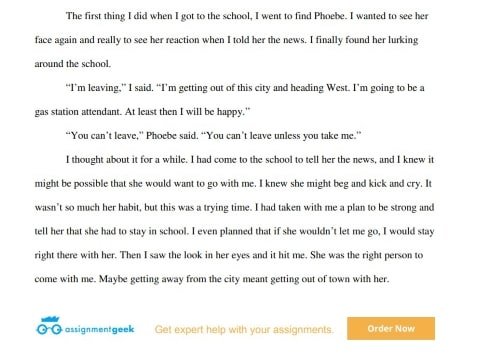 Your Privacy and Right to Quality
Reviews of AssignmentGeek never mention policies because almost no one reads them. This is the sad truth most students experience: they hasten to place an order and then they realize that the company's policies are against them. To prevent this from happening, I analyzed them and summarized them for you. AssignmentGeek protects its clients' privacy. It collects only essential information & encrypts it via modern reliable methods. No one is likely to steal it. Revisions exist, just as refunds. This is a respectable feature of the best proofreading services and writing agencies, but it comes with conditions. Management is going to decide if your requests are justified, making a decision on this basis. In my experience, they aren't the fairest bunch. If you need a refund because your essay was late, it'll reach only 20% at most. This is not satisfying.
Speaking with Online Operators: Impressions
Is AssignmentGeek good at staying in touch? Yes! I have largely great things to say about these operators. The company calls them support wizards and they are online 24/7. They reply quickly: I never had to wait for more than several seconds. They showed themselves as understanding and supportive, but there was one unpleasant incident. When I wanted to ask for revision, I had to go through 7 circles of hell because managers complicated this process and stole my time. They pretended to not understand my demands and constantly asked the same questions.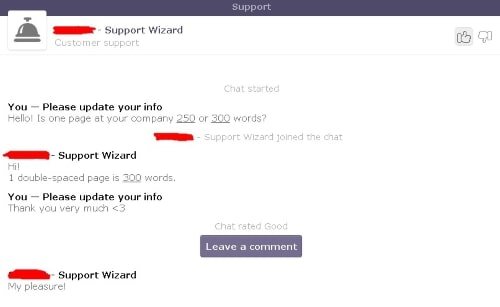 Quality as the Biggest Obstacle
For creating detailed AssignmentGeek review, I placed my order for Philosophy paper, picking high school level and a 2-week deadline. My order cost me $100, which is a lot since it wasn't difficult and I had a reasonable due date. My writer barely communicated with me, but they delivered an essay on time. I was hopeful since I'd liked the company so far, but when I saw the contents, I was shocked. Bad quality, short sentences, no thesis, and flawed formatting. Over 200 language issues are a disaster, but it wasn't the biggest issue! The writer didn't follow my instructions at all. I asked for analysis and they just stuffed the paper with barely related info. Instead of using reliable, credible sources, the writer picked online articles, and even worse, they failed to quote them properly. I found several instances of fake referencing. All in all, if I were a student, I'd never be able to submit this paper to anyone.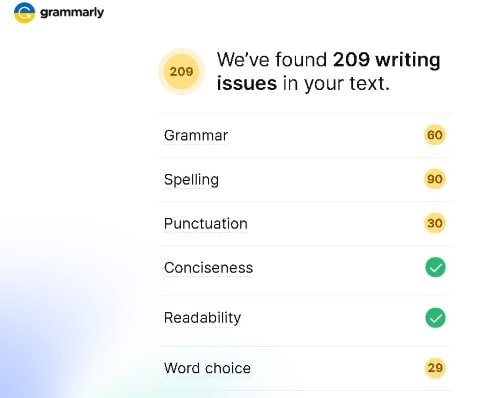 How to Place Academic Order?
Reading admission essay writing service reviews helps understand possible essay quality, but they rarely mention order placement. I always include this info since it could be essential. These are the steps AssignmentGeek offers:
Share email. After you click "do my assignment," you'll have to share your email. A problem appears immediately: instead of proceeding to the next step as promised, you'll need to create an account.
Pick key details. Choose your deadline, type of help, & academic level. Another strange thing: the latter is called "project purpose," which is odd as it doesn't fully reflect the meaning of this category. Here, you could also pick a native speaker or a "fluent" writer. I despise the existence of such a division, it never brings anything good. All writers should be professional, period.
Establish a clearer picture. For writing positive AssignmentGeek reviews after your experience, make it clear what your requirements are. Select title, page count, spacing, formatting, and upload instructions if you have them.
Review & pay. Make certain everything is correct and pay for a paper via any preferable method. Note the list of "free" features on this page. They are very misleading since they are always free, AssignmentGeek is not an exception.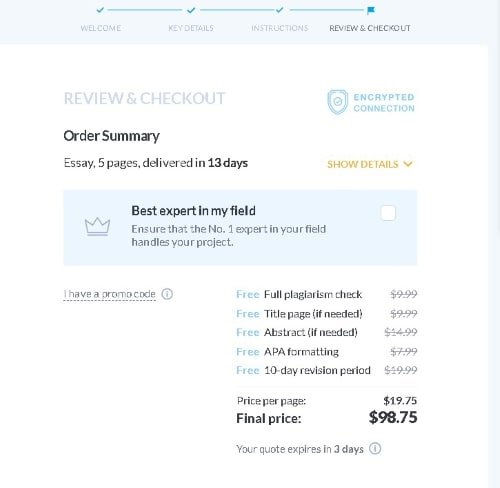 Heart of Assignment Geek Review: Prices
Students hate the idea of overpaying. They have limited budgets and cannot afford high prices. Multiple writing agencies understand it, but many of them don't. Sadly, AssignmentGeek is among them. It charges too much when compared to essay writing industry.
| | |
| --- | --- |
| Services | Price per Page |
| Essay writing | $17.55 |
| Editing | $11.70 |
| Proofreading | $9.96 |
The adequate price is around $14 per 300 words. Paying more than $17 is not acceptable. Discounts could be present, but you'd need to discuss them personally with operators. The price for unique services is determined individually.
Writers and Their Professionalism
During my review of AssignmentGeek, I spoke to my writer several times. They weren't fond of speaking and their replies were curt. The company guarantees that it has strict screening procedures, yet this was not my impression. The paper my expert wrote didn't meet my expectations, and it was hard to deal with them during my revision request. I cannot rate this person highly, although I understand that other students might have better luck.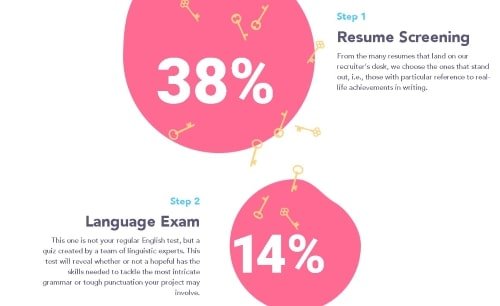 Situation with Essay Revisions
Students have to make revision demands within 10 days. This is an acceptable term, but there is another problem: your writer might refuse to work on it, and even if they agree, it will take ages until you get your essay. AssignmentGeek.com openly asks its customers to give them adequate time for revision, which ranges from one day to a week. By the time someone fulfills your request, you'll be hopelessly late and your professor won't accept your essay. How do I know it? It's stated in policies and I had the same experience. My writer revised my paper in the end, but it arrived five days after my initial deadline and it had multiple problems still. Sure, I could order another revision, but what's the point? Most deadlines would run out at this point.
Extras and Freebies for Students
Like I've mentioned, AssignmentGeek reviews do not talk about freebies, and that is because the agency doesn't offer them. No samples, no plagiarism checkers, no other tools students could benefit from — this is a sad situation. Title page, formatting, abstract, formatting, revision, and originality are obligatory features of each paper in every company. The only element the company has is one single paper sample.
How About More AssignmentGeek Reviews?
I located multiple reviews about AssignmentGeek, but the situation with them is weird. I don't trust most of them, and I found nothing on Reddit. The company's social media is non-existent.
SiteJabber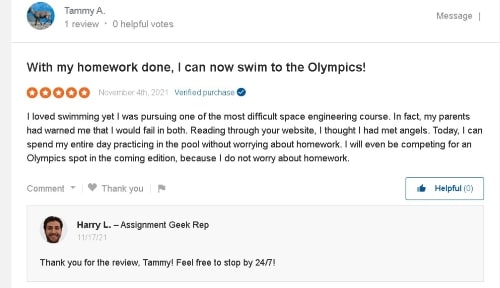 This platform offers over 100 reviews. I was immediately wary because there are 98 five-star comments, 1 two-star comment, and 6 one-star reviews. No one rated it with 3 or 4 stars. Such a huge difference in ratings is unnatural. Look at the review on a screenshot. Does it sound real? I snorted as soon as I saw it, and most of them are like this.
TrustPilot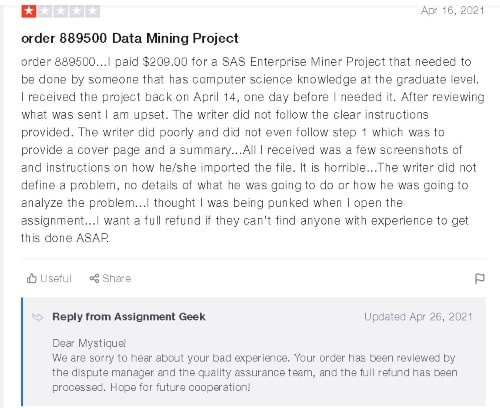 I encountered the same issue on TrustPilot: there are either 5-star or 1-star AssignmentGeek.com reviews. Negative ones are more convincing. See one above: it has an order number and realistic details.
Social Media
There are several other companies with a similar name. The right AssignmentGeek has an empty Facebook page and that's it.
Show Me Your Top Services
Faq
Is AssignmentGeek legit?
Yes, it's a legit company with years of experience behind its back. It has multiple reviews from customers and it provides real writing services.
Is AssignmentGeek safe?
If you're worried about your data, then relax because AssignmentGeek will take care of it. It has solid privacy policies and it guarantees compensation for failed orders, although the sum might be small.
Is AssignmentGeek reliable?
Not exactly. Writers might be late with orders and their quality could leave a lot to be desired. By hiring these experts, clients take serious risks.
Is AssignmentGeek scam?
No, these guys provide real academic help — their work is not always ideal and clients frequently voice their dissatisfaction, but you'll definitely get your paper out of them.