Our verdict: Not Recommended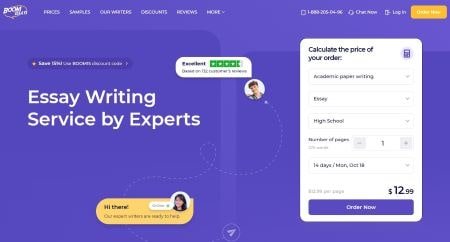 Short overview
Minimal deadline:
3 hours
Guarantees:
Money-Back, Free Revision, Fast Delivery, 100% Unique Work
Payment Methods:
Available Services:
Copywriting, Essay Writing, Multiple-Choice Questions, Dissertation Writing, Editing, Proofreading, Math/Statistics Problems, Resumes, Admission Services, And Rewriting
Extra perks and features:
Title Page, Reference List, Formatting, And Free Plagiarism Report
Summary
In this BoomEssays review, I was determined to go through each aspect of BoomEssays online writing services, as this was the only way to present a fair and comprehensive conclusion. Overall, BoomEssays offers some of the best writing services online. They have a lot of good things going for them, such as excellent customer support and student-friendly prices. However, some issues with their writing quality, among other things, are why I am rating BoomEssays a 7/10. I go into further detail in this BoomEssays review, so you might want to continue reading.
Pros
Student-friendly prices
Many services are available
24/7 customer support
Cons
Grammar and punctuation errors
Issues with writing originality
Top 3 services
VIP Support
From $14.99 per page
PhD Writers on staff: 80%
From $12.99 per page
Service Overview
BoomEssays was founded several years ago by academic writers that decided they wanted to come together and form a business. They mainly offer their services to clients from the US and Canada, but they also accept orders from around the world. Their website's color scheme has a nice look that makes it easy to read texts at any point in the day. However, I found that their website doesn't seem to have been updated for a while. During my detailed BoomEssays review, I found information on a writing contest from 2017. This doesn't make sense, considering that this contest ended about 5 years ago. Going through the website, I liked how fast and responsive its pages were when clicking through - a common trait of the best paper writing websites. Overall, their website, aside from being a bit outdated, looks good and is well organized.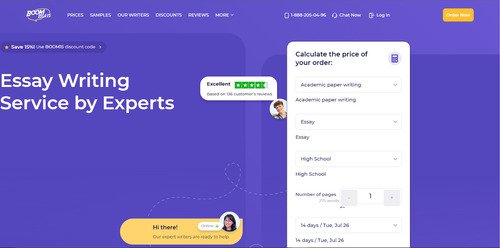 Types of Services Offered
When going over the BoomEssays website for their services for this review, it was a bit confusing, to put it mildly. While they claim to offer various top academic writing services, there's no page dedicated to their writing services. It took some digging, but I could find the writing services on the order page to focus my reviews of BoomEssays on. They offer students the standard: copywriting, essay writing, multiple-choice questions, dissertation writing, editing, proofreading, Math/Statistics problems, resumes, admission services, and rewriting.
Like all my reviews, I kept an eye out for samples, as it's a great way to judge how good an online writing service quality can be. BoomEssays makes the list of free essay sites, but sadly, I could only find 9 samples.
Title: Financial Analysis
Length: 10 pages
Analysis: I reviewed a sample titled "Financial Analysis" and can say that it was of good quality. There were little to no mistakes, and there were no plagiarism issues with this sample. Overall, if all delivered papers are like this sample, users of this service will likely be pleased with their orders.
Quality: Good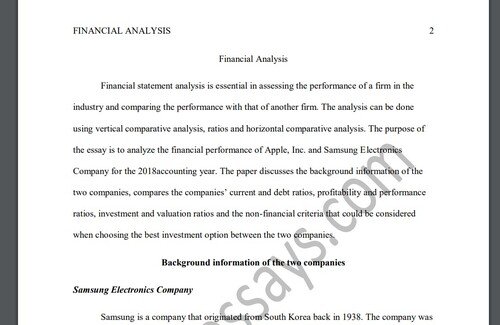 Boom Essays Reviews of Guarantees
BoomEssays offers customers both money-back and free revision guarantees. If you have an issue with the quality of your order, you can request a revision within 14 days after approval. However, if something went seriously wrong with your order and you would require a refund, you only get 70%. At this point, the fact that they don't offer a 100% refund for cases where an assigned writer did an awful job made me reconsider if BoomEssays is reliable.
Boom Essays Review of Customer Support
BoomEssays customer support can be contacted through email, phone number, or a live chat. I found all means of communication to be fast and responsive, but if I were to rank them, the live chat option would be my favorite. All my communications with customer support were friendly and professional, which made it easy to conduct my BoomEssays review. I would ask for customer support late in the day and still be connected to a representative. Each representative I spoke to was knowledgeable about the BoomEssays business and policies, which I found assuring.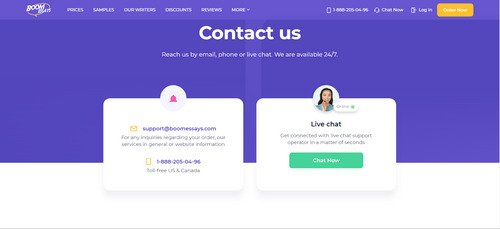 My Experience and Paper Quality
Looking back at my experiences, I can say that BoomEssays is a good service overall. I have reviewed many top proofreading services, and based on how BoomEssays handled my orders, they are among the best. As part of my review process, I prepared two orders. One was the proofreading of my academic resume, while the other was an essay paper on "Top 5 Dog Breeds To Keep As Pets." I had set a short deadline for the proofreading order because I didn't expect it would take much time. However, for the essay, I went with a 3-day deadline.
In both cases, my orders were delivered on time. The "proofreading" order was executed with the kind of efficiency you would expect from the best online writing services. I went over it multiple times, but there were no errors I could identify. However, the essay paper had some slight problems with plagiarism, which made me uneasy. It wasn't so bad that the work could be considered unoriginal, but you might lose some marks in some academic settings. Despite this setback, I used this opportunity to check "Is BoomEssays reliable or not?".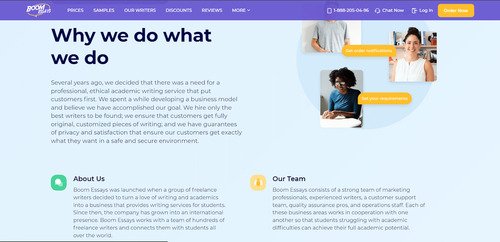 Ordering Process
Based on how the BoomEssays website has been designed, it's straightforward to make an order on the website. In my BoomEssays.com review, I observed every page I visited had a link to the order page. Below are the steps you need to complete to place an order successfully:
Click the "Order Now" button. It's present on almost every single page, thus making it hard to miss.
While on the "Order Now" page, you need to provide all the information that might be needed to complete the order. This includes the deadline, topic, type of service, etc. While they ask for a lot, it's required for quality results.
After providing all the necessary information, you must log into your account using your username and password. If you don't already have an account with BoomEssays, you can still create one at this point.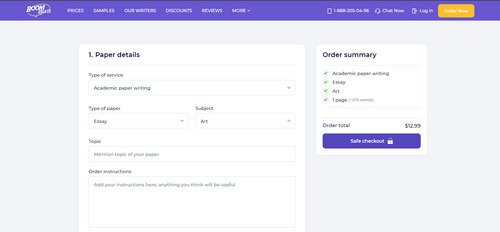 Pricing and Discounts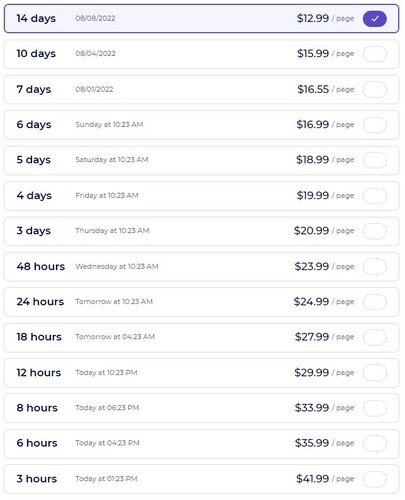 Considering BoomEssays offers writing assistance that rivals some of the best dissertation services, I was surprised to see that their prices start at $12.99 per page. Of course, depending on the type of services selected and the level of urgency, this amount can rise significantly. Overall, I can say that their prices are among the best, and to top it off, they also offer a 15% discount. Most students will appreciate this, so I'm glad BoomEssays cared enough to include it in their policy. At first, I thought that paying this low for a writer would mean low-quality work, but as I describe in detail in the next section of this review, this wasn't the case.
| | |
| --- | --- |
| Services | Minimal Price per Page |
| Essay | $12.99 |
| Rewriting | $9.99 |
| Math/Physic/Economic/Statistic Problems | $19.99 |
| Multiple Choice Questions | $4.55 |
| Copywriting | $24.99 |
| Editing | $5.99 |
| Proofreading | $4.99 |
| Dissertation | $12.99 |
Writer's Proficiency
In my experience and that of most boomessays.com reviews, BoomEssays has some of the best writers online. Aside from a slight problem with plagiarism, both of my orders had little to no grammar and punctuation errors. This was refreshing because I usually expect to see at least one or two errors. I can't say I was lucky because I made sure to select a writer with a very high rating to handle my orders. BoomEssays provides a list of all its writers with ratings. Customers are responsible for rating writers, and from the website, it would seem there are no writers with ratings below 4.0.
Revisions
Both of my orders for this review of BoomEssays had no grammar or punctuation errors, but one had some plagiarism problems I wasn't satisfied with. So, I asked for a revision, and since it was within the 14-day free revision window, I didn't need to pay any extra. My essay was immediately assigned to a different writer, but it took a while before I got any feedback. I found this a bit annoying as I didn't get my paper until three days had passed. The final result was better but not 100% unique as I had wished. I tried getting a second revision, but the feedback was slow, which made me change my priorities to continue with my BoomEssays review.
Loyalty Program, Offers, and Extra Services
BoomEssays legit has some of the best discount policies among online writing companies today. They offer lifetime bonuses to customers depending on how many pages they have successfully ordered. So, after ordering 15 pages, a customer is awarded 5% off all future orders. The max discount you get is 15%, which, combined with their low prices, makes BoomEssays one of the most affordable online writing services today.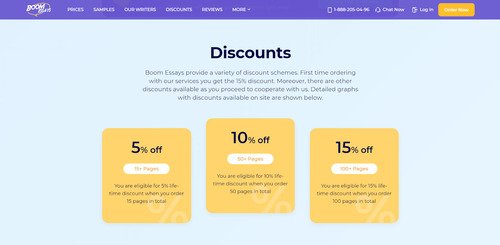 Online Reputation
My BoomEssays review could not be complete unless I considered the opinions and experiences of others. At least this way I can answer the question, "Is BoomEssays good enough?". To achieve this, I went through two of the most popular and trusted third-party review websites - Sitejabber and Trustpilot. Also, I checked BoomEssays' social media presence to see how active they are and what people are saying about their service in the comment section.
TrustPilot
BoomEssays has an impressive 4.8 rating from 137 Boom Essays reviews on Trustpilot. Most of those reviews were positive, which was encouraging. Of course, there were some bad BoomEssays reviews, but for each one, I noticed that the BoomEssays representative quickly addressed their claims instead of just dismissing them.

SiteJabber
Unlike on Trustpilot, BoomEssays had a low rating on Sitejabber. After 24 reviews, this provider rated just 3.5 on a scale of 5. While this doesn't mean BoomEssays is a bad online writing company, it does show that it isn't perfect. Going through the reviews, I found many users complained about the boomessays.com writing quality and the lack of a refund when requesting it.

Social Media
BoomEssays has a social media presence but doesn't look active. The last post on their Facebook page is dated 2019. Going through their past posts, I found they often posted helpful content for customers and writers alike.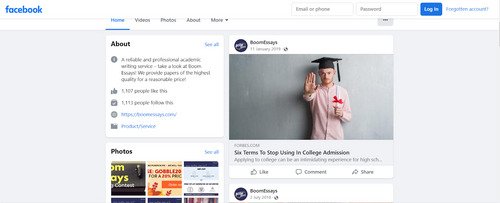 Show Me Your Top Services
Faq
Is BoomEssays legit?
Yes, BoomEssays is a legit online writing company. They operate mainly with US and Canadian citizens but also accept orders worldwide. As most BoomEssays reviews will agree, they can be trusted.
Is BoomEssays safe?
Yes, BoomEssays is safe. The payment methods they support are all well-recognized for their speed and safety. Web traffic is also encrypted, and BoomEssays has a policy against sharing user data.
Is BoomEssays reliable?
Yes, BoomEssays is reliable. In my experience, they handle orders on time and without any errors. Going over other reviews, I found some BoomEssays reviews where previous customers complained about slow response time and missed deadlines.
Is BoomEssays a scam?
No, BoomEssays isn't a scam. Many individuals, including myself, have successfully used their writing services without being scammed.