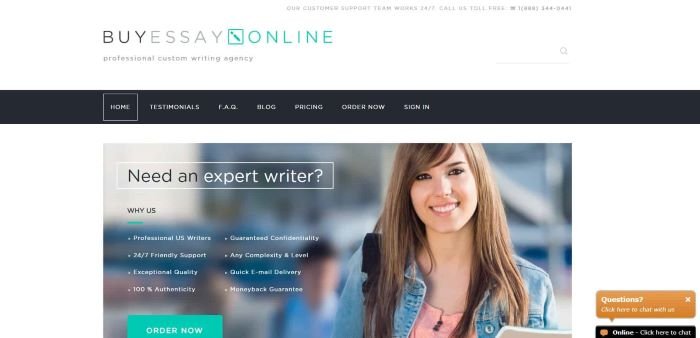 BuyEssayOnline Review
BuyEssayOnline.org is a new writing service, we believe. At least, we have been unable to find any online mentions of the company beyond that past year. We have been asked to conduct an evaluation of this writing service by a student who had a poor experience. To provide an accurate and objective BuyEssayOnline review, we looked at a number of factors – the information that the website provides regarding its products and services, the policies - especially those related to data privacy, Buy Essay Online testimonials, quality of writing samples and/or blog posts on the site, pricing, discounts, and BuyEssayOnline customer reviews that we have found on the web. As well, we received a research paper and held conversations with both the customer support department gathered feedback about the writer's communication and professionalism. This is a summary of our findings.
Buy Essay Online Services
Buy Essay Online offers both academic and business writing products and services.
In the area of academic products and services, students from high school forward can order virtually any type of product, from a book review or essay through a Ph.D. dissertation. Admissions and scholarship essays are also offered. Other services include editing and proofreading.
Business writing is also wide-ranging, from plans and proposals to copywriting, to marketing materials and reports. Editing and proofreading are also available.
Overall, we found that the products and services offered were all-encompassing. However, they were in line with most essay writing services reviews we have written.
Quality of Products and Writers
Our ultimate Buy Essay Online rating results from several factors involved in evaluating the quality of products. And that quality speaks to the quality of the writers the service is using.
First, the site content. The homepage has a lengthy amount of text to explain the benefits of the company. Unfortunately, there are numerous punctuation and word usage errors, leading us to believe that the claim of using only U.S. and UK writers may not, in fact, be fully true. Any type of web content that is written for a writing service should be impeccable. This is not.
Next, the comments and feedback from customers. The comments we were able to find on other review sites, along with social media, are definitely mixed. Customers report receiving their products on time; however, there were concerns expressed about help from the customer support department and the ultimate writing quality of the final drafts they received.
The research paper we received was not of the quality we would expect a university-level work. Again, there were word usage, punctuation, and basic grammar errors that no ENL writer should have missed. We had to point these out to our writer when we asked for revisions.
The blog demonstrated the same writing quality issues. There was a lack of structure, no thesis statements, and a number of grammatical and mechanical mistakes.
Other concerns include the fact that there are no published policies on this company website, there is no evidence of a BuyEssayOnline BBB membership and very little specific information about the writers. On the other hand, we can say that there are no legal issues that have been made public.
Customer support is provided by an answering service and ESL individuals who are hard to understand. One rep told us we could have a complete dissertation within 5 days – ridiculous. No reliable company would promise a document that takes months of work in 5 days. It was clear that the customer service agent was poorly trained, or that they were truly offering rushed, dissertations.
Prices and Ways of Payment
BuyEssayOnline.org prices are high for the industry average. Our 8-page paper was priced at $227.40. There is a pricing chart that covers academic writing, editing and proofreading, and business writing separately.
Payments are fully secure and are by all major, basic methods.
We can state that BuyEssayOnline is not a scam. We paid our money and did receive a product on time. Our advice is to choose other companies for essay and cheap term papers writing. This legitimate company should not be taken as an endorsement of quality.
Discounts
This was very confusing. The homepage listed three types of BuyEssayOnline discounts – lifetime, seasonal, and "help-a-friend." It also stated that there were BuyEssayOnline coupons codes for these. On the order form was a field for a Buy Essay Online promo code. Yet, these discount amounts and codes were nowhere to be found. Customer support did tell us we had to request them, and then would be told if we qualified for them. They could not provide any further details. We asked for a discount for our research paper order and were told it did not qualify because it was too short. We have no idea what "refer-a-friend" is.
Extra Treats
The only extra we could find was free revisions, and we did get those. Unfortunately, the entire process was frustrating.
While looking for extra content or offerings, we looked for policy pages. Most writing services publish these on privacy, use of cookies, terms of service, guarantees, etc. Unfortunately, we were unable to locate these on the website. Because of this, we cannot say that the company has any established privacy policies, or if customers can obtain information about how their personal data is used. We are also unable to state whether the company is GDPR compliant or not.
Final Note
In assessing BuyEssayOnline.org's pros & cons, we can say that the company is legitimate, but also that it is obviously new. Without written and published policies, it is difficult to develop trust. As well, we suspect that at least some of the writers are ESL, given the quality level of products Overall, we are assigning a rating of "Fair" to this service.