Our verdict: Not Recommended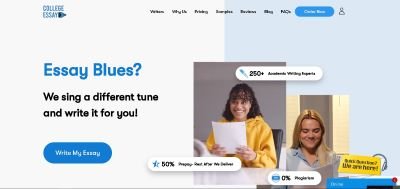 Short overview
Minimal deadline:
12 hours
Guarantees:
Confidentiality, High Quality, Direct Communication with Writers, Revision Policy, No Plagiarism
Payment Methods:
Available Services:
Writing
Extra perks and features:
Samples, Blog
Summary
The primary reason for writing CollegeEssay review hides in its name. Numerous students look for the best writing services when they have no time to complete their papers, and in almost every case, they type words like "college" and "essay." The company decided to use it and named itself in this generic but useful way. I understand this approach, but I don't approve of it because it lacks creativity. CollegeEssay doesn't reveal the date of its creation, so I launched my personal research. Based on reviews and social media posts, this company appeared at least 2 years ago. Its writing experience doesn't seem big or impressive, and it has only around 250 writers. But most comments are positive and students' interest is there, which inspired me to verify how legit this service is and what features it offers to its customers.
Pros
Affordable prices
Direct chat with writers
Paper samples and blog available
Cons
Unclear writing experience
No refunds available
Dubious quality
Top 3 services
VIP Support
From $14.99 per page
PhD Writers on staff: 80%
From $12.99 per page
CollegeEssay Review: Website and Interface
The first meeting of potential clients with the best coursework writing service happens through an interface. It has to look compelling and offer relevant info, and I hoped to find something similar with CollegeEssay. I can't say I was impressed: the color combination includes uneven blue and white coloring, and two small pictures depict excited students. It's not bad but there is nothing eye-catching either. Layout is modern enough, though some elements are overwhelming. Boxes with promises, appeals to place orders, the number of available writers, and online chat are floating all over the page, which is distracting.
Good thing about www.CollegEessay.org is that it provides relevant sections like prices: it doesn't hide this information and lets clients see everything from the start. But if you want to see what services you could order, you'll need to check the order form. No other page is going to share this info with you. This is a bit unfortunate. I liked that content was fluent for the most part. It has some mistakes and odd constructions, but nothing serious to complain about.
Academic Services from This Company
It's easy to see that College Essay reviews discuss their best writing services in particular. After checking order form, I realized why. The company specializes in writing alone: if you need to edit, rewrite or proofread your essay, you won't find these options. This is a serious drawback since many students work by themselves and need some guidance later. Not everything is disastrous, though: you could always contact operators and discuss your order with them. They could help you find a writer who would be willing to perform one of such services. In terms of writing, many paper types are available: clients could order dissertations, reviews, bibliography, cover letters, creative writing, e-book, lab report, reflections, applications, thesis, etc.
Another positive element includes samples. Free academic papers could be extremely helpful, especially when companies provide them for free. CollegeEssay offers this exact option, but once again, it's not entirely perfect. Since the company is very young, it has only 6 samples. There are no categories, academic levels, or topics, so I doubt most students will find such a small collection useful. Hopefully, it'll grow in the future. But what about quality? I chose one random sample for analysis.
Title: Effects of Cultural Diversity
Length: 13 Pages
Analysis: This paper has APA formatting, and though a lot of it looks correct, some mistakes are present. The writer didn't use all italics, citations, and punctuations as they had to. Content isn't promising because there are a huge number of language mistakes. Just check the first sentence — it is too long and rambling, and other parts of an essay are the same. What could be said in 5 words is extended to 30? Ideas are very simple and would only suffice for school. Another thing that made me wary is trademark. As you can see from the screenshot, the trademark across the essay says, "My Perfect Words," so I'm not certain this sample belongs to CollegeEssay.
Quality: Medium-to-low.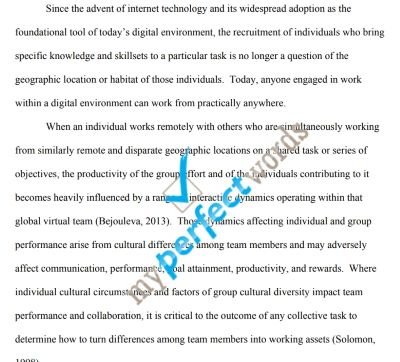 Privacy? Revisions? Refunds?
I had a lot of problems with guarantees from this agency and I don't know why more reviews of CollegeEssay don't discuss this problem. When reading info about confidentiality, I saw references to "EssayHours." The company has another name, and it's difficult to say if this is a deliberate attempt at misleading readers or an honest careless mistake. Either way, I was not comfortable with it. CollegeEssay collects a lot of your data, promising not to use it for any unrelated purposes. Revisions are free, and clients must request them within 14 days. All these details are acceptable and the company could have gotten a bigger score, but I found a major obstacle: refunds. CollegeEssay doesn't provide them! The only exceptions happen if managers fail to find a writer for you or if your order is very delayed. Bad quality won't change anything, you won't recover the sum you've paid. I think this is completely unacceptable.
Online Chat with Operators: Effective or a Waste of Time?
Is CollegeEssay good in terms of communication? I was curious about how operators do their job, so I began chatting with them right before placing an order. The first guy was friendly and helpful. He replied quickly, offered every answer I wanted, and guided me through order placement. But what took place afterward left the opposite impression. When I tried to speak with operators about my complaints, their replies turned rude. I was told to wait for more than five hours at one point just to learn if managers are going to grant my revision request! Chat is quick and some employees are great, but others change their tune speedily after you pay for your essay.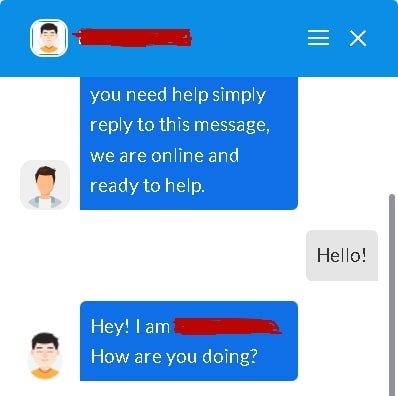 Essay Quality, Price, Submission Details
For purposes of CollegeEssay.org review, I hired a writer, asking them to write a Literature paper of 5 pages. I picked high school level and 14 days for a deadline, a standard combination that works best in similar tests. I paid $75, an okay price for such a project. From good news, the writer submitted it timely. I was pleased that the company respects its clients' deadlines. The quality, on the other hand, was another and more problematic matter.
Not all reviews of CollegeEssay are positive, and I definitely relate to this. My essay had 277 mistakes that included errors in punctuation, grammar, style, etc. This is more than 40 mistakes per page! Contrary to the company's promises, my writer was not a native English speaker, and they were not an expert in Literature. The paper was too simple and basic, with analysis of main ideas barely scratching the surface. I hoped revision would improve things.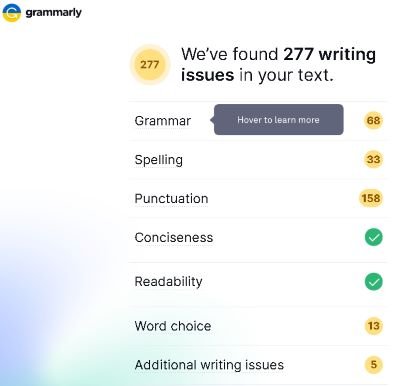 How to Place an Order?
Order placement is an easy part, but I want a detailed CollegeEssay review, so I'll describe each step. Follow them and you'll be done in minutes. Not to say I didn't encounter problems!
Share basic contact info and details. Click "order now," type your phone number, email, kind of essay, academic level, deadline, number of pages. Then choose "proceed to other details." The company didn't want to accept my number for some reason so I had to use a second one.
Expand order form. Offer title of your paper, select subject, citation style. Think about how many sources you'd like your writer to use and upload relevant files with instructions.
Create an account. Sign up; read more College Essay reviews in case you'd like more info on how safe your private data is.
Review info and pay for essay. Is everything correct? Once you confirm this, make payment via the method you prefer.
Read your paper. Once the essay arrives, read it. It's better to find out early if you'll have to ask for revision.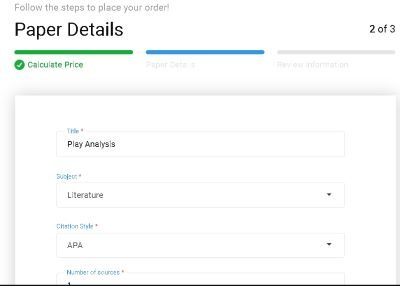 How Much Would You Have to Pay for Essays?
While few CollegeEssay reviews discuss prices, it is a vital aspect that every student worries about. Prices at this company are mild. No information about discounts present, but you could always discuss it with operators. They might give first-time clients special treatment. Remember that there is no best college essay editing service here, only writing. The minimal price of any assignment is $15. This concerns essays, reports, case studies, and presentations. The shorter the deadline and the higher academic level is, the more you'd have to pay.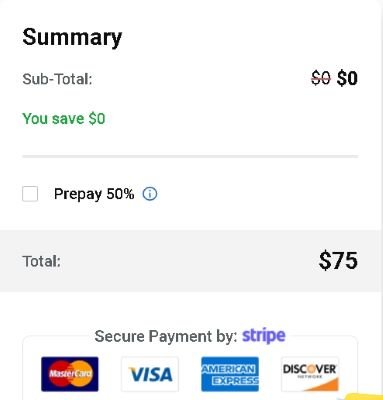 True Level of These Writers
Is CollegeEssay reliable? Not when it comes to its writers. Since multiple reviews are positive, I imagine it's a lottery: some clients succeed in getting professional writers while others deal with amateurs. My case was unfortunate. The writer didn't come from an English-speaking country and their knowledge was insufficient. The only positivity is that they wrote everything from scratch — I found no plagiarism.
Revisions: Efficient or Not?
I didn't like quality of my order and asked for revision. As I found out during my review of CollegeEssay, the company promises to deliver the revised paper from 12 to 48 hours after getting the request. Mine was there after one day, but it wasn't good. Some mistakes dropped in number but the content remained unchanged.
More Features for Clients
Several CollegeEssay reviews complain about being misled. They boast of offering free formatting, bibliography, proofreading, but whether you order research paper editing services or just ask for writing, these things are free everywhere. The only real extras are samples and articles in a blog. They cover interesting topics but I think their number is lacking.
CollegeEssay Reviews and Its Social Media
What do other people say about CollegeEssay? As I mentioned, they are majorly positive. But not all look trustworthy and a few are negative.
SiteJabber
More than 1K of glowing reviews — it would seem amazing if it wasn't for negative comments. Their problem is that they are actually positive! Just take a look at the screenshot. A reviewer gave the company one star yet praised it to the skies. Managers do this to artificially boost their ratings: they add allegedly negative reviews for authenticity, but instead of making them actually criticizing, they inject them with praise, not wanting anyone to hear even one negative word. This made me doubt how real other comments are. Managers don't interact with them.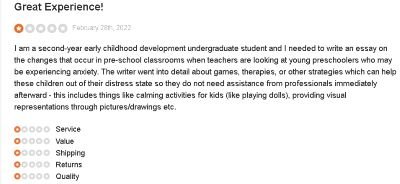 TrustPilot
I saw only one review on this site. It sounds generically positive, but there is one red flag: the poster mentioned their full name. Students placing such an order wouldn't do this.

Social Media
I saw no www.CollegeEssay.org reviews on Reddit, so I went to check other platforms. The company has a Facebook page, and it posts frequently there, though it has no contact with customers. Instagram has cool posts but only 6 subscribers. Twitter has marketing posts and 20+ readers, which isn't a lot.
Show Me Your Top Services
Faq
Is CollegeEssay legit?
The company exists for real and offers academic writing help, but it's next to impossible to find any official info about it. It has email, chat, and text-line contacts only.
Is CollegeEssay safe?
Not really. Its privacy policies seem copied from another service called EssayHours, which creates doubts about its safety.
Is CollegeEssay reliable?
This depends on your luck. You might find a great writer with rich experience or end up with an amateur who has no relevant knowledge.
Is CollegeEssay a scam?
Somewhat. Customers are going to get their papers, but if they have bad quality, your money won't return.