Our verdict: Not Recommended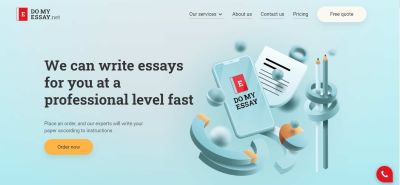 Short overview
Minimal deadline:
4 hours
Guarantees:
Money-Back Guarantee, Free Revision, 100% Unique Papers, User Data Privacy
Payment Methods:
Available Services:
Academic Writing, Programming, Calculations
Extra perks and features:
Free Plagiarism Checker, Native English Writers Only, Article Sourcing
Summary
At the end of my DoMyEssay review, I wasn't impressed with the quality of service I had received. While there were good aspects to their business model, I found that the cons far outweighed the pros. I would find it very difficult to recommend this writing service, but depending on your needs and budget, you might have a different experience. This review covers every positive and negative you should expect in an unbiased and clear manner. I would recommend you read it to the end, so you can make a better-informed decision on whether DoMyEssay is for you.
Pros
Fast ordering process
Polite and professional customer support
Nice user interface
Cons
Poor revision and refund policy
Low writing quality
No loyalty program
High prices
Top 3 services
VIP Support
From $14.99 per page
PhD Writers on staff: 80%
From $12.99 per page
Service Overview
DoMyEssay has been around for 14 years now and looks set to continue for the years to come. Many DoMyEssay reviews by students on social media have praised how reliable and trustworthy they are when it comes to handling transactions and delivering results. I had the same experience during my review, so I can agree with what most people say about the service.
Visiting the DoMyEssay website, you will be greeted by a well-designed website. The colors chosen are comfortable and esthetically pleasing to look at. I liked how the menu was designed, but it had a different style to the rest of the website. Pages responded well, and aside from a few minor issues, everything performed well.
A student looking for a particular service won't have many challenges navigating the website. The services they offer are available as a list at the head and foot of the DoMyEssay landing page. On almost every page, you can find an "Order Now" link, which makes it much easier for customers to make an order.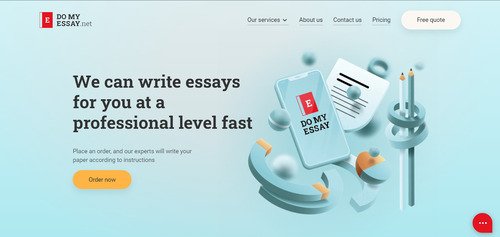 Types of Services Offered
DoMyEssay offers mainly one service, which is academic writing. When compared to many other companies, DoMyEssay is lacking in regard to affordable proofreading services as well as other types of writing services. They have writers from many countries, and it allows them to help ESL (English as a second language) students better.
DoMyEssay does offer free samples, but sadly, there are only 4 essay examples to review.
Title: Casa Batllo by Antoni Gaudi
Length: 7 pages
Analysis: This sample hasn't been written well. It is unique, but it has many grammar and punctuation errors. Students looking for ideas for their own papers might not be bothered by this. It also shows that the writers' quality might not be that great.
Quality: Low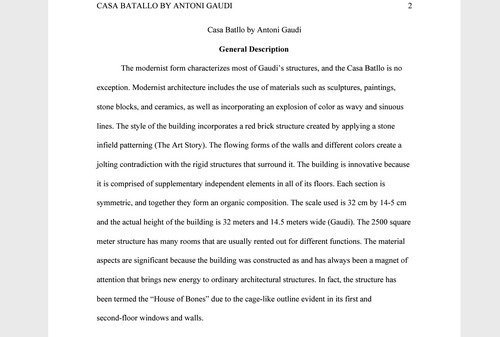 Guarantees
In the course of this detailed DoMyEssay review, there was no section that focused primarily on the guarantees. Rather, you have to check the foot of the web page for that information. Customers are given a money-back, revision, originality, and confidentiality guarantee. When it comes to refunds, the conditions for them are quite complicated and not very user-friendly. This is definitely something that this provider should take a deeper look at. Also, you can only revise an article within 7 days after approving it, which other DoMyEssay reviews confirm. As most papers students submit to their professors have a longer review time, 7 days isn't sufficient.
DoMyEssay Review of Customer Support
DoMyEssay has quite a good customer support that is knowledgeable when it comes to answering customer questions, as you would expect from any company that aims to be the best write my essay website. I tested this myself by occasionally making calls to the support team as part of my domyessay.net review process. Most calls were placed late at night just to see if they are always available. I can say, on average, that you shouldn't have a problem connecting.
Customer support was always polite and tried to answer all of my questions. There were instances when I couldn't get a clear response, but they usually sent an email afterward. After consulting the reviews online, I can say DoMyEssay offers qualitative customer service.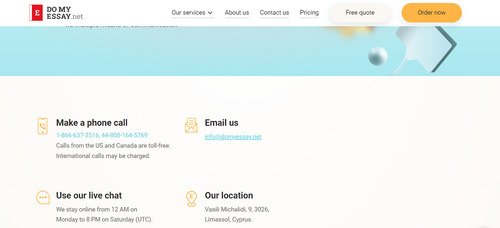 My Experience and Paper Quality
The order I submitted was an essay on the French Revolution from the perspective of the government. As it's a side of the story that isn't told often, my paper would involve significant research. The purpose of this was to test the writing quality of their experts. Unfortunately, the end results weren't that great.
The paper was submitted very close to my deadline, but even with the delay, the writing quality wasn't that great. I checked the paper for plagiarism and the results were good, which most Do My Essay reviews mentioned. However, the paper had a lot of grammatical errors and the style of writing wasn't very cohesive throughout the paper. I immediately reached out to support for help on the order.
I asked for a refund, but it was explained to me that I would only get a refund after 14 days had passed. And, I would need to provide strong proof regarding why I was entitled to a refund. If everything was successful, the maximum cash I would get back was 40%. This is not what you would expect from a top admission essay writing service. Seeing as a refund time period wouldn't work well with the schedule for my review of DoMyEssay, I decided to go for a revision instead.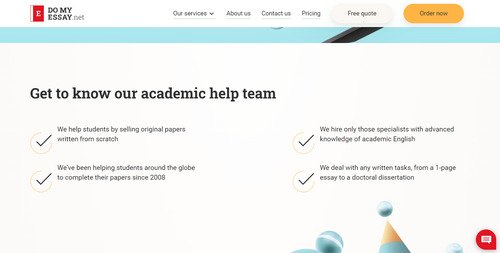 Ordering Process
The process of placing an order is very simple - you can do it by clicking the "Order Now" button that's present on every page of the website. Once that is done, it's relatively simple to make my order. There are two main sections, one that covers paper details, and another that covers your personal details. I didn't like the fact that I had to create an account to complete my order, but like most Reviews of DoMyEssay.net had mentioned, there is no other option. As you make changes to your order, you're able to see the price change in real-time, which is super convenient. Also, during the ordering process, you can request samples from a particular writer before you choose them. It's important to note that this is an extra feature that costs $5, but it allows you to sample the writer's quality of work before making a financial commitment.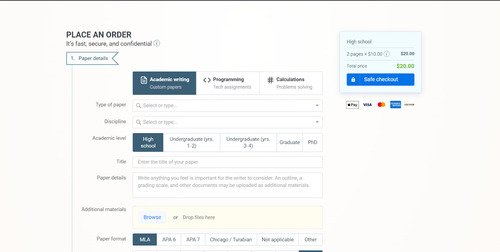 Pricing and Discounts
How much you pay for an essay will depend on many factors, one being the academic level. If you're a high school student, the least amount you can expect to pay is $10 for a page. However, if you're a grad student, specifically a Ph.D. student, the price per page can be as high as $73 for a paper with a short deadline. This is very expensive, especially as many companies today are looking at lowering their prices to more affordable rates, as well as editing more services to their list, such as personal statement editing services, to be more competitive. What also makes such prices a problem is a lack of discounts. As this is a policy that can be changed, I hope that they will revise this in the future so I can do more domyessay.net reviews.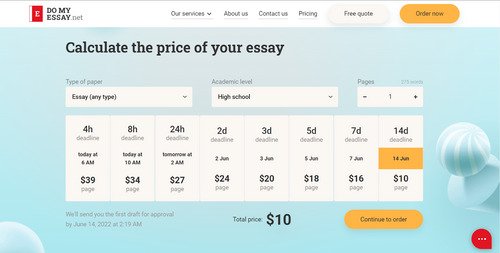 I can't provide detailed information regarding the pricing of different paper types, because such information is unavailable on the site. However, you can request free quote with all your specifications. The payment methods supported are the standard ones you would expect. They are safe, secure, and fast.
Writer's Proficiency
While my order was submitted very close to the deadline, the extra time the writer had wasn't enough to produce quality writing. I would understand this if the deadline was an urgent one, but there was enough time to complete my order qualitatively. My essay paper had many grammar issues that style issues that would be significant if I needed to submit such a paper for grading. Also, no sources were quoted, despite the fact that I specified that they should be included.
As stated on the DoMyEssay website, they hire writers from all over the world. The challenge this brings is that unless these writers are tested on their understanding of the English language, they will struggle with some tasks. Currently, DoMyEssay offers customers the opportunity to get a native English speaker to handle their task, but that comes at a 30% increase in costs. Considering their current prices, this would mean the least amount you would pay for a good paper is $16.90, which is quite high. If they were to change their policy, I would consider doing more reviews of DoMyEssay in the future, since this provider is quite prominent on the market.
Revisions
As my order wasn't handled properly, I had asked for a revision. They took very long with my first revision, but when the results came back, they weren't all that better than before. I stated that this wasn't what I wanted, but this time around I was told that my current instructions differed significantly from my initial ones. Hence, I would need to pay extra for further revisions. I reached out to customer support for help, but they simply referred me to an email I had received. I didn't like how an entire revision process had been carried out. As I needed to get back to my DoMyEssay.net review, I decided to move on.
Going over their revision policy, it becomes quite clear that it's not very user-friendly. If you have extra cash, you might not have anything to worry about because your paper would be handled by a native speaker. On the other hand, as most students are likely working with a tight budget, the chances of needing a revision on your order increase. Seeing as their revision process is unreliable, I can't see how this is an affordable writing service to recommend.
Loyalty Program, Offers, and Extra Services
I wasn't able to find a section about any loyalty program. This was sad because it would have helped reduce order costs over time. DoMyEssay does offer extra services in a form of native speaker writers, a free plagiarism checker, and part-by-part delivery of your papers. While these extra services are nice, they are paid, and they don't compensate for a lacking reward system.
Online Reputation Based on DoMyEssay Reviews
The most popular destinations for reviews are social forums and trusted third-party review websites. While you can also get reviews from a writing company's website, they aren't always that reliable. Reddit, Sitejabber, and Trustpilot are just a few online platforms you can check.
SiteJabber

On Sitejabber, there was only one review that had a very low rating of 2.0/5.0. This reviewer complained about very poor results on an essay they received. This could likely be due to a non-native speaker handling their order. Trustpilot wasn't any better, as I wasn't able to find a single review that could answer "Is DoMyEssay good or not?" on their website.
Social media
I wasn't able to find a social media page that I could look at for my DoMyEssay review. However, they do operate a blog that posts a lot of information on writing and education in general. It should be noted that the last date on their blog post is 2018, which means they haven't been active there in a while.
Show Me Your Top Services
Faq
Is DoMyEssay legit?
Yes, DoMyEssay legit is a company that can be trusted. They have worked with many individuals in the past, and I was able to cooperate with them easily.
Is DoMyEssay safe?
Yes, DoMyEssay is safe to use as internet traffic on their website is encrypted to protect user data. Also, their payment methods are secure and reliable.
Is DoMyEssay reliable?
An answer to the question "Is DoMyEssay reliable?" would be no. DoMyEssay isn't a very reliable service, as their quality of writing can vary significantly depending on the writer your essay is assigned to. This company needs to focus more on its recruitment policy.
Is DoMyEssay a scam?
No, my DoMyEssay review confirmed that this service isn't a scam. While it was unfortunate that my order wasn't done to my satisfaction, I have read other DoMyEssay reviews, and many users had a much better experience than I did.