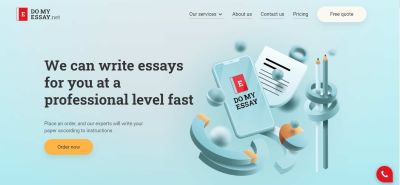 DoMyEssay Review
DoMyEssay.net has been on our radar for a while. And finally, we have gotten around to doing a review of this agency. We used all of our normal criteria – the information and content on the website, customer reviews that we could find out on the web (we don't put a lot of stock in on-site testimonials), prices, discounts, policies, sample writings, blog posts – all of the usual stuff. But we also ordered a college level research paper to judge Do My Essay quality for ourselves.
Here's what we found.
Factor 1: Type of Writing Services Offered
DoMyEssay offers only academic writing, and it offers it to students anywhere in the world. In fact, they openly state that have writers from all over the planet too – U.S., UK, Canada, Europe, India, Pakistan, etc. This may be the reason they do target ESL students too.
Academic products and services include all the standard ones, including theses and dissertations for grad students. And they go as low as high school. So, essays, papers, reviews, and all of the other assignments students normally get, you can get at Domyessay.net.
Factor 2: Trust and Reliability
This is a non-issue with Do My Essay. Everyone who has commented on the company states they can order in confidence, they get their products on time, and they had no concerns about using their credit cards. Our experience was the same.
The other factor that is important here is the fact that they do have a lot of written policies that govern how they operate, and these look good.
Factor 3: Level of Quality
So, here is an issue. While the company says that, even though its writers come from all over, they are all thoroughly tested for English language mastery, especially in formal academic writing. In fact, this is not the case.
Customers who expect to get a piece of writing that is grammatically sound may be disappointed. It's just a mixed bag. If you get a native English-speaking writer, you will probably be okay. But if you get an ESL writer, you probably won't be.
You can see evidence of this in the blog posts. Some are just fine; others are clearly crafted by ESL writers. There is just no guarantee what you will get.
The paper we received was not compositionally appropriate for college level. There were grammatical and structural errors, as well as incorrect word usage – all indicators of ESL writing. Frankly, we were disappointed.
Factor 4: Pricing and Payment
Do My Essay prices run about average. If you are in high school, you will pay $13/page for an essay with a 7-day deadline. If you are a Ph.D. candidate, and your deadline is rather urgent, you'll pay $54/page.
If you want editing and proofreading, your rate will be much lower. But if you want admissions essay help, be prepared to pay a good amount.
We couldn't find any discounts or a promo code of any kind. In fact, we were told that there were none.
The payment methods are standard – all major credit cards and PayPal. And methods are secure – no worries there.
Factor 5: Additional Important Considerations
There is not much else to tell. One thing that grad students may find attractive is the option for progressive delivery. This means that, if you have a huge project (e.g., thesis or dissertation), you can set up time payments as sections of the piece are completed. This may be budget-friendly but be prepared to add 10% to your price if you choose it.
Concluding Comments
We always try to be objective about pros & cons of a writing agency we review. In the case of DoMyEssay, we can say that they are legitimate, do fill orders, and get stuff to their customers on time. Unfortunately, the quality is really hit-and-miss, we suggest students to use only the best write my essay website. Our overall rating is not good. ESL students might find the writing acceptable. Most instructors and professors will not.