Our verdict: Not Recommended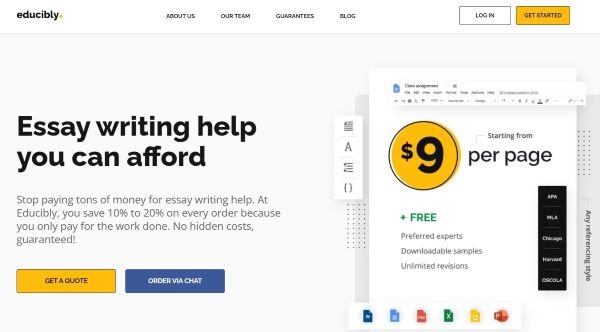 Top 3 services
VIP Support
From $14.99 per page
PhD Writers on staff: 80%
From $12.99 per page
Educibly Review: Does This Company Deserve Your Trust?
Another day, another search for the best writing services in the market, and this time, we've prepared Educibly review. The company has been working for more than 12 years, and it has piqued the interest of many of our readers. Its website is well-made: while it has no design, it can boast of a good layout, fluent content, and useful details that clients will find informative.
Educibly states that it has 98.7% of returning clients, but we find this hard to believe. As our research shows, only 60% of students who use academic services do it repeatedly, and even less choose the same company. Reviews about the company are even more dubious — some of them are so obviously fake that it's embarrassing. This made us skeptical early on, but we continued our research.
How Did We Write Educibly.com Review?
When we search for the best proofreading service or writing help agency, we stick to the same rules for maximum objectivity. First, our team studied Educibly background and read opinions of its previous customers. We paid close attention to policies, prices, and analysis of its website. To get personal client experience, we placed an order with its writers, and once it arrived, we began the close examination. Communicating with managers and looking at other aspects was the final touch, and after this, we made our judgment.
First Aspect: What Writing Services Are Available Here?
Educibly provides a good range of academic services. If you are looking for assistance, we are certain you'll find it because the diversity is great. These are your options:
16 different subjects. When working on Educibly.com review, we saw that students can choose between any subject. Business, Nursing, Education, Sociology, Psychology, Nursing, Creative Writing, etc. — the choice is vast and we appreciated this.
4 formatting styles. Students could pick between MLA, APA, Chicago, and Harvard. If you have another style, contact managers and explain what you need. They might take your preferences into account.
Any kind of writing. Research, personal statements, reviews, proposals, summary, term papers, dissertations, and thesis — Educibly.com covers everything.
Editing & proofreading. The company could also correct a weak or imperfect paper by giving it to one of its editors.
Other projects. What our review team liked, in particular, was that Educibly prepares PowerPoint presentations, suggests a topic and useful sources to its clients, writes speeches, and composes reports.
This stage of our review was impressive. We have only praised for Educibly about the richness of its services. But of course, their quality matters most.
Second Aspect: What Do Educibly Reviews Say?
Like we've mentioned before, reading reviews about Educibly worried us. There are many of them available online — this is a great sign because it means that its clients are active enough to readily voice their opinions. But their content was alarming. Most of them use blatant marketing tactics: they mention the company's name way too often and use catchy descriptions of its allegedly superb services. None of it sounds authentic. What we found even more damning is the same text of review posted by two seemingly different posters. See for yourself: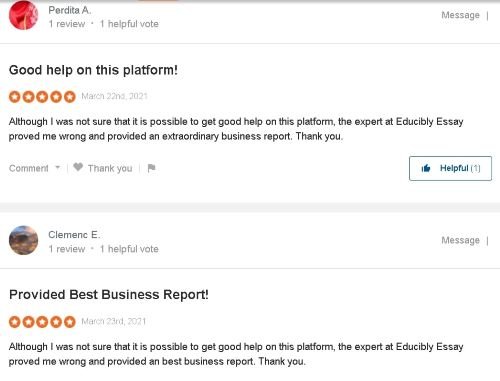 What does it mean? It's embarrassingly simple. Managers gave the ready-made Educibly reviews to their employees and told them to post them for extra marketing. They made a mistake and two identical texts are now decorating the review platform. No reliable company is going to lie like this. New agencies might get a pass for trying to attract attention, but this one has been working since 2010. If it provides great help, it should have many customers willing to share their praise.
Third Aspect: Did Our Essay Look Professional?
While most Educibly.com reviews are positive, they are not trustworthy, and we didn't know what to expect after we placed our order. It was a four-page of Business project with a deadline of 14 days. Note that Educibly claims it accepts orders with even a 1-hour deadline. We consider this inauthentic because no company can do something like this. The chances of putting the order into database, finding a writer, then reading instructions, and following them in under 60 minutes are non-existent. The company warns that it might be unable to find a willing specialist in this timeframe, but we don't see the point in even offering this possibility. We found no best summary generator for free or conclusion maker. Such tools are useful for students, and they prove the company's dedication to being helpful. There is a blog, but it had just 3 articles — we can't call this particularly impressive. Samples are present, too: they have good enough quality, but again, there are only 6 options.
Some negative reviews of Educibly mentioned lateness, and unfortunately, we experienced it personally. Our paper was delivered almost a day later. Managers gave us a generic excuse and didn't sound invested in making amends. When we got it, its quality disappointed us deeply. Incorrect references, awkward transitions, lacking thesis, and juvenile ideas are just some of the issues we noticed. There were also grammar mistakes and problems with punctuation. We had no idea what kind of person wrote this, so naturally, we asked for a revision. Managers agreed that the essay was terrible, but the improved version took another week, and it looked just as bad. Thesis appeared, but everything else had unacceptable mistakes. We felt extremely frustrated.
Fourth Aspect: What Do Writers and Operators Say?
We had no contact with our writer during our review. Operators replied quickly, but they didn't seem to care much. We felt unwelcome and dissatisfied. The company should improve customer training of its employees.
Fifth Aspect: How Much Do These Services Cost?
Educibly provides cheap services. Standard deadline is 14 days, and one page is going to cost $10.53 — but only if you order high school level. If you change deadline, level, or page number, you'll have to pay more, but the difference is small and these costs are absolutely affordable. If anything, they are too low. New clients can get 10% discounts for their first order.
Sixth Aspect: Any Extras and Freebies?
As the final stage of review of Educibly, we check what other offers the company makes to its clients. Once again, we were disappointed. From actual freebies, there is an option to hire a preferred writer — many services charge extra for this. But things like plagiarism reports require payment, and this is sad since clients have every right to know their work is original.
List with Key Factors from Our Review
For your comfort, we always summarize our findings. Educibly had positive and negative sides. You can see them below:
Positives
12-year experience. The company has survived for over a decade in this market.
Cheap prices. Its minimal price is less than $10 (if your deadline is long).
Diverse writing services. Students can order any project in any subject.
Negatives
Low quality. Our essay was awful before and after revision.
Indifferent managers. Managers weren't helpful and they seemed indifferent to our complaints.
Fake reviews of Educibly. At least some reviews about this company are fake.
Late paper delivery. Our order arrived much later than it had to.
Deciding If Educibly Is Legit
After discussions, we decided to award Educibly 2.7 points out of 10. It might offer many academic services for cheap prices, but its writers are unprofessional, managers show no interest in clients and some comments aren't real. It also delivered the essay with a big delay. If you want reliable help, check essay writing or dissertation editing services reviews on our website. We've checked many services and you could find the best ones based on our ratings. Hire professionals and get rid of academic troubles!