Our verdict: Not Recommended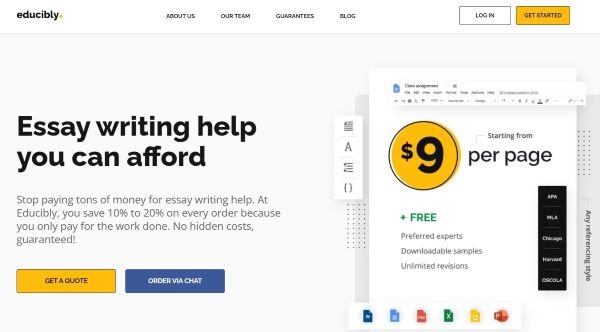 Short overview
Guarantees:
Relevant Sources, Complete Privacy, Endless Revisions, Refunds, Custom Approach to Every Client
Payment Methods:
Available Services:
Writing, Dissertations, Editing, Proofreading, Cover Letters, Paraphrasing
Extra perks and features:
Samples, Blog Articles
Summary
I always decide what firm I should research next based on your comments. Now, the time for Educibly review has come. I got 14 requests for my analysis of this company in four months, and after I started working, I realized why you seemed so interested in it. Educibly has an interesting name: it sounds academic yet strangely elegant. It appeared in 2009, but despite this fact, it doesn't have a sufficient number of online reviews. Some of its policies perplexed me; prices pleased me, and the quality became a surprise. Good or bad, you're about to see! Check if Educibly deserves a place among the top writing services in this market. All information you need to understand this academic company is right below.
Pros
Low prices for all services
Samples are present
Numerous academic options covered
Cons
Few Educibly reviews
Revisions are useless
Quality is terrible
Operators cannot help too often
Top 3 services
VIP Support
From $14.99 per page
PhD Writers on staff: 80%
From $12.99 per page
Website and Its Interface
One of the first steps I covered was visiting Educibly's website and assessing its design, functionality, and content. I felt disappointed in every respect. The design is nothing special: it is too empty and bleak. White background, some yellow letters and symbols scattered through a webpage — this isn't enough to hold anyone's attention. In modern days, when so many rich colors and bold or classic decisions exist, the choice of Educibly.com to remain stale is strange. The layout is not very convenient as you have to scroll down endlessly to see what information is even available. For instance, I wanted to see what guarantees this company issues and whether it has samples, but it didn't become clear until I almost reached the bottom of the page.
Another element I noticed during my Educibly.com review is website content. It was done by people who aren't native speakers, this much is instantly obvious. There are multiple errors in grammar and punctuation, and the number of awkward phrases is overwhelming, which makes it hard to consider this provider among the best writing services. Catch a couple of examples: "You may be hard-pressed to find … ideas to the point;" "Whether you are struggling with an expository or persuasive essay, our professional writers can help you understand how to write an essay in the right way." Both sound awkward: in the first example, "to the point" is unnatural, while in the second one, the word "essay" is repeated too often. The situation gets much worse as you wander into other pages — mistakes and weird constructions are everywhere.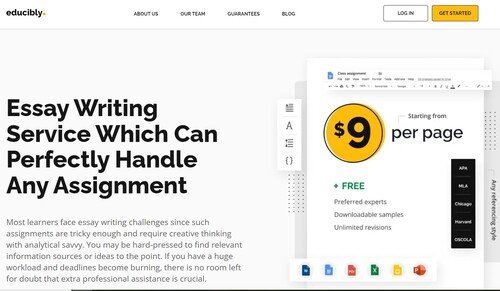 Range of Writing Options and Available Samples
Is Educibly good at meeting the diverse needs of its clients? Yes. It has a wide range of academic options that I found truly impressive. Students could order help with their writing, editing, proofreading, or rewriting; they could ask for assistance with presentations, dissertation, lab report, cover letter, and numerous other tasks. I wrote enough dissertation editing services reviews to know how crucial it is for a company to handle both big and small projects. Educibly pleased me in this category.
But what about samples? They are an important part of every writing firm since they demonstrate the quality of its standards. If a newbie isn't certain they want to hire a service, they read samples and make their choice on its basis. These free essays are also a great option for students to find ideas for their writing. All respectable firms must have them. Educibly reviews made no mention of them, but I found them. The problem is there are less than 10 such samples available. It's simply not enough to be relevant. I still picked one random essay for analysis.
Title: Japan's Subculture
Length: 13 pages
Analysis: This sample is a disaster. It sounds complex and interesting, but only if you glance at it quickly. When you start reading, you see endless mistakes. "Point on," "youths
is," wrong prepositions and excessive use of passive voice are just some examples. The content is engaging, I'll give you that, but it is barely comprehensible at times.
Quality: Low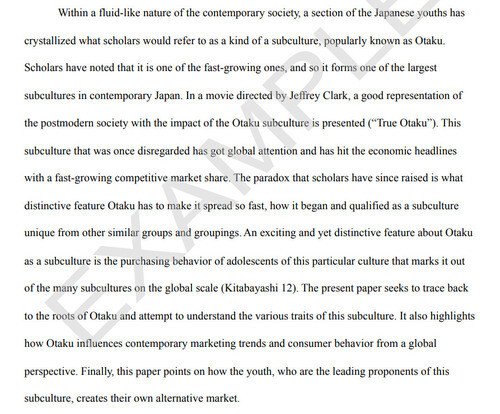 Time for Educibly Review of Policies: Are They Safe?
Reading the policies of a company is essential for understanding what you might expect from it. Some policies that Educibly uses made me relieved: free revisions are available 14 days after clients receive their papers. Refunds follow the same rule. Most cases are discussed on a unique basis because people might complain about different things and require different solutions.
The problem lies in the privacy policy. Educibly offers a confusing mass of text where it gives vague details about how the data from clients travel through different locations. The company is located in one place, but the information goes to another, and people from the third location can access it. I barely understood what any of it meant. The policy also states that managers could share client info with third parties, with no real details given. I found this concerning.
My Dialogue with Operators
Usually, I love operators. Even the worst firms tend to have good customer support. But as some Educibly reviews hinted, this is not always the case here. On a website, clients should find a green button. It's pretty small, which is a drawback, and it is located in the lower right corner. After this, they should choose if this is their first order or if they are a returning customer. My first contact with an operator was sweet: it was a great guy named Kevin who was polite, funny and genuinely tried to help me. But three times, I spoke to customer support after this was terrible. These guys ignored some of my questions, replied with huge pauses, and sounded rude at times. When I tried to explain that I didn't like the quality of my paper, they tried to argue with me by telling me that if I didn't have feedback from my professor, I had no right to complain. This was preposterous.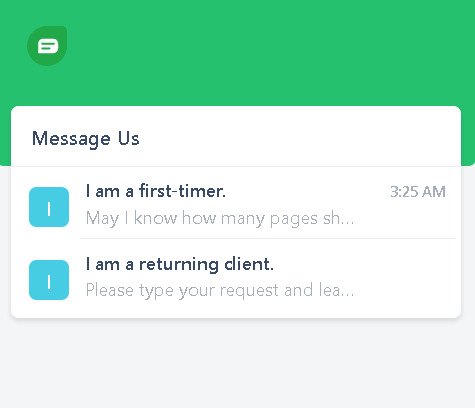 Truth Behind Writing Quality
Most Educibly.com reviews are positive, which made me hope that my paper would look good. I ordered 5 pages on the movie "Ghost", asking for a detailed analysis of the music and plot. It was a simple and interesting task, and I set a deadline of 14 days. My writer had all the time in the world to deliver my paper to me. Unfortunately, this isn't what happened.
My essay arrived two hours later than I requested. The difference isn't lengthy, but for some students who didn't place their order in advance, it might be a matter of life and death. The majority of Educibly reviews didn't discuss it, but my example late deliveries happen here. There were 306 corrections suggested by a professional grammar checker, and most of them were valid. Wrong articles, misspellings, wrong tenses — it was a nightmare. I couldn't believe my eyes. The analysis was too shallow, and the music part took 100 words out of 1300+. Everything else was basically a plot summary. I felt shocked and angry.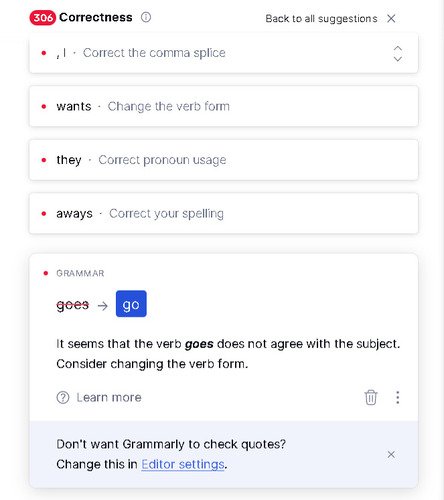 Steps Involved in Placing an Order
Placing an order took some time. I'm going to outline all steps in my detailed Educibly review because you might need to know this information. This is what you should do:
Find "Get started" button. It is yellow, and students can find it in the upper right corner of the page.
Add general details. Outline the number of pages, essay type, subject, and deadline. And here comes the part I hated: clients should choose what group of writers they want. Standard doesn't cost extra, but for advanced and premium groups, you'll need to pay more. Satisfaction rate for each group differs, with the highest belonging to the most expensive category for obvious reasons. This is offensive — there should not be quality competition for paying customers.
Upload files. As my review of Educibly discovered, the next step is uploading files with instructions or other relevant files. You should also choose a formatting style.
Extra services. At this stage, I felt like the order process was too long. If you want plag report, simple language, etc., order them by paying more money.
Pay for an essay. Choose your payment method and pay.
Download an essay. Upon your deadline, a link will arrive in your inbox. Follow it and get your paper from there.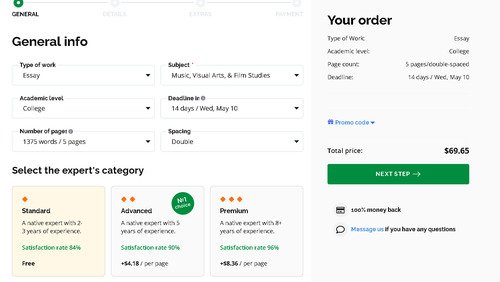 What about Prices in This Agency?
Prices are the best part of this firm, and I'm sure many reviews of Educibly will agree with me. They are low. The company lies by claiming they start with $9 — it's not true. I paid around $70 per 5 pages even though my requirements were minimal. Still, the real price is affordable as well.
| | |
| --- | --- |
| Services | Minimal Price per Page |
| Essay writing | $10.49 |
| Dissertation writing | $15.08 |
| Editing | $7.20 |
| Proofreading | $6.12 |
There are discounts of 10%. It isn't much, and you cannot actually extract the money you save. You'll be getting points for each order: there are 9 months for using them. After this, they will disappear. I didn't like this approach. It makes you think you are saving up when in reality, you do it only if you keep placing orders at Educibly.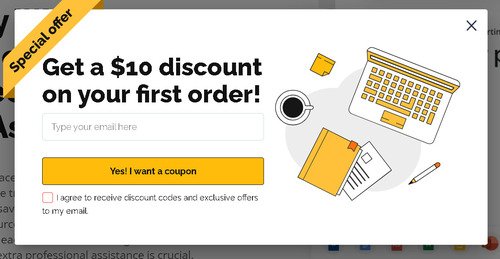 Trying to Reason with My Writer
Needless to say, I did not get along with my writer. They sounded sweet, for sure, but their messages had the same mistakes they made when writing my essay. I felt sorry for them, but they were bad at their job. It's an objective assessment.
Revisions
It's difficult for me to assess revisions because they just didn't happen. I placed my request and spoke with operators in circles, but what my writer delivered later was the same low-quality work. I'd need to use the best proofreading service plus a rewriter to get any real quality. This was yet another failure by the company.
Tools for Hopeful Students
There are no tools at Educibly. I expected to see the best summary generator for free at least, but there was nothing. Other companies care about what they offer to their potential clients more.
Trying to Tell Educibly Reviews Apart
There is a small number of reviews about Educibly online. Even worse, most of them don't sound believable. I got a feeling that they are being fake-written by managers themselves.
SiteJabber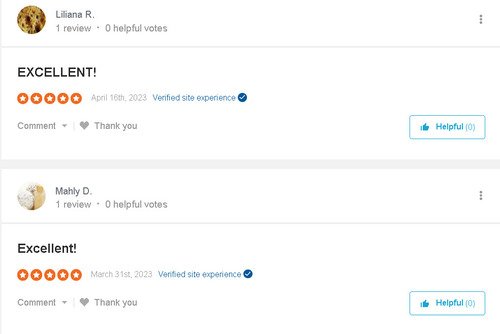 Almost all reviews are positive on this site, but look at them. It's the same generic tone and even words. No content.
TrustPilot
No reviews on this site, which is bizarre.
Reddit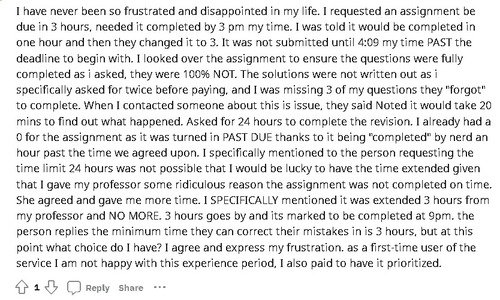 Almost no reviews of Educibly from general clients on Reddit, but the detailed one I found was negative.
Social Media
The company seems to have at least a Facebook account, it mentions it on its site, but I didn't find anything on the web. It doesn't look like it cares about enticing visitors and communicating with them.
Show Me Your Top Services
Faq
Is Educibly legit?
Yes, this is a legit company that provides real academic writing services. It's not perfect by any means, but it'll deliver your project.
Is Educibly safe?
Not in terms of privacy. It's unclear how the company uses the information it gets from its clients and representatives of how many countries receive access to it.
Is Educibly reliable?
Unfortunately, this is not the word I would choose to describe this company. It might mess up your deadline and deliver papers of poor quality.
Is Educibly a scam?
No. Educibly is a real firm that has real writers and managers. They work together for the benefit of clients and the company's owners.