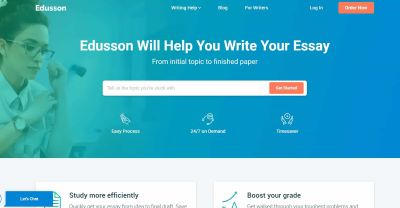 Edusson.com Review
The following is our official rule of edusson.com. We have written it in hopes of educating students and others about this company. In the end, we will provide a final recommendation. To find out more about this online writing provider, keep reading!
Review Criteria
We base our review criteria on several factors. These are pricing and discounts, quality work, customer service, and website design. To evaluate these, we take several steps. This is to determine whether or not the site is safe and reliable. For example, we explore the Edusson website. This is to evaluate website design and ease of navigation. Each of these things informs user experience, attention to detail, and professionalism. We also receive a completed essay from a source of ours. This is to evaluate the most important issue, writing quality. Our contact also shares their experiences with the writer. We search for online consumer websites for mention of this service or any complaints and legal issues. Finally, we check out each services' reputation among students and consumer groups. This is done by reading online reviews and reaching out to students we know through our work in this field.
Factor 1: Types of Writing Services Offered
The website content focuses largely on academic writing services, including the usual essays, research papers, and term papers. However, it appears as though any kind of writing can be requested. This includes thesis and dissertation assistance. It's just a matter of finding an available writer who is qualified. In addition to writing and editing, there is also a subscription service available. This service provides essay ideas, samples, etc., in exchange for a monthly or annual fee.
The Edusson login process is also very easy. You only have to introduce a few details to sign up, or you could use a Google or Facebook account to perform this action.
Factor 2: Trust and Reliability
As far as we can tell, Edusson is not a fraud or scam. We did receive an essay for the payment that we made. There are also customers who have been quite happy with their services. It is important to make a note of the fact that they are not BBB accredited. Reviews on the company are mixed.
Also, because this site uses the bidding model, there is always some element of 'buyer beware.' Students should understand that the best essay writer profiles are written to paint writers in the best possible light. It is extremely important that they are discerning when making their selection. Don't be swayed by a seemingly perfect writer bio or by exceptionally low prices.
We also tried to find out where is Edusson.com located. Upon doing some research, we found out that the local site is from the United Kingdom. And since we wanted to make sure the Edusson registration will be safe and that the website operates on legal ground, we checked out who operates the platform. It seems that the site is owned and operated by RATATATA LTD 48 Vitosha Boulevard, ground floor, 1000, Sofia, Bulgaria.
Factor 3: Level of Quality
The essay we received as part of writing this review was of low average quality. It was written on the correct topic, and the writer followed our instructions. However, there were multiple spelling and grammar mistakes. Worse, the writing lacked the detail and insight that instructors expect from college-level papers. Turned in, this would have likely been a grade C paper. Not acceptable for writing we paid for.
However, we do understand that writers aren't perfect. What we are more disturbed about was that many students complained about a lack of responsiveness when they contacted the company about issues with their papers. They were frequently ignored, and in some cases, outright rebuffed. It is disturbing when a company cannot be trusted to back the work it does. Finally, students may converse with their writers during the writing process. We highly recommend that they do this as an additional layer of quality control.
We did try to communicate with the writer, and at least in this aspect, there is no complaint. The writer was always communicative and willing to answer our questions. Not to mention, we received a quick response too, which made everything even better. The fact that the writers are so kind and helpful is a big plus, and more companies should follow this example and instruct their writers to be like this.
We also found out that often, the profiles of the Edusson writers will look professional, while the writers themselves are not professional. Some of them claim to be able to write on multiple subjects, and while that's not impossible, it's clear some of them are trying to attract as many clients as possible.
Factor 4: Pricing and Payment
Edusson prices vary widely. We received bids ranging from 15 to 35 dollars per page. Obviously difficult assignments are going to cost more. Likewise, the more experienced and reputable a writer is, the more they will charge. We did not see any discounts on the website. We checked online but saw no coupon codes. There was also no place to enter a promo code when placing an order, and that was extremely disappointing to us. You cannot advertise your services as so convenient for students when there is no discount code. Students who purchase longer assignments would only have to pay more since there's no discount for them. Considering there are many freelance writers, you'd expect discounts to be a guarantee. However, you'll have to deal with higher prices for their services.
We reviewed the methods available for making payment. These were very standard, with data being secured using SSL technology. While we have doubts about other issues here, students appear to be as safe making payment here as they are any other online service. Still, standard precautions should be taken. Consider using PayPal or a prepaid debit card for additional payment security.
Factor 5: Additional Important Considerations
Because it's a bidding site, Edusson doesn't offer much in the way of extras. They have plagiarism scanning, but that's about it. Basically, students get what they get based on whatever agreement they come to with their writers. There are testimonials on the site. They are, of course, very complementary, with each one offering a high rating. There's a blog, but it's of mediocre quality.
On a positive note, there is a well-written, easy to understand the privacy policy. It details how data is collected and used. Sadly, not much information is given on how the site protects student data. That section is barely two sentences long. Also, the site doesn't reference GDPR, nor does it mention any state-specific laws or regulations on the matter of data privacy.
Concluding Comments
Pros:
Writing help available 24/7

Many professional writers who work on the platform for a long time

Useful and up-to-date blog with tips and samples

Friendly and helpful support team
Cons:
Only writing services are covered

No published prices, only bidding system

Limited payment options
Edusson has a great website. There is no doubt about that. In the list of pros & cons, this definitely stood out as a positive. Unfortunately, due to our overall experience as well as the customer reviews that we read, we cannot recommend this writing service to our readers. The quality is too hit and miss, and the responsiveness to issues is simply not acceptable. This appears to be a company that is spread too thin for its capabilities and infrastructure. Rather than risking your academic reputation with Edusson.com, please consider using another website.