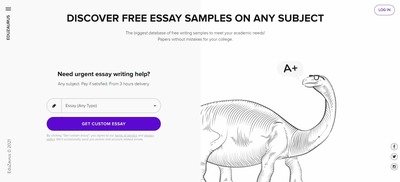 Eduzaurus Review
Eduzaurus.com is an academic writing company that uses a bidding system. This means that students place orders for papers and writers then place bids on those orders. Writers who place bids make their experience and qualifications know to the customer. The customer then accepts the bid that is most appealing to them.
To properly research this writing service, we placed an order for an essay and accepted a bid. We also researched them through the BBB, and read customer reviews and testimonials. We can say that they aren't a fraud or scam. The following is our review of Eduzaurus. Below we will detail our review criteria as well as our thoughts and experiences.
Review Criteria
Our rating of Eduzaurus.com is based on the same criteria we use for the top 10 essay writing services. In order to earn our seal of approval we expect the following standards to be met:
Papers should be completely original.

Papers should be delivered on or before the deadline.

Instructions must be followed explicitly.

The paper must be written at the appropriate academic level.

There should be no significant factual or grammatical errors.

Pricing must be reasonable and a good value for the quality of work received.

Writers and customer service agents should be professional, communicative, and helpful.

The website should be easy to navigate.

Safe payment options must be available.
Factor 1: Types of Writing Services Offered
The standard academic writing services are available here. These include essays, term papers, research papers, articles, etc. Our order was for a college level English essay.
Factor 2: Trust and Reliability
We were bothered by the fact that the company attempts to collect personal information before students attempt to place an order. Please know that you can simply scroll past the request for an email address and name. You will then be able to access the website.
Factor 3: Level of Quality
We were disappointed that the paper we received was full of errors. Worse, it was not written at a college level. Had we ordered this for the purpose of turning it in for a grade, we would have almost surely failed. Everything from formatting to citations was off.
Factor 4: Pricing and Payment
In spite of our paper being a relatively simple college essay, every bid we received exceeded 25 dollars per page. That is much higher than industry norms. In addition to the prices being high, there are no discounts available. We searched for coupon codes on the website, then Googled for a promo code of some sort. We had no such luck.
Factor 5: Additional Important Considerations
Students have the option of requesting a top quality writer. There are other add ons as well. We did not pay for any of these as we believe the prices charged here should warrant 'white glove service', and that asking customers to pay for extras was completely out of line on the part of Eduzaurus.
Concluding Comments
Pros:
Multiple samples of writers' work to estimate proficiency level

No need to complete the payment in advance

A lot of proficient writers available 24/7

Full protection of customers' data and complete anonymity
Cons:
Lack of payment options variety

The order form is not user-friendly

On-site reviews are not persuasive
We attempted to weigh all of the pros & cons of our experiences with Eduzaurus in the interest of fairness. Unfortunately, they did not meet some of our most important criteria. Specifically, we found the pricing to be well above the acceptable range for these services. This combined with the fact that both writing quality and customer service were below average means that we must suggest that students not use Eduzaurus.