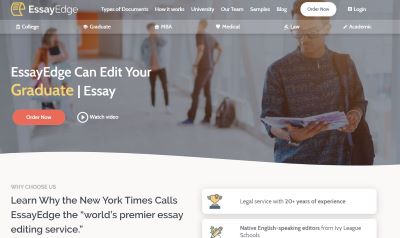 EssayEdge.com Review
EssayEdge.com is a bit different from common writing services, in that it is primarily an essay editing and proofreading service. According to its website, it has been in this business since 1997 and is affiliated with several other companies. We used the same criteria for our Essay Edge review that we use for all writing services – the information on the website, including its published testimonials, details of services, pricing, additional benefits, and evaluation of samples and blogs, as well as a piece we received from a source of ours. We also searched for the essay service on a variety of consumer sites. We searched for information on complaints and legal concerns. This is our summary of what we found.
Factor 1. Services Offered
As stated above, EssayEdge has a singular focus – editing, proofreading, and tutoring students who are preparing essays for admissions and scholarships – to private high schools, colleges, grad schools, and professional programs. The company's mission is to polish applicants' essays so that they are both impeccably written, as well as engaging for admissions officers/committee members to read. We should note that while the company provides editing and proofreading services for admissions documents at both the college and graduate school levels, they do not offer assistance with thesis and dissertation chapters. Our goal was to determine whether this service could be classed as reliable when it comes to delivering this limited scope of services.
Factor 2. Prices
EssayEdge.com prices are charged based upon the number of words in the original document to be edited and the level of service a customer selects. While prices range from $60 to $529 (from 0 – 2400 words) based on all of these variables, it will be important for customers to read the details of each level of service before selecting the one that best fits. Compared to other writing services that offer editing, prices are a bit high. We received a copy of an 800-word essay that was priced at $199.00 for the mid-level (standard) package.
Payment methods here are standard and appear to be generally safe. Secured methods are used during the payment process (SSL).
Factor 3. Discounts and Additional Features
There are no specific additional features to the editing/proofreading services offered by Essay Edge other than those outlined in the three packages. The site does feature a blog with a full array of topics.
Customers will not find a promo code or a series of coupon codes for discounts. There is only one discount plan, and that seems to constitute 10% off the editing price, up to $50. There is a single coupon code for this discount.
We also reviewed the company's privacy policy. There is some helpful information. For example, the company provides contact information for several agencies that users may contact if they are considered about the safety of their personal data. There's even some advice on protecting themselves. On the other hand, the rest of the privacy policy is very generic. It reads as if it was copied from another location with the name 'Company' used instead of the site's proper name. Information is shared on how data is collected and used. However, there is no mention of GDPR. Based on the given information, the company is located in the United States, and may only provide services with those borders.
Factor 4. Customer Support and Site Usability
The EssayEdge site loads quickly, and navigation to the links is seamless. It was a bit difficult to find the pricing chart, and the ordering price was a little cumbersome.
We did contact customer support via telephone. We were provided with more detail than the site provides, but overall, the conversation related to a sales pitch and the urging to complete an order and get an editor.
Factor 5. Writers
The company states that all of its editors and proofreaders are graduates from top-name universities, specifically Ivy League schools, such as Yale, Harvard, and Princeton. There is a page that introduces some of the editors and provides their backgrounds, but there is no way to verify this information. One editor joined the team while still an undergraduate student.
Quality of staff determines the quality of the editing and polishing that is completed for clients. We searched the web for customer reviews and found them quite mixed. A number of customers stated that their essays were not "transformed" as they wished. For those who took the top two levels of service, they did not feel that their editors were responsive or communicative enough, especially for those who selected the premium package that involved tutoring. We did note that the order form does allow students to request a specific editor.
We were not thrilled with the results of the editing we received. We were aware of the problems of the original essay. That paper failed to stick to the prompt, that lacked a solid thesis statement, and that included some errors in verb tense consistency and agreement. A few of these were caught, but there was not the overall editing and explanations that the plan package stated would be provided. Overall, we thought the task was rushed and incomplete. It was disappointing that the editor could not be trusted to catch such obvious errors.
Essay Edge is certainly not a fraud or scam. Editing does take place. Our issue is with the quality, given the price. Another concern relates to the lack of BBB membership.
Conclusion
As we look at the pros & cons, we can say that the site content and structure are clear and direct. Further, deadlines are meant. Unfortunately, we do not believe the quality of editing measures up to that offered by the top essay writing websites. The company does not appear to have solid quality control over the word its editors do. Overall, our rating of this company is "Fair."