Our verdict: Not Recommended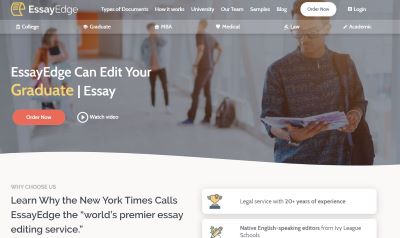 Short overview
Minimal deadline:
24 hours
Guarantees:
Free Revisions, Refunds, Confidentiality, Native Speaking Editors
Payment Methods:
Available Services:
Proofreading, Editing, Brainstorming, Advice
Extra perks and features:
Samples, Blog
Summary
EssayEdge review differs from my usual evaluations. I tend to look for top writing websites that work as paper mills, but sometimes I make exceptions for other academic services. This is what I found with EssayEdge. The company has been functioning since 1997, so it has an impressive 25 years of experience. Unlike most other agencies, it focuses exclusively on editing and proofreading. It helps primarily those students who are planning to apply to college or university, and it offers several client packages. High prices and positive reviews are its defining features, and I wanted to know how professional it truly is. EssayEdge promises that each of its editors has graduated from Ivy League unis, but general clients have no way of verifying it. Idid it for you by placing an order and speaking with experts! Look at what we've found and make your future hiring decisions on this basis.
Pros
Over two decades of work
Professional design
Detailed samples present
Cons
Average experts
Several suspicious reviews
Unacceptably high prices
No revisions
Top 3 services
VIP Support
From $14.99 per page
PhD Writers on staff: 80%
From $12.99 per page
Design, Content, and Navigation System
As soon as I started EssayEdge.com review, I noticed how professional its website is. It stands out among other top essay writing websites. Diverse students on a logo, options of different services changing right before your eyes, order form and tutorial — the first impression is positive. It feels like you're about to make a deal with experts. In some ways, the website is overly stuffed with information, but it's relevant. You can see types of documents they accept, pricing plans, samples, and other categories.
Having more than 2 decades of experience proves that EssayEdge has earned its place among legit agencies. You won't find broken links or scam-like pages on its website, but its content has some light mistakes. Whoever wrote it has problems with punctuation because they put commas where they aren't needed, such as between two actions connected with the word "and". Better proofreading is necessary since it is strange for a company to boast of its fluency when it cannot present 100% clean content. But these were tiny errors and I expected much better things ahead.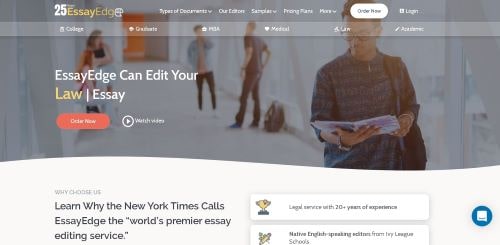 Academic Services on Offer
The fact that there are no EssayEdge writers and that the company specializes in editing alone gives us mixed feelings. On the one hand, there is nothing wrong with having a focus. Good editors are a rare bunch, and if they are all in one place, it increases chances of student satisfaction. On the other hand, such narrow concentration automatically means that most clients won't find what they are looking for because most of them search for more diversified assistance. What I didn't like at all was that EssayEdge limits its services even more by accepting only certain kinds of papers. You could edit admission essays, purpose statements, recommendations, cover, motivation letters, addendums, and scholarship papers. This is a very narrow pick, and it isn't satisfying.
Is EssayEdge reliable? To answer this question, the company provides samples on its website. You can see examples of various admission & scholarship essays along with the level of editing you could expect. Unfortunately, you need to register to access them and there are few, but otherwise, they are free. I looked at one for review goals.
Title: College Admission Essay
Length: 1000 words
Analysis: This is a version of an admission essay that the company edited. I noticed changes from original document right away, although the editors could have done more. The text is fairly clean, but it has some language, grammar, punctuation problems, and sentences that come across too arrogantly for the admission committee to like it. "Don't have very much interest" sounds awkward — "very" is redundant here. Comma before "while" is not needed; "would … going back at it" is grammatically incorrect. Overall, I wasn't impressed. The fact that you need to have an EssayEdge account for accessing samples is disappointing, too, especially since you are obligated to agree to emails with advice and ads in exchange.
Quality: Medium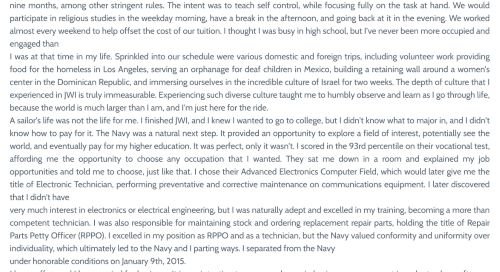 Protection against Data Leakage & Bad Quality
Any best paper editing service should offer strong guarantees to its customers. What's up with EssayEdge in this regard? Its privacy policy is concerning. The company warns that it might collect info about your credit history from third parties. It also heavily implies that it might share your data with other companies for some mysterious "services."
For review of EssayEdge, I explored policies about revisions and refunds with extra attentiveness. I found no info on revisions — apparently, they aren't provided. You could ask for your money back within 90 days, but from what I saw, chances of this happening are non-existent. Even if your application fails or gets bad comments, you won't return what you've paid. The company itself decides on it.
Are Operators Around All the Time?
EssayEdge claims that it's online 24/7 and that replies take just a couple of minutes. In reality, the situation is terrible. You might drop a message any time, but you won't be getting instant replies unless you luck out. A bot will answer, asking you to share your email for the team to reach you when they have time. I had to wait over one hour — see confirmation in the screenshot. The service is slow. You could also try calling them or writing an email.
When operators finally replied, they were polite but inattentive. I had to repeat my questions several times before I got proper replies. This continued throughout the entire time I spent waiting for my order, and this was a letdown. I expected more from a seemingly popular and experienced company.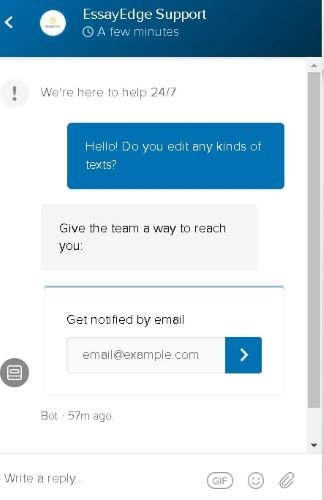 Essay Edge Review on Editing Quality
I submitted a fake application paper of 1200 words and asked for its editing. I asked to have it back within 24 hours, but there was a delay. My editor delivered it three hours later than they had to. This was unpleasant. When I began to analyze the text itself, I had conflicting thoughts. The expert made a lot of changes and most of them were justified. They corrected grammar mistakes, removed useless sentences, and rewrote some problematic lines. They also made a few comments that I found useful. But they missed a lot of other stuff. There were 22 language issues with different levels of severity ranging from punctuation to stylistics and grammar. The best praise I can use is the word "mediocre" — for the agency that boasts of being the best, this isn't enough.
I tried to explore the revision option to expand reviews of EssayEdge with new facts. I didn't find it in policies, and operators confirmed this by telling us that editors don't provide improvements at request. You are either happy with what you've ordered or you try asking for a refund. That was another upsetting fact.

How to Place an Order
For placing an order, students should create EssayEdge login, password, share their email and phone number. Other steps are easy, but they have some flaws. Have a look.
Fill out an order form. Select between several academic services. You could ask for proofreading, editing (this option is called 'standard'), 'all in one' (meaning a bulk order), & 'premier' (which implies 14 days of interaction with editor via email, two one-on-one interactions, + personal guidance). Weird names needlessly complicate the process. Then pick your type of program, kind of work, and point out your university. I didn't like the latter option: it means that EssayEdge will learn not only your name but also where you study. Upload the essay that you'd like to have edited.
Choose optional extras. If you want quick delivery, pick "rush" extra. Select 'second editing' if you want your editor to look at your essay again after you incorporate their comments.
Leave comments. Indicate additional preferences, details, and deadlines here. I didn't appreciate how there is no other way to set a deadline, even though it has vital importance.
Make a payment. Pick one of payment methods and pay for your editing.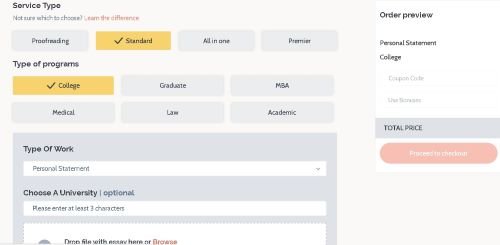 Prices for Editing at EssayEdge
EssayEdge prices are extremely expensive. The company explains this by claiming that its editors all come from prestigious Ivy League establishments, but I didn't notice it from quality of my order, and even if it's true, it's not a justification for such an obvious rip-off. There are 4 packages to choose from.
| Service | Minimal Price per Page |
| --- | --- |
| Standard (Editing) | $149 |
| Proofreading | $69 |
| All in One (Package of documents) | $229 |
| Premier (Deep editing + personal repeated communication with an editor) | $379 |
EssayEdge coupons are present for a 10% discount, but you'll have to log in first. For comparison, other companies ask for around $7 for editing 300 words. The difference is shocking.
How Good Are These Editors?
I consider editors at EssayEdge average. They seem qualified to an extent, but this is not Ivy League material — unless they dropped standards severely. Any person with a decent command of English would be able to do the same kind of job. My editor was friendly when I spoke with them, but nothing else stood out about their professionalism. These are ordinary educated people who know their first language well enough to help non-native speaking clients. Their services are not worth the money the company requires.

Anything About Revisions?
I have nothing to mention in this category since, unlike many best CV editing services I researched, EssayEdge doesn't offer revisions.
Samples and Extras for Curious Clients
Some EssayEdge.com reviews mention extras like rush service. This is true, you could ask for your paper to be edited within 24 hours if you're ready to pay extra. I don't consider this a generous offer, but this is for clients to decide. Samples are available for those who create an account and they demonstrate solid difference between how a paper looked before & after editing. Read them if you'd like to get a feel of what you might expect as a customer.
History Written in EssayEdge Reviews
The majority of reviews about this agency are positive. Most of them sound authentic, but a couple made us do a double-take. They appear fake.
TrustPilot

Most reviews are full of praise, this one included, but note how the user calls the company. "Editing Daily" is not its name. This is a suspicious situation.
SiteJabber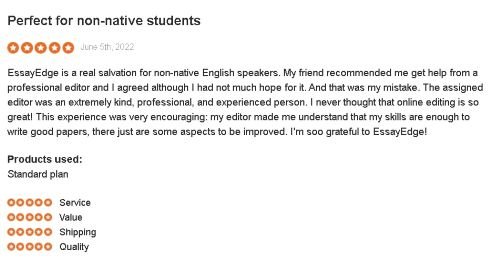 Only good reviews are present on this platform. Do they all sound real? I would say it's 50/50. Some come across as overly eager.
Reddit

Reddit comments are mostly negative. Reviewers have been blocked, though, so I can not determine if they had real profiles.
Social Media
EssatEdge has Facebook account with new posts, relevant Twitter profile, and even Instagram. I liked that it tries to stay relevant to its customers.
Show Me Your Top Services
Faq
Is EssayEdge legit?
For sure. This is a real academic agency that has served numerous customers and which features in some online articles.
Is EssayEdge safe?
It won't share your private data, but it might be intrusive and it could decide not to follow its own refund policies properly.
Is EssayEdge reliable?
Unfortunately, no, I didn't find EssayEdge reliable. It asks for overly high prices while the quality of its work is mediocre at best.
Is EssayEdge scam?
While you might not get the stellar experience the company promises, it's not a scam. There are multiple Essay Edge reviews and they have official registration.