Our verdict: Not Recommended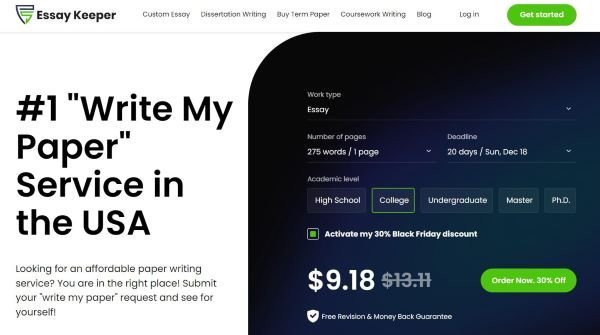 Short overview
Guarantees:
Top-class Writing, Affordable Prices, Great Support, Confidentiality
Payment Methods:
Available Services:
Essay writing, Editing, Dissertations, Proofreading, Coursework, Projects
Extra perks and features:
Blog
Summary
Creating an EssayKeeper review became one of my main tasks after I received all the requests about it in my inbox. This company started functioning in 2004, so it is pretty old and it has plenty of academic experience. But is it worthy of being called the best service in the market? The company itself claims yes. It boasts of having high success rates and serving over 23K customers. But I quickly noticed some problems. Imperfect website, odd inconvenient design, failed deadlines and fake online comments — these are just some of the drawbacks I caught. At the same time, EssayKeeper provides diverse services for affordable prices. To find out every little detail, I became a client, and this is what I discovered.
Pros
Low prices for essay writing
Diverse subjects on offer
Professional support team
Cons
No samples or tools
Fake Essay Keeper reviews
Website has problems
Failed deadlines and imperfect quality
Top 3 services
VIP Support
From $14.99 per page
PhD Writers on staff: 80%
From $12.99 per page
What the Website Says about a Company
Website is a business card that should always look beautiful and relevant. Since EssayKeeper has a lengthy experience of 18 years, I expected to see something grand and modern. Unfortunately, this was not the case. When I accessed the homepage, I instantly saw a huge dark blue dot that overshadowed half of my screen. I blinked, uncertain of what it was, and then I realized this was the order form clients should use to place their requests. Yes, it's important to keep it nearby, but EssayKeeper.com went about it in all the wrong ways. You don't make it swallow ½ of the page, you just don't! It makes the text badly readable and detracts from everything else. Then there is fluency. While most sections have no grammar mistakes, they sound a little awkward. I had an impression that a non-native speaker wrote them. Here is one example: "To put it simply, by utilizing our service, deservedly considered the #1, "write my paper" service in the USA in 2022, you will start to enjoy your time as a student." It sounds too complicated, has too many different parts, and it doesn't come across naturally.
But this wasn't the end of my doubts. As I went on with my EssayKeeper.com review of a website, I noticed several discrepancies in the numbers the company presents. For instance, it states that it served 23+K customers in 2022. But it also says that it gains 8K clients monthly. Considering that it's the end of the year already, something doesn't add up. The company also reveals that it employs almost 16K writers. This is an insane number implying that most writers sit without work since only some of them got as many as 2 orders in 2022. I felt like EssayKeeper was making up these stats to make itself look impressive, and this had the opposite effect. The navigation system is relatively simple, but these drawbacks hinder it.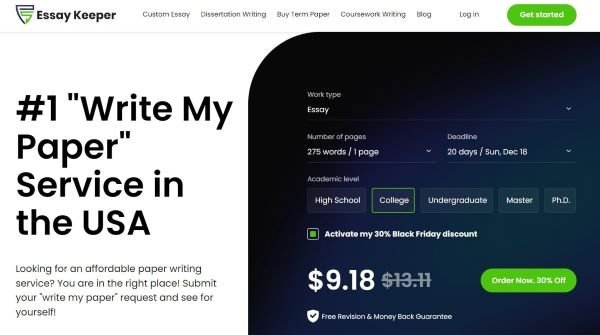 Services and Samples from EssayKeeper
EssayKeeper offers a big number of services plus subjects. I liked this aspect since it means a lot of students will be able to find assistance here. It supports different academic levels ranging from high school to university and Ph.D., and you could order simple essays, reviews, analysis, dissertation, lab reports, narrative paper or college application, statistics project PowerPoint presentation, and so on. Services vary as well. There is writing, editing, or proofreading. Deadlines are impressive, maybe even too much so. The agency claims that it could write a paper in 1 hour. From my experience, this is impossible, and such orders always end in failure. But this wasn't what warranted my low grade for this section.
As EssayKeeper reviews rightfully pointed out, there are no samples on this website. Any best college admission essay writing service knows how important samples are: these are free examples of papers that demonstrate the level of the company's writers. Students should be able to use them whenever they wish without paying a cent for making certain that they are choosing the right provider. I understand why young academic platforms might not have enough works to share as samples, but EssayKeeper is almost 20 years old! It could have built an incredible collection yet it was too lazy to bother. This is very unfortunate.
Legal Part of EssayKeeper Review: Policies
When working on essay or dissertation writing services reviews for my visitors, I always read policies attentively. There might be numerous hidden red flags in them, and I want to see them and handle them in advance. EssayKeeper disappointed me. It presents its policies in a smallish window where some people will simply struggle to read them. The text doesn't have proper spaces between paragraphs, which complicates things further. As I started reading, I had to stop several times because my eyes began to hurt.
So what did I find there? Is EssayKeeper good at protecting its clients' info? I have no idea! Everything is vague and ambiguous. The site promises not to share your info with third parties without your permission, but technically, you give it automatically when placing an order. It swears to keep data secure but doesn't detail how it's going to achieve that. Same concerns its refunds. There is no mention of how soon clients should appeal and how much money they might count on returning in case of different situations, such as missed deadlines, bad quality, or plagiarism. I felt underwhelmed.
The Value of Communicating with Operators
When ordering coursework help services from academic agencies, students often contact operators. These guys should answer their questions and make them feel welcome. Most EssayKeeper.com reviews were pleased with the chat, but I wanted to see it for myself. When you click on the chat window in the right bottom corner, you need to choose whether you're a first-time customer or someone who has an order in progress already. Once you make your choice, you'll be free to type your message. Operators replied quickly: I didn't have to wait for longer than 5 seconds no matter how often I bothered them. A magical chime will announce that someone replied.
A small problem appeared later on, after I got my paper and asked to speak with a manager. Operators tried to talk me out of it, which is completely unacceptable. They offered several other options that I wasn't interested in. But I'll talk about it more in the next section.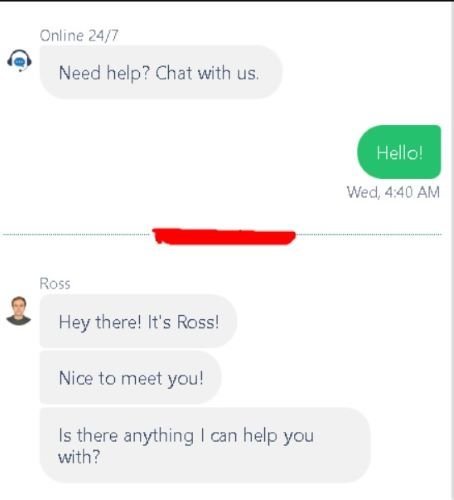 Essay Quality from These Providers
Reviews of EssayKeeper are limited in number, but they are largely positive. I had some suspicions about them, but I still hoped they reflected a genuine opinion of customers. While I was a reviewer myself in this instance, I also wanted to gain client experience. That is why I placed an order in Nursing, asking for 5 pages to be written in 2 weeks. My price was $60, which is low enough for such a task. My writer confirmed they start their work in a personal message and I began to wait.
The first alarm bell sounded when my deadline came and went. Again, I asked for a two-week deadline: this is a ton of time to craft 5 pages. No reviews of EssayKeeper mentioned lateness either. I contacted an operator and asked them what was going on. This is where they became cagey and refused to give me a direct answer. Finally, three hours later, they said that my writer was late and asked for an extension. Excuse me, you already delayed my essay for 3+ hours! What other extension was possible here? In the end, I received the project 7 hours after my last exchange with the support team. This is outrageous. When I looked at the quality, I felt surreal once again. The content itself was adequate — my writer explored some interesting ideas and followed instructions, but grammar and punctuation were a disaster. Grammarly indicated 374 issues, and most of them were relevant. This is almost a whole page of mistakes! I requested revision immediately, but nothing really changed afterward. This company is far from being called the best essay writing service, and it was a waste of time and money.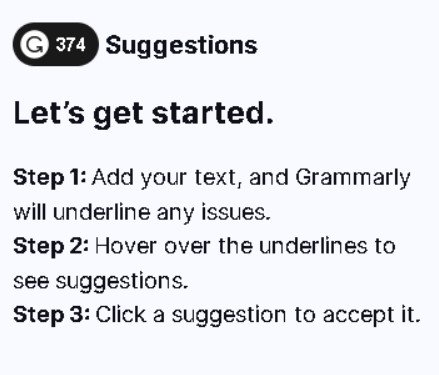 Quick Order Placement
To make detailed EssayKeeper review¸ I'm going to share the steps new clients should cover for placing their order. They are simple, but the whole page looks messy. It also has a tendency to crash.
Describe your order. Order form page looks overwhelming, but try to focus. Choose type of paper, subject, level, size, etc.
Pick a writer group. I hate when companies propose different writers for different prices. EssayKeeper suggests hiring better experts for additional payment. Decide if you want a standard, top or premium specialist. Share personal info for creating an account.
Add more details. Select topic. Upload your files and point out how many sources you want your expert to use.
Choose between extra features. This step makes the order placement overly long. Students could choose if they want any benefits, like high priority status for their order, quality check, draft, etc. Almost everything costs money.
Pay for your order. Proceed to check out and pay via any of the payment methods there.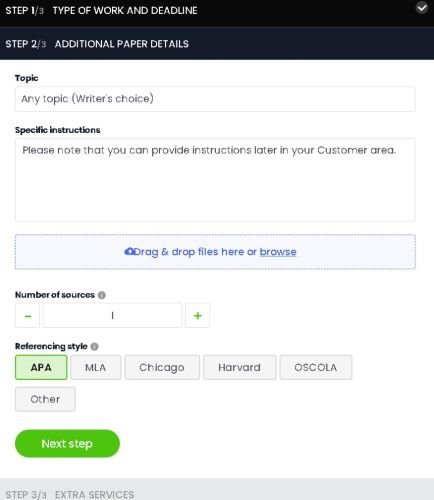 Price for Academic Help in This Writing Company
EssayKeeper reviews were happy with the prices and I liked them, too. They are low. There are also discounts, such as for Black Friday: they reach 30%, which is huge. The only problem is that extras cost too much.
| | |
| --- | --- |
| Essay writing | $11.96 |
| Editing | $5.84 |
| Proofreading | $4.96 |
| Dissertation | $16.59 |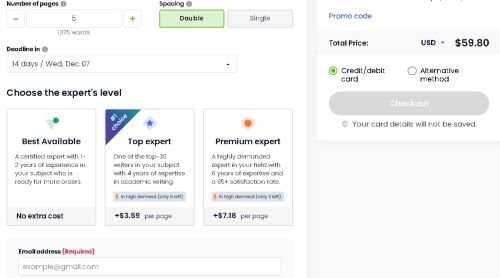 How My Writer Coped
As you already know, my writer was late. My review of EssayKeeper lost serious points because the essay quality was unsatisfying. I do think that this company has some good experts — it wouldn't have been able to survive for so many years if its quality was consistently bad, but I wasn't impressed at all. My expert didn't know English properly.
Revisions and Their Effectiveness
I asked for revision because my essay had awful grammar. Alas, the miracle didn't happen. Some of the problems were improved, but the majority of the content still looked terrible. This company should employ editors and stop lying about hiring only native speakers.
Academic Tools for Students
This company doesn't have any tools or samples.
What Do Essay Keeper Reviews Reveal?
Reviews about this company are good. But are they real? There are just a few of them around. It's very strange, considering how old the company is.
SiteJabber
99% of reviews here have just some words in the title. They offer no details, are generic and sound similar.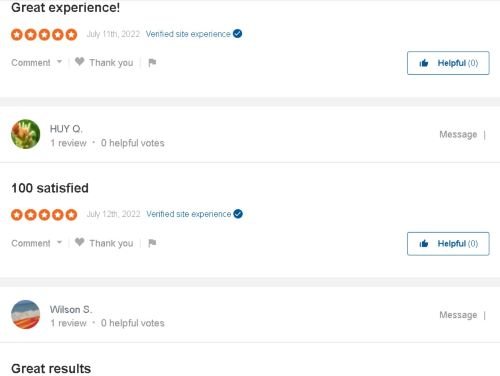 TrustPilot
Only three reviews on TrustPilot posted within the same month. It's suspicious.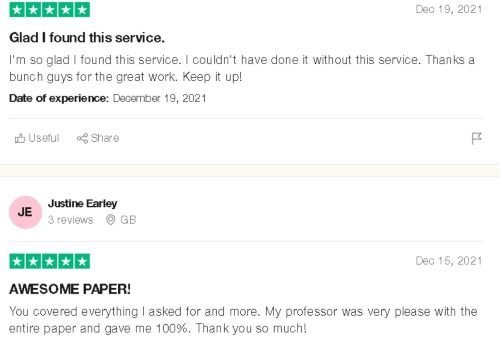 Reddit
No credible EssayKeeper reviews on Reddit.
Social Media
No social media presence whatsoever.
Show Me Your Top Services
Faq
Is EssayKeeper legit?
Yes. This is a real company that has been operating for almost two decades, with varying degrees of success.
Is EssayKeeper safe?
Unfortunately, the company has vague policies that are deliberately presented in a small window. It doesn't state anything definite, so you need to beware.
Is EssayKeeper reliable?
No. Your paper might be late and it could have terrible quality. Revisions are present, but their efficiency is doubtful.
Is EssayKeeper scam?
The company does real work and it doesn't mislead its clients. However, its policies leave a lot to be desired.