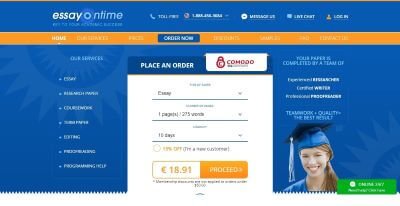 EssayOnTime Review
EssayOnTime.com is an online academic writing service that has been around since 2002 – one of the oldest companies of this type. The website is full of information about products and services, and there are a number of links at the top taking a user to all of the specifics – services, pricing, samples, FAQ, and contact information. At the bottom of the page, there are links to more specific details about products as well as all of the company policies. In putting together this review, we checked out every site page, read several samples, reviewed the customer testimonials, and then sought customer feedback and comments off-site, specifically on other review sites and social media. We also took into account customer feedback and sample writing that our users have submitted to us. This is our summary report.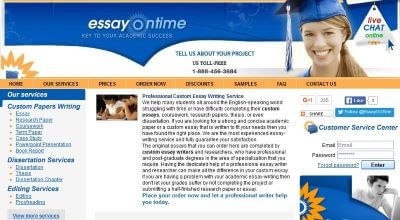 EssayOnTime.com Services
Essay on Time advertises its services through a link at the top of its home page. Here, we found a shortlist of categories; however, when we clicked on any of them, we were taken to another page which provides all of the details of writing genres – essays, term/research papers, case studies, lab reports articles and book/movie reviews, coursework assignments, research projects, theses, and dissertations. It also offers admissions essays, as well as editing and proofreading. In this respect, EssayonTime can be considered a full-range service for students.
Interestingly, the company states that a team of three individuals is involved in each piece, at least those that require research. One individual will conduct the research, one will produce the writing, and a third will proofread the final product. We would have concerns with a separate researcher and writer, for, often, it is through the research that a writer begins to develop a solid thesis and an idea of organizational structure. To have these functions separated is highly unusual.
Quality of Products and Writers
To determine our rating on quality, we relied upon EssayOnTime customer reviews both on the website and elsewhere on the web. As well we studied the samples available on the site. Customer reviews are generally positive in terms of writing quality, meeting of deadlines, and communication with customer service and with a writer. Some complaints related to revision requests and refunds were also found.
The two samples products on the site consisted of a research essay and a Ph.D. level research proposal (although it was titled a research paper). In both instances, there were some errors in grammar and word usage, which indicated to us that possible non-native English speaking writers are being used. For example, the term "researches" was used as the plural of "research." In fact, the singular and plural are both the same word. In other instances, sentence structures were not correct. These types of errors should be caught during the editing process.
The other concern was the dates of the resources used. The research essay was on stem cell research, and no resource later than 2008 was used. In the case of the Ph.D. work on mergers and acquisitions, resources were from 2006. We would recommend that the company publish more recent samples so that students consider it a more trusted site.
In all, we can state that EssayOnTime is not a scam. Customers should feel secure that their orders will be fulfilled and delivered to them.
Prices and Ways of Payment
EssayOnTime.com prices range from $22.99 per page to $67.99. The wide range is based not upon the type of product ordered or the academic level, but, rather, on the level of quality the customer chooses and the deadline urgency. There are three levels of quality – standard, premium, and platinum. The standard level will have a writer with a Master's; premium level writers are Master's and Ph.D.'s, and Platinum level commands a Ph.D. writer only.
Because there is no differentiation among works or academic levels, a high school student will pay the same price for an essay as a college or grad student. And the price for a high school student is quite high. It appears that EssayonTime primarily caters to college and grad students.
The company accepts all major credit cards and PayPal, although we were not told this until we reached the checkout page. The payment process is through a third-party processor with SSL certification, so customer financial information is secure and confidential.
EssayOnTime Discounts
New customers receive a 25% discount, which is quite good, and there is an Essay on Time promo code for this. Additional discounts kick in after cumulative 15 pages. 16-50 = 5% discount; 51-100 pages = 10% discount, and 101+ = a permanent 15% discount. We did not find any EssayOnTime.com coupon codes or indication that these were offered, but customer support stated that these were automatically tabulated for each customer and added to the order upon checkout.
Extra Treats
Free title page, bibliography, revisions, and an essay writing guide are provided with orders. This is standard for the industry.
Final Note
In terms of EssayOnTime.com pros & cons, we would state the following: The company provides good services and fairly-good quality. It meets deadlines and customers appear pleased. And there is a BBB membership and no filed complaints. We would urge the company to publish more current samples, if only for trust's sake. We would not recommend the service to high school students. They can find a writer with a Bachelor's degree on the most reliable essay writing service for far less cost.
Essayontime is a legal, professional writing service.