Our verdict: Not Recommended

Short overview
Minimal deadline:
2 hours
Guarantees:
No Plagiarism, Quick Help, Affordable Prices, 24/7 Customer Support, Versatility, High Quality
Payment Methods:
Available Services:
Essays, Research, Dissertations, Presentations, Case Studies, Coursework, etc.
Extra perks and features:
Mobile app for iOS
Summary
I dug into my old collection of readers' requests and discovered at least 3 with the demand for FastEssay review. Since I was just in the mood for eхploring a new company, I took it as a sign. FastEssay emerged in 2015, establishing itself as a Cyprus academic writing company. It provides various services in this sphere, and clients can contact it via its website or by email. Of course, you could try visiting its Cyprus address, but I doubt you'll find much there. This agency has a bidding system, which usually means low prices. Its policies are clear, and its support team works 24/7 to fulfill students' requests. There are at least 700 experts working here from different countries, and you could speak with them directly before deciding which one suits you best. Unfortunately, FastEssay reviews are ridiculous: they stink of being fake, and the quality is worse than you could expect as a paying client. Stay tuned, you're about to find some interesting details about this service!
Pros
Flexible system of low rates
Attentive operators online 24/7
Detailed service policies
Cons
Suspicious reviews
Most writers sound unprofessional
Quality is underwhelming
Privacy is easily endangered
Top 3 services
VIP Support
From $14.99 per page
PhD Writers on staff: 80%
From $12.99 per page
Impressions from the Website and Its Content
The first big part of my FastEssay review entailed visiting the website of this company and checking what it looks like. Design is important — it represents the agency and stimulates clients' interest, but alas, it seems that FastEssay got the memo only partly. Its site has a nice layout and a pleasant color tone, but it uses it only at the top of the page. Without it, it's plain, and the further you scroll, the plainer it becomes. Its content is mainly grammatically correct, but there is too much on it situated on one page. Info about guarantees, order placement, features, FAQ, reviews — everything is mixed up, and if you're looking for one of these categories, you'll have to make your way through them all. At the same time, the option for chatting with support is nowhere to be found. This was immensely frustrating.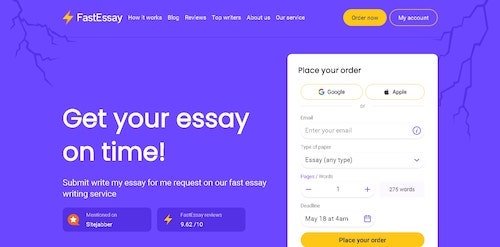 Academic Services & Free Essay Samples
The second aspect I wanted to know is whether FastEssay offers enough academic services to benefit the majority of students who might come looking for help. When you can find a great dissertation writer and a reliable college admission essay writing service in one place, it is a definite advantage. FastEssay is lacking in this regard. It covers 80 subjects plus various writing options: you could request help with an essay, term paper, dissertation, presentation, research proposal, business plan, and so on. But there is no proofreading and no editing. This is a serious drawback. You could select "other" and point out what you need manually, but there is no guarantee they'll have qualified editors instantly available.
I also felt curious about samples. No FastEssay.com reviews discuss it, but the agency boasts of offering free examples of papers to its visitors and customers alike. When I looked closer, I realized what this was about. True, samples are present on this platform, but there are only two of them. This number is ridiculously low. The company could have grown a much more impressive collection ages ago — it has been around for 8 years! Still, I decided to check one sample to verify its quality.
Title: Gun Control and School Shootings
Page count: 3 pages
Topic: Law
Assessment: This sample sounds extremely awkward. It is obvious that its writer is not a native English speaker. Most sentences are too long and confusing; there are mistakes, such as saying "they fear for their life" without clarifying who "they" are. The thesis is present, and ideas are acceptable, but some of the chosen sources aren't credible. This is not appropriate.
Quality: Low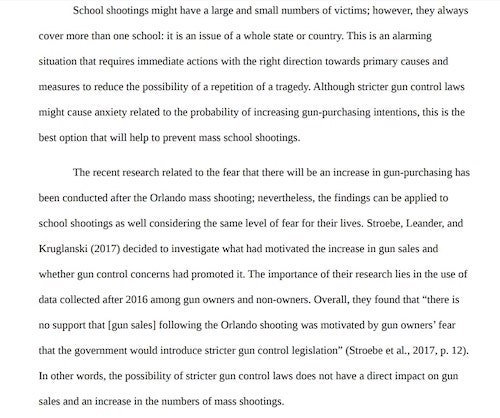 Legal Aspects of FastEssay.com Review: Studying Policies
Reading the policies of service regarding quality and privacy is an essential step. To see if a platform deserves to be among the best homework help websites for college students properly. It is vital to analyze how it treats students and what guarantees it provides. Refunds are non-existent here. According to the policies, writers submit their essays part by part, and clients need to approve them. If you thought everything was satisfying but then saw the end result and decided you wanted a refund, you won't receive it. I don't think it's right. Some students cannot understand what their paper is like until they read it in its entirety. They should have a right to ask for their money back. Revisions are better, but I'll discuss them later.
Is FastEssay good at protecting the privacy of its clients? Not really. Its policies are very detailed, which is a good nuance, but it openly states that if you accidentally share more info than you planned, it might become compromised. The platform also shares it with various third parties it has contracts with. It doesn't list them all, so we can only guess who they are.
I Spoke with Operators: My Experience
Since no reviews of FastEssay talked about operators in-depth, I wanted to do it myself. As I already mentioned, it is difficult to find how to contact anyone on this site. Students should create an account, log in, and select "support" in the upper left corner of the page. Click "create new ticket" and explain what question you have. This is a complex process, and it is time-consuming. I got frustrated with it even before I composed my message.
But operators at FastEssay were nice, which improved my impression. They replied quickly, offered assistance, and guided me through all steps I pretended to struggle with. I appreciated their attentiveness.

I Ordered an Essay: Did I Like It?
As my plan was to write a detailed FastEssay review for my readers, I placed an order for academic writing. I asked for a biology paper of standard 5 pages, setting a 2-week deadline and choosing a high school level. Soon enough, I got numerous bids from writers who wanted to work on it. This surprised me as biology is not a common subject — how many random writers could have qualifications in it? Anyway, I hoped for the best.
You probably remember from my review of FastEssay that clients of this agency receive their papers in parts. Parts of my essay arrived later than promised. It happened four times out of seven, and it was annoying. No best essay writing service should allow this to happen. I had doubts about quality from the start: the writer kept putting chunks of info in one paragraph without making sense of them. I asked them for corrections multiple times, and they only broke this paragraph into parts. Finally, I gave up and just waited for the final result. It wasn't good: there were almost 300 language issues. Ideas were vague, and some info didn't fit well with the rest. This level of quality wasn't adequate in the least.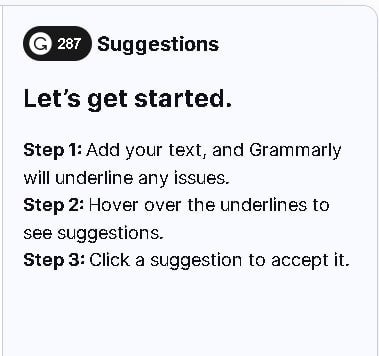 How I Placed My Essay Order
Another element no FastEssay reviews talked about is order placement. Once again, it is not ideal. Some steps take a long time, and the website glitches occasionally. These are the steps to follow:
Use an order form. It's on your right. Point out your email, type of paper, size, and deadline. You might be asked to create a password, or they'll send it to you via email. It is a confusing process.
Share instructions. You'll see a blank order form. Select your topic, subject, academic level, as well as other details. Afterward, click "save and publish for writers."
Pick your writer. Various experts will start placing bids on your order. Look into their profiles, and speak with them if you'd like. Some of them send messages: read them. Make your choice.
Reserve money. Add money to your account. You'll release it to a writer after they are done with your essay.
Keep track of your order. Follow your order progress; check essay parts when your expert sends them. Release money entirely when an expert finishes the paper.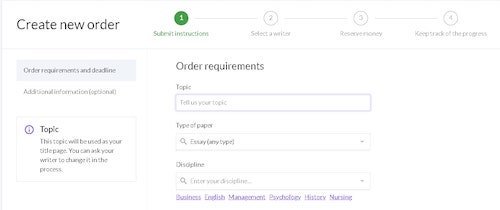 Secrets of Prices: Is This an Expensive Service?
Most FastEssay reviews praised prices, and true, they are affordable. They begin with $13.40 per page, and from then on, writers dictate them. Some may ask for more, others may settle on lower rates. Pay attention to this when selecting your specialist. I gave around $70 for 5 pages. Overall, students don't pay much here, and that is why there are no discounts. I didn't like this, though I see why this agency made this decision.

Reasoning with My Writer & Evaluating Offers
Most FastEssay reviews say good things about writers, but I cannot relate. I spoke with several writers before settling on mine. My impression was mostly negative. These people seem absolutely starved for work. They beg to be chosen, and this is not a pleasant experience. Most appear under-qualified, and they are not native speakers. My writer was lovely as a person — they genuinely tried to help, I don't doubt it, but they just didn't have proper qualifications.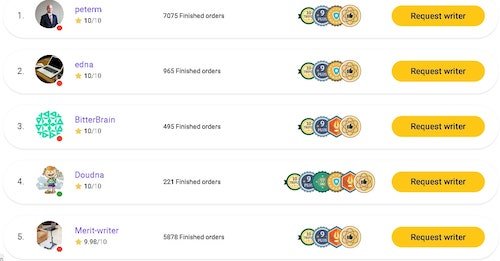 Are There Revisions & How Effective Are They?
FastEssay.com has good revision rules: students have 14 days to ask for improvements if they don't like their paper. It's free. I tried it, and my paper got a bit better. Grammar improved, just as structure and ideas. Still, it was far from being ideal or worth the money I paid.
Academic Tools for Free: Are There Any?
Tools are vital. Whenever I work on dissertation writing services reviews for you, I assess whether visitors could benefit from platforms in other ways. Conclusion generators or plagiarism checkers are easy to develop, but they serve as proof that the agency cares. Unfortunately, FastEssay doesn't have anything. It's disappointing.
Reading FastEssay Reviews and Drawing Conclusions
Reviews always help gain a picture of what a company is like. Seeing what its older clients say is beneficial. When I dived into reviews on FastEssay, I felt disturbed. Most of them don't feel real.
SiteJabber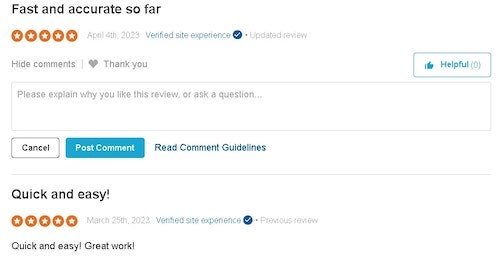 There are no negative reviews at all on this site. This is already suspicious: even the best agency cannot provide the best results all the time; how the existing reviews look convinced me of this even more. Most of them don't have content, just titles that sound identical. "Quick and easy," "fast and accurate," and so on for 60+ comments. This is not realistic.
TrustPilot
No reviews of FastEssay.
Reddit

Almost no reviews: I found just this one. It's negative.
Social Media
FastEssay has a Facebook profile: it's fun, but sadly, it's abandoned. Its Twitter account stopped operating back in 2016. No comments from clients there.
Show Me Your Top Services
Faq
Is FastEssay legit?
Yes, FastEssay is a real company that has been providing academic writing services to clients for almost a decade. It's a legit platform with verified employees, policies, and services.
Is FastEssay safe?
It has a clear and comprehensive privacy policy, but unfortunately, it isn't entirely safe. If you accidentally share more personal info than you intended, it can be compromised. Besides, different third parties could access it if they are partners of FastEssay.
Is FastEssay reliable?
No, this company is not reliable at all. It might have good writers, but it also has plenty of bad ones. They might not deliver your essay on time, and if they do, its quality could leave a lot to be desired.
Is FastEssay a scam?
Not at all. This writing website is real, and it offers actual academic services. Their quality may disappoint you, but you'll receive the paper you ordered and paid for one way or another.