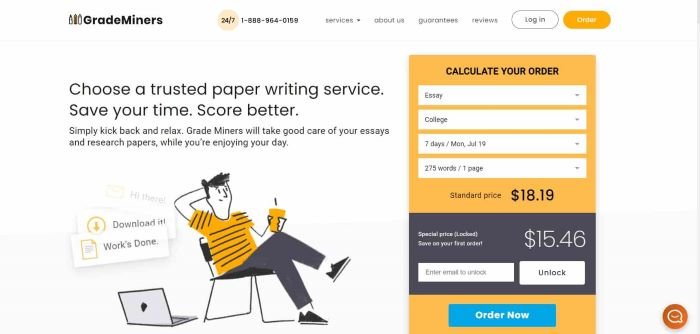 GradeMiners.com Review
GradeMiners.com is an academic writing service whose target audience is high school, college, and graduate students. Several members of our audience have asked us our thoughts on Grade Miners. Because of this, we have decided to write this review. As always, our review process includes reading customer reviews, researching the company on the BBB website to determine that the service is not a fraud or scam, and obtaining a paper from a source we work with. We also explored the GradeMiners.com website to learn as much as possible.
Review Criteria
Our review criteria for GradeMiners is the same as for the best paper writing sites. Our final rating is based on our evaluation of several criteria.
Customer service: professionalism and courtesy
Writing: quality and adherence to instructions
Pricing: value and available discounts
Website: ease of navigation and quality content
Order placement and payment: trust and security
Factor 1: Types of Writing Services Offered
Grade Miners is strictly an academic writing service. They offer writing services that include research papers, essays, thesis and dissertation works, lab reports and other commonly offered writing services. For this review, we obtained an essay for a college student. It was a simple 5 page English essay.
The site also offers some tools and resources for students. These include a citation generator, title page generator, spell checker, and plagiarism checker. We consider these positives, but they do not mitigate quality issues. There is also a blog. The writing here isn't the greatest. Still, there is some relevant content that is worth reading. There is also a refer a friend program where students can make 50 dollars.
Factor 2: Trust and Reliability
On the matter of trust, we found that the company is not quite truthful in some of its claims about the writer's qualifications and quality. We will address that later. However, we are aware that students place orders, and do receive papers. So, we will not label them a scam or fraud. We also did not find any mention of major legal issues. There are some concerns though.
It terms of reliability, our score is quite low. Our essay was a full day late, and that came with no warning, explanation, or apology. Had we been students needing to turn a paper in on time, that could have been disastrous. It was disappointing that there seem to be no QA in effect that ensures that writers are reliable.
As part of our efforts to evaluate the level of trust, we carefully read the privacy policy that is published on the GradeMiners website. The policy goes into detail on the data they collect, why they need that information, and how they use it. Some customer data is used for marketing purposes. According to the policy, customers may view their data, and may lodge a complaint if they feel the data is incomplete or inaccurate. There is no mention of the 'right to be forgotten'. Students don't appear to be able to have their data deleted upon request. However, that is not stated explicitly. We cannot state that this writing service is GDPR compliant.
Factor 3: Level of Quality
It only took a few moments of reviewing our finished essay to come to one conclusion. It was not written by someone who is fluent in English. There were too many telltale mistakes in word usage, transitions, and tenses that indicate a writer isn't a native English speaker. In addition to this, the essay we received was clearly not a college-level paper. The citations were incorrect, and the writer used sources that would never be accepted by any professor. Our interactions with students as well as the reviews we read indicated that many other students had the same negative experiences.
We can say that the writer did stick to the original topic. The paper was the appropriate word length. The formatting was also correct.
Customer service is available 24/7. They may be contacted by phone. There is a live, online chat feature. Support was helpful enough when we contacted them with questions about services. However, some students indicated it was difficult to get cooperation when requesting refunds or revisions.
Factor 4: Pricing and Payment
We paid more than 120 dollars for the paper that we received. Without taking quality into consideration, these prices are higher than average. Adding quality back into the equation, and there is absolutely no justification for such high prices.
There is a discount available here. However, you must provide an email address in order to 'unlock' the special pricing. There is also a very convoluted loyalty program.
Payments are made using standard methods. These transactions appear to be secured using SSL. We did not find any reports of credit card fraud or loss of data.
Students can feel safe making payments here. PayPal is accepted for those who don't want to provide credit or debit card information.
Concluding Comments
While there were a couple of positives, our overall experience with GradeMiners was quite negative. In fact, just based upon factor 3 (level of quality) we would be unable to endorse this service. After all, the bottom line here is quality writing. In spite of a few glowing customer testimonials, they simply did not deliver an academic paper that was acceptable on any level. After weighing the pros & cons, we recommend students select a better writing service provider that can be trusted to deliver better writing, consistently.