Our verdict: Not Recommended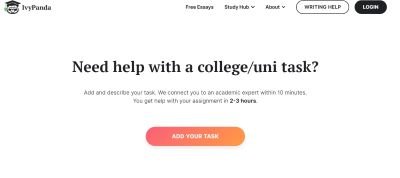 Top 3 services
VIP Support
From $14.99 per page
PhD Writers on staff: 80%
From $12.99 per page
IvyPanda Review - Discover Whether This Essay Service is Safe
As our team started with this IvyPanda review, we have already heard about this business in the past as it often came up in various online reviews. However, we decided to evaluate this company to determine whether they have achieved good quality for college or high school students while keeping their services affordable.
Our purpose is to see if IvyPanda has a right to belong to the best essay writing services based on our personal order, free essay samples, and online reviews that we discover online. By doing so, we can assist students with their decision to guide them towards various services that are safe to use. Our IvyPanda review will be checked on a scale based on 1 to 10, which will help you make a choice!
Ivy Panda Review Criteria
Our IvyPanda review is based on analytical work that involves placing an actual order that will help us check originality, grammar, style, formatting, timely delivery, and overall quality. We also examine various reviews to provide you with an unbiased opinion. Since our review team has seen more than a hundred different essays and has checked numerous free samples, it makes it possible for this IvyPanda review to stay accurate since we know what aspects must be checked. We shall also provide you with this essay service price ranges, deadline rules, reliability, and more.
Ivy Panda Samples
The majority of college students use online free essay databases to get inspiration for their assignments, especially when one is in writer's block. Luckily, things are sorted nicely once again as our IvyPanda review has chosen several essay examples. One can see both popular subjects like Art, Business, Culture, or Environment, or most popular essay topics that revolve around personalities or online learning, as an example. You can also enter several keywords to choose something that you would like. Our experts decided to take four essay samples to determine IvyPanda's quality since the majority of IvyPanda.com reviews do not mention much about these free examples.
Navigation: easy to find samples.

Access: free to read or copy, nicely structured.

Number of Categories: over 78 topics.

Samples Originality: Mostly plagiarized.
4 Examples of Samples Based on Category
Baseball and Urbanization
Category: History
Topic: United States
Words: 2766 words
Plagiarism Report: 24%
This sample has good quality. Even though it provides excellent grammar, our IvyPanda review team has encountered a low originality report, which equals only 24%. It means that the majority of online visitors have copied this paper, then uploaded it to their campus more than once, or took several parts for their papers. The category of the paper is History, but it belongs to the Sports section more, in our opinion. Regarding sources and style, it is a decent paper with no major flaws.
New York as a Tourist Attraction City
Category: Tourism
Topic: Tourism Destinations
Words: 660 words
Plagiarism Report: -
This essay is quite short, yet it shows that this company's writers are not bad when it comes down to short tasks. However, this paper lacks a good academic style. It has several run-on sentences right in this assignment's introduction. It also includes good sources with relevant references that make it evident that these experts know their formatting.
Emotional Psychology: James-Lange Theory
Category: Psychology
Topic: Psychological Issues
Words: 547 words
Plagiarism Report: 34%
This paper is an excellent example of a Psychology assignment where grammar, style, and references are very good. The problem is that this paper is not exclusive. It has only 34% originality. And no wonder, as almost every sentence of the paragraph has in-text citation. Which means that it was rephrased from various sources. The paper lacks original analysis and thought. If this essay service can provide such kind of work while keeping every originality report included, it would make them much better.
Sportswear and Performance Textiles Research
Category: Sports
Topic: Sports culture
Words: 660 words
Plagiarism Report: 19%
This assignment has major content mistakes with some childish inconsistencies where the Netherlands is placed in a list of Scandinavian nations. Several grammar mistakes and style shifts make this paper a collection of sources without proper editing. IvyPanda should have made their writer check this assignment twice. It has only 19% originality with serious mistakes.
Quality of Samples: Medium
The IvyPanda offers essay samples that are both good and poor because they have either plagiarism issues or high-school-level content. Our review of IvyPanda team recommends avoiding free essay samples because students often take entire or partial parts of a certain paper to fill in space in their works. While some free examples are good, it is much better to place an order, hoping for originality.
Types of Writing Services Offered
Each time that we start exploring any typical essay writing website, IvyPanda.com review is not listing every possible subject as it represents itself as the academic hub where students receive assistance. It is necessary to click on the Writing Help tab that transfers you to another page. It says that one can get help with their homework in as little as three hours.
They offer over 800 certified academic experts online, which makes it rather interesting. What we have here is essay writing, research paper, critical writing, reports, annotated bibliography, case study works, business letters, reviews, online tests, and editing. Our team has decided to check IvyPanda originality by choosing personal statement editors and writers based on our ideas.
Trust and Reliability. IvyPanda is registered in Cyprus and operated by Grand Dominie Limited, which is a frequent case with similar essay companies. You can contact the company by calling their American and Canadian numbers, which means that they mostly deal with these countries. One can also check them on social media where they are quite active. The reviews of IvyPanda claim that it is a legal company where they provide educational help by offering secure connections. Terms and Conditions are also clear with the fair use and anti-plagiarism rules. According to the company's website, they source the best talent globally from all over the world, which means that it is either a hit or miss!

Level of Quality: Turning to our order and a selection of free samples, our IvyPanda review experts are somewhere in the middle as our order has been delivered two hours late with several points missing from our original guidelines. Concerning grammar and style based on Ivy Panda reviews and our order, things have been mostly correct. As for our order, it would be fine if not for the parts that had to be there. The originality report has been 67% because of the basic common phrases. If such an occasion was with lengthy coursework, IvyPanda would not make it the best coursework writing service.

Pricing and Payment: If you have a 14 days deadline, your college essay will cost $11. If you want to choose Masters or Ph.D. levels, it will be $15 and $21 respectively. Since we have already mentioned a 3 hours deadline in our review of IvyPanda, your price will be $40 for college-level and $68 per Ph.D. writing. The price is determined by academic level, assignment type, deadline, and page count. You also have three service plans, which are standard (best available writer and 14 days for revisions), superior, and 1st class. It must be noted that IvyPanda website does not provide anything regarding price additions except for the bonus features and urgency.
Our Ivypanda review team has chosen their standard plan for this IvyPanda review as our order has not been anything special. As for some other options, the 1st class premium promises to include a plagiarism report, which must be provided with any order, as our IvyPanda review team believes. Unfortunately, our order contained serious flaws as the writer has ignored our ideas.
This service's payment options include Visa, MasterCard, American Express, and Discover.
IvyPanda Reviews: Freebies & Testimonials
Unfortunately, our IvyPanda review team could not find any freebies or anything that would be helpful for college students. The website provides videos from satisfied students, which is not exactly the same as what our experts have received. It could be that if our assignment had to deal with a typical academic task, our results might have been different, yet more than one review speaks of missed questions and several points that have been ignored.
Additional Important Considerations
A pleasant feature is that every first-time user receives a 15% off discount. IvyPanda also provides a 100% money-back guarantee, which seems to be true based on their refund policy. If only their payment policies and writer's options could be simpler without post-payment surprises, this IvyPanda review could get better marks.
Final IvyPanda Review Verdict
The final verdict for this IvyPanda review is only 5 out of 10 because we have encountered major flaws with our personal statement order, late delivery, and free samples that contained serious plagiarism risks. Checking IvyPanda.com website, we could not find anything that would be offered free of charge. This company must check their writers more thoroughly and provide plagiarism reports for their tasks to help college students see whether they truly provide original quality.