Our verdict: Not Recommended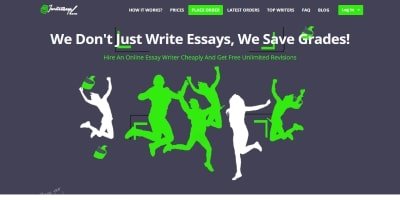 Top 3 services
VIP Support
From $14.99 per page
PhD Writers on staff: 80%
From $12.99 per page
IWriteEssays Review
IWriteEssays.com, as far as we can tell, has been in business since 2014. That is as far back as we can find customer reviews, at least. We decided to prepare a review of the company, based upon some of the information we found on the web, feedback from students who have used this service, and a written work that we were able to obtain. Through our research, we gathered valuable information about IWriteEssays, its policies and procedures, and its overall reputation. Now the most relevant question. can the service be trusted to provide quality writing services? Keep reading to learn more. The following is our summary.
Review Criteria
As with all writing services we review, we use specific criteria in evaluating the quality and making recommendations. These include a thorough study of the content on the I Write Essays website, customer testimonials on that site, off-site customer reviews and feedback, assessment of sample writing if available, main features and benefits, and our own evaluation of a piece of writing we received from IWriteEssays. We also reviewed privacy policies and other documents that show legal compliance with privacy regulations, and that outline the customers' rights and responsibilities.
Factor 1: Types of Writing Services Offered
I Write Essays offers all types of academic writing at all academic levels. In addition to essays, papers, reports, and graduate-level research projects, students may also order admissions, scholarship and admission essays, and personal statement editing services. Dissertation and thesis services are available.
The business model is a bit unique in that the site posts prices; however, writers then also bid on orders placed on a job board of sorts. It is a bit confusing, but the end result is that the student is responsible for choosing his/her own writer, after looking at the bid options.
Factor 2: Trust and Reliability
We gauge trust by several factors, and these are our findings for IWriteEssays.com.
Customers state that they received their ordered works on time.
There are concerns on the part of customers about the backgrounds of the writers. While students are able to view these backgrounds, they complain that they may be fake, based on the essays and papers they get. There are writers who claim a degree from Harvard or Princeton, but this is suspect, considering the cheap prices the site charges for writing.
We received our research paper on time and will discuss quality below.
Payment method options appear to be safe and secure.
We can certainly say that IWriteEssays is not a fraud or scam.
Factor 3: Level of Quality
We have to determine quality by the quality of content on the website, the samples of essays and papers, customer feedback, and the result of the paper we received. Here is our review related to this critical criterion.
Customers complain that the writing quality is that of someone who is not a native English-speaker. They specifically mention poor grammar, sentence fragments and run-ons, and incorrect word usage.
Other customers complain about the slow response when they ask for revisions and the quality of those revisions as well.
In reading through the site content and especially reviewing the sample writings the company has posted on its site, we can state that grammar and composition skills are lacking. We, too, doubt that the company writers are all native English-speaking and degreed professionals.
The research paper sent to us had a number of grammatical and structural errors. Those errors indicated that the piece was written by a non-native English speaker.
There were sample essays and blog posts on the site which also reflected poor English composition.
Factor 4: Pricing and Payment
I Write Essays prices are comparatively high, beginning at $12.50/page for a high school piece with a 20-day deadline to $48/page for graduate-level writing with an urgent deadline. In reviewing site content, we noticed a statement that writing began for as low as $7.50/page, and we assumed this was due to discounts. However, we found no indication of a discount or a promo code to enter as a new customer. And, on the order form, there was no field to enter coupon codes for any type of price break. We paid full price for our 8-page paper - $216 with a 7-day deadline. For students who need and a research paper writing service for cheap and can provide at least a 20-day deadline, the pricing is much cheaper.
We made payment with a credit card, and it was securely processed, so no worries there.
Factor 5: Additional Important Considerations
If students are looking for lots of additional benefits, they will be disappointed. The company does provide a free title, bibliography, and outline pages, and insists that all pieces are proofread and checked for plagiarism. There are fee-based upgrades, including a limitation that only writers in the subject field be given an opportunity to bid. This causes concern because it means that someone with an English degree could bid on a biology research paper. For the price being paid, this should not happen.
We reviewed the privacy policy document very carefully. We were able to determine that the company is GDPR compliant. This means that customers may obtain information about how their data is used. They may also request the writing service delete their personal information on demand.
Factor 6: Concluding Comments
I Write Essay is not a BBB member, so we were unable to check on consumer feedback through that organization. As we look at the pros & cons, though, we have several concerns about this service. While it certainly fills orders and sends its customers writing products, quality is not worth the price that is paid. And support and revisions are a hassle. We assign a rating of only "Fair." Students should choose only the best website for essay writing and with lower prices.