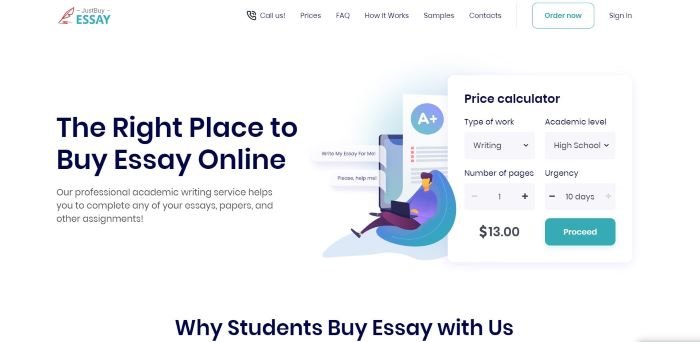 JustBuyEssays Review
We have received several requests from students that we write a review of JustBuyEssays.com. In order to honor this request, we have taken the time to research this writing service, a company that states it is headquartered in Texas, USA and that has been in business since 2014, founded by students for students. On its website, though, it appears that the company is actually owned by Edu Storm, a parent company located in the UK. We are a bit confused here. We could not find the Texas address, as it appears to be nonexistent and vacant ground between two hotels in Dallas. Nevertheless, we have proceeded with the review, in order to determine if Just Buy Essays is a reliable and trusted writing service to use.
Review Criteria
We have the same criteria for every company that we review. First and most importantly they must provide top quality writing services. We will not steer students towards any business that does not. In addition to this, we also value great customer service, a well-designed website, and honesty and integrity. To that end, we researched the company online. This online research has included the following:
A thorough review of the JustBuyEssay.com website and all of its content

Reading and evauating several of its samples and blog posts

Looking at on-site testimonials

Comparing pricing and discounts with other services offering the same products and services

Reviewing off-site comments and feedback from actual customers on social media, other review sites, and that have been submitted to us

Information about writer requirements and qualifications
All that we found is summarized below.
Factor 1: Types of Writing Services Offered
We are accustomed to writing services that choose to only offer academic writing help. However, it was a bit surprising to us that not only do they do they limit their services to academics, they offer few writing services that fall under this category. They do however offer the basic writing assistance such as essays, term papers, and service to buy a research paper. We did not find offers for admissions essays, homework help, or editing and proofreading. However, the company does offer its products and services to students at all academic level, high school through Ph.D. programs.
Factor 2: Trust and Reliability
Trust was our first area of concern. The company makes two claims that we believe are likely false. First, they claim to hire only native English-speaking writers from the U.S., Canada, UK, and Australia. When we read through a few samples and blog posts, this appeared not to be true. There were grammatical and word usage errors that indicated ESL writers for sure.
The fact that we could not find the address of the company in Texas also causes concerns. Yet, we do know that many companies use "fake" addresses to appear that they are located in an English-speaking country when they are not. This makes them more trusted by customers. It is not a good practice.
Factor 3: Level of Quality
Quality is questionable. Customer feedback that we have found on the web complains about poor writing quality and the use of outdated resources.
There are also concerns that there is poor access to assigned writers. It seems that while customers have a personal account, they only are able to receive questions and inquiries but do not get much response when they have the same.
We also could not find information regrading the hiring, backgrounds, and qualifications of the writers who are employed. And given the fact that so much writing that we have seen is of such poor quality, it is obvious that foreign writers are being used.
Still, all customers did state that they received their ordered products and were able to request revisions. It's just that the revisions were often not satisfactory either.
Factor 4: Pricing and Payment
The cost of a basic high school essay is $13/page with a 10-day deadline. The price increases according to the academic level of the student and the shorter the deadline requirement. We wonder why there is no differentiation between types of products ordered. A basic essay does not require the work that a complex research paper does.
Payment can be made via any major credit card of PayPal. We can say for certain that providing financial information is safe, because a third-party secured payment processor is used. The company itself does not collect or hold any customer payment information.
Factor 5: Additional Important Considerations​
Other than a blog, which cover good topics but is not written particularly well, there's not much here in the way of extras or bonuses. The website is basic and scant, without deep information for potential customers.
We did find the basic freebies – title and bibliography pages, for example, but no discounts or special pricing.
Concluding Comments​
It should be clear at this point that we absolutely cannot give Just Buy Essay our wholesale approval. We have weighed the pros & cons, and there are significantly more negatives than positives. Just on writing quality alone, we would not recommend JustBuyEssay.com. However, there were other factors that also contributed to our low rating of this writing service. The first is the fact that they have established a negative reputation among previous customers. In addition to this, we believe they are being less than honest with the information they give about the company's location and their writers' qualifications.
Overall, we have given this company a rating of 2, on a 1-5-point scale.
Even though there may be some positive testimonials, our research shows that negative experiences outweigh those. The good news is that there are several other writing services we have reviewed and enthusiastically endorse. Please keep reading our reviews to find the "best website to write my research papers" or use for your other academic needs.