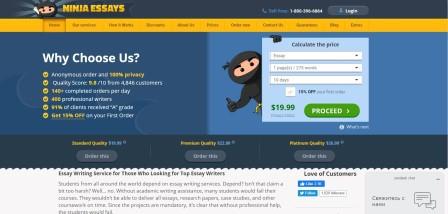 NinjaEssays Review
NinjaEssays.com has been in business for several years, providing academic writing products and services for high school, college and graduate students. This review has been written as a part of a comprehensive review process of online writing services, so that customers may have proper information as they make decisions regarding companies that choose to use when they need products and services. This review encapsulates all of the information we have been able to glean regrading this company and it has come from a variety of sources – customer reviews found on other review websites and on social media, the content on the company website, site-based NinjaEssays testimonials, comments from writers who currently or have worked for the service and the assessment of a research paper which we received from one of their writers.
Products and Services
Ninja Essay produces academic writing products of all varieties – essays, papers, book reviews, case studies, coursework help, theses, dissertation chapters, and more. As well, it has an editing and proofreading service and also produces admissions essays, resumes, and CV's.
There is a customer support department that is staffed by people as opposed to machines, and when we called, a person did take our call. We asked a number of questions about products and services and were referred to the FAQ link on the site. Either the employee was new or not properly trained.
Trustworthiness
A company is trustworthy when it delivers a quality product to its customers, when its customers have an expectation that they will receive value for their money, and when the additional expectation of privacy is met. To this end, we can say the following:
NinjaEssays customer reviews found off-site indicate that ordered works are delivered, generally within the deadline that the customer has given, and that those products are of the genre and topic ordered.
Payment may be made via credit card or PayPal, and there is an SSL certified payment processor named on the site itself.
A privacy policy does state that no customer information is shared.
Ninja Essays BBB rating is also an "A" which means that no serious complaints have been lodged against the company
Given these factors, customers can be comfortable that NinjaEssays is not a scam.
Writing Quality and Writers' Expertise
There are no samples of products on the website, so our assessment of writing quality is based upon customer reviews and the research paper we received. In general, customers were somewhat satisfied with their products, although some expressed that they felt the writing was too simplistic for their academic levels and others noted some obvious grammatical issues. Our paper, too, had some compositional and sentence structure errors, along with incorrect usage. Students who want an excellent paper should find another online research paper writing service.
The company publicizes that all of it writers have a minimum of a Master's degree in their fields and that there are a number of Ph.D.'s also on staff. Further, it states that all writers are carefully screened and are native English-speaking university graduates. Without additional information in the way of actual samples, it is a bit difficult to gauge writer expertise.
In total, our NinjaEssays rating is "Fair."
Prices and Discounts
We found NinjaEssays.com prices to fall within the average range for comparable writing services. Prices begin at $17.99/page and increase as the academic level does, along with deadline urgencies. The most expensive products are dissertation chapters with the selection of a "Platinum" writer. There is a link to Ninja Essay discounts. New customers receive a 25% discount for their first orders. The rest of the discount plan is based upon the number of pages in an order and moves from 5% to 15% once an order goes over 100 pages. We did not find any NinjaEssays promo code other than the one for first-time customers, nor were the NinjaEssays.com coupon codes available anywhere on the site. Interestingly, the site is still "sporting" a "Happy Easter" discount 5 months after Easter.
Added Features
Customers do receive free title and bibliography, but Ninja Essays charges $42 to have a finished product proofread before delivery. We believe this is a bit high and many services offer this as a matter of policy.
Conclusion
Relative to NinjaEssays.com pros & cons, our summary is as follows: the company does deliver orders on time that meet the instructions of the customer, and the site is safe to use. Quality of writing is a concern. If there had been sample products, our NinjaEssays review could be more comprehensive.