Our verdict: Not Recommended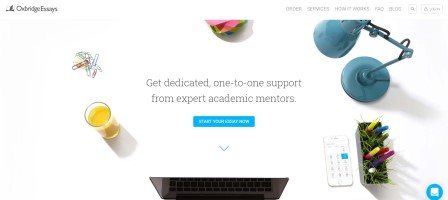 Top 3 services
VIP Support
From $14.99 per page
PhD Writers on staff: 80%
From $12.99 per page
OxbridgeEssays Review
OxbridgeEssays.com appears to be a relatively new writing service, serving the UK community. We have received a few comments and some feedback, as well as some requests for a review of the company. To complete this Oxbridge Essays review, we looked at the information on the website, the testimonials published there, some of their blog posts, pricing, and customer reviews that we were able to find on the web or that have been submitted to us. We also searched the service online. We looked for any customer advocacy group membership, legal issues, or other information regarding this company's reputation. This is to determine if this is a reliable service and that they can be trusted to deliver products as ordered. As always, we also made arrangements to receive a short research paper so that we could report on the full experience of using this online writing service, as well as the quality of writing that their writers produce. Here is what we found.
Factor 1: Types of Writing Services Offered
OxbridgeEssays states that it offers virtually every type of academic writing a student may need, from undergraduate through doctoral studies. This includes essays, papers, projects, presentations and more, but also theses and dissertations. They also offer a marking service, which is essentially a proofreading service for students. There are also coursework writing services.
Factor 2: Trust and Reliability
There seem to be no issues with trusting that customers do receive the writing they order. Further, the company protects the identity of its customers and has a published Privacy Policy. Obviously, this is important to customers who may not want others to know about their use of OxbridgeEssays.com services.
Trust also relates to the confidence that customers will receive the high quality for the money they spend on the products they order. This may be an issue as we will soon discuss.
In all, we can say that Oxbridge Essays is not a fraud or scam. They are a legitimate cheap paper writing service company that fulfills customer orders.
Factor 3: Level of Quality
This is where issues with OxbridgeEssays come into play. The quality of products is only as good as the quality of the writers. The company states that all of its writers come from UK-accredited colleges and universities and that they are assigned to orders based upon their degrees. The quality of their products, according to customer reviews, though, raises some questions:
Customers state that writing is not of the quality it should be. There are grammar and composition errors which degreed English-speaking writers should not make
We reviewed some of the blog posts on the site. While some provide some good advice for writing and college life, etc., there are a number of grammar and usage errors. One of the most common issues we found related to punctuation and compound sentence structure
We contacted customer service on two occasions. In one instance, we were told that a complete thesis or dissertation could be written within 3 days. Any graduate student knows that this is not possible unless the piece of writing has been pre-written and perhaps pre-sold. This raises a big red flag for us
The research paper we obtained was delivered on time. But, again, we saw a number of grammatical issues. And, we were not satisfied with the resource materials used – all secondary, as opposed to the primary
Customers are allowed to be in contact with their writer. Unfortunately, many report feeling as if the writer communicated that the writing process was going much better than it actually was. This leaves students feeling stunned at receiving papers that aren't of the best quality.
Factor 4: Pricing and Payment
There is no calculator or chart on the website to determine prices in advance. Customers must complete an order form in order to receive prices on their orders. New and returning customers may be disappointed that there are no discounts and no promo code to get a break on pricing.
Payments are accepted from any major credit card, and, based on our experience, payment information and records are protected and safe. We had no worries using our credit card for our travels.
Additional Important Considerations
Frankly, there are none. The company-assigned writer may indeed sign up and start bidding on orders.
The paper we secured contained a bibliography and title page that had been added without extra charge. Beyond that, we are hard-pressed to find other benefits. We did find a link to a blog. The content here isn't bad. There's a lot of content relating directly to academic writing. These appear to be sales pitches more than anything else. However, we dug around a bit and found a few good posts relating to college life.
The biggest red flags are these exaggerations about the speed with which their writers can work and that a dissertation, complete with original research, can be delivered to a client in 7 days.
The final thing we considered was the company's policy documents. Most of these were in order. Our key concern here was with their privacy document. This is an important document, as it outlines how a company handles personal and financial data, and who has access to information. The privacy document here was quite impressive. It contains contact information, explains the use of private information clearly, and ensures readers that the company is GDPR compliant.
Conclusion
In considering the pros & cons, we can say that Oxbridge Essays would like to be considered a great writing service and so has all of the "trappings" of one. But the proof really is in product quality, and this could stand some improvement, for sure. Overall, our rating of this writing service is "Fair." There are better writing companies out there for UK students.