Our verdict: Not Recommended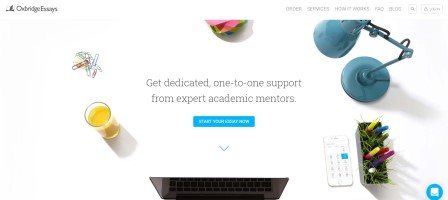 Short overview
Minimal deadline:
24 hours
Guarantees:
Always On Time, Confidential, No Plagiarism, High Quality, Diverse Disciplines Available
Payment Methods:
Available Services:
Essays, Proposals, Dissertations, Editing, Tutoring, Marking, Proofreading, Consultation, etc.
Extra perks and features:
Blog with articles
Summary
I know that most of my readers are curious as to why I choose some firms over others. This OxbridgeEssays review is the fruit of multiple requests I've been getting from students for over two years. For a long time, I ignored them because this firm was popular enough, and I was certain that there were already reviews about it online. To my surprise, everything turned out to be more complicated. OxbridgeEssays started functioning in 2006. According to its own statistics, over this time, it created 320 million academic works — this is truly impressive, and it speaks of significant experience and quality. But despite all these spectacular achievements, there are few actual reviews about this service. Even more surprisingly, a lot of them are negative. I dug deeper and found high prices, unreliable policies, and quality that keeps shifting depending on the writer. If you have ever felt curious about OxbridgeEssays, now is your time to find out everything about it!
Pros
Experienced writing service
Support available 24/7
Detailed service use policies
Nice-looking website
Cons
Concerning OxbridgeEssays reviews
Rates for essays are impossibly high
No refunds and few revisions
Unreliable quality and delivery time
Top 3 services
VIP Support
From $14.99 per page
PhD Writers on staff: 80%
From $12.99 per page
Website And Its Interface
When I first looked at the website for my OxbridgeEssays review, I felt pleased. It is a well-made platform with a good, unique design and informative content. The workplace of a student and a writer looks organized and highly individual. The color combination is fitting and diverse — any person who's passing through is going to linger for the simple reason that OxbridgeEssays stands out. Students could start a live chat, switch to an app, and see what services are on offer as well as what guarantees this agency provides.
There are some OxbridgeEssays reviews from the press posted on the site. This is interesting, but unfortunately, not everything is perfect. I saw some content mistakes that made me wonder whether native speakers wrote the text for the main page and for this website in general. Look at this line: "The work you need, when you need it." It sounds awkward and grammatically incomplete. It could have functioned as a marketing line, but managers used it to explain how clients should place their orders. There are other similar issues. OxbridgeEssays could benefit from some editing.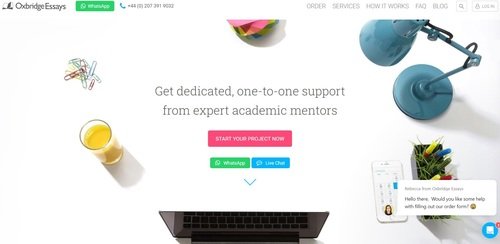 Writing Services And Free Samples: What Are Your Options?
Most Oxbridge Essays reviews mentioned getting different services from this company, and I can verify that it's true. The list of options is diverse here. Students could order essay writing, editing, proofreading, grading, or even consultation service. This could come in handy when you write your paper but worry about how your professor is going to assess it. These guys could help settle your doubts. There is a serious drawback in their system, though. Orders start from an undergraduate level. If you need high school or a similar level, you won't find help. You'll have to overpay to a huge extent.
Another nuance that disappointed me was the lack of samples. As you can tell from the other essay writing service reviews on this site, this is a vital element that helps students find benefits even if they don't end up paying for an individual essay. OxbridgeEssays offers no samples, even though it has existed for over 15 years. In contrast, much younger agencies develop databases with over 100K free essays on different topics. It's a shame that OxbridgeEssays doesn't care.
Policies Regulating Client Experience
The next step in my review was establishing the following: is OxbridgeEssays good at ensuring a safe and pleasing experience for its customers? The answer to this question turned out to be a big no. While their privacy policy is extensive and honest, which is commendable, it has multiple worrying elements. It admits it'll share your info with third parties for different reasons, such as if it sells itself to someone else, if it has contracts with someone, or for marketing goals. The policy itself provides a list of these third parties, and it's extensive. It features names like Amazon, so you can imagine how these giants might use your info. It's not safe.
Another aspect that amazed me was that some OxbridgeEssays reviews were right: there are no refunds in this company. It is outrageous, and I've almost never seen such a thing. Even if the quality is abysmal or the paper is late, you won't receive any compensation. The most this company offers is giving you a 5% discount for every 24 hours of lateness. This is ridiculous. Also, it's going to keep looking for a writer to take your task for 72 hours before admitting defeat — this is a lot, and it might result in you being late. I hated these policies.
Online Conversations With Operators
Speaking with operators is another crucial aspect of my detailed OxbridgeEssays review. It is easy to use chat feature: at first, you get a robot, but a real person gets involved as soon as you write something. Mostly, I found these guys sweet and helpful. They weren't always fluent, though, and I had reasons to believe that they might not be native speakers, either. It's a problem for cases where a student has a question, and their operator keeps misunderstanding it.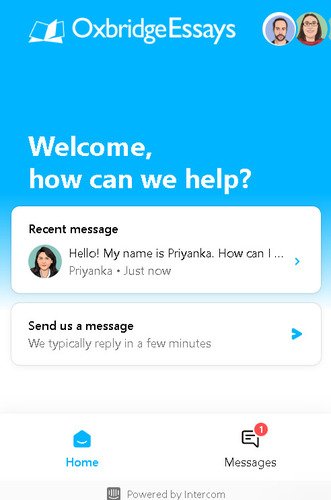 Essay Quality: Was It Worth My Money?
Plenty of reviews of OxbridgeEssays voiced their dissatisfaction with these writing services. They mentioned typos, mistakes in content, and failure of a writer to follow instructions properly. I placed an essay for English Literature, asking for 1200 words to be written in 14 days. This is about 4 pages, so my writer had enough time for everything. I paid £310, which is wild — more on it later. My order was accepted, and I began to wait.
To my annoyance, my paper was late. The delay was 18 hours, meaning that I didn't even get any compensation for it. No best college admission essay writing service should be late like this. I downloaded my essay and started reading it. I felt torn: on the one hand, it had pretty good ideas and sources. My writer was an expert in the subject. But they didn't understand academic rules, and their grammar was terrible. 272 language problems are way too many, and most of them are serious. The thesis was missing, and the structure of the paragraphs was incorrect. I doubt my paper would get a normal grade.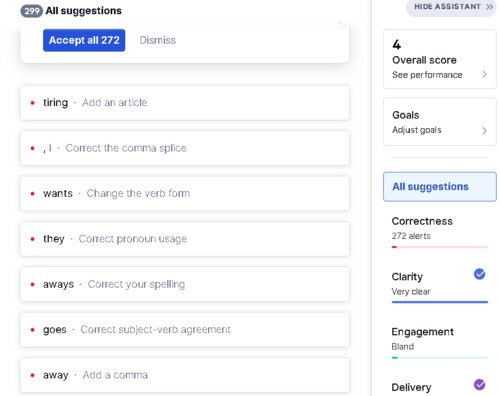 Secrets Of Placing An Order And Associated Problems
I didn't find complaints about order placement in reviews of OxbridgeEssays, but I should have. It has serious issues. These are the steps you'd have to cover:
Press "start your project now". It is a red button that'll take you to the menu. Choose what type of service you need in it, such as writing, tutoring, editing, etc. Settle on an academic level. Remember that it starts with the undergraduate stage — this is the first issue. Most services cater to more students' needs. Pick your subject and keep scrolling down.
Add more instructions. Point out your subject. Choose the essay type, then a number of words. And then comes my biggest problem. Students should decide what grade they want to receive for this essay. The default is 65-69%, meaning D. If you want a B, you'll have to pay an insane amount of money. No other agencies toy with quality like this. This is unacceptable.
Choose a deadline. Note that you can't pick weekends. This is another issue I hated. What if I want to read my paper and memorize it in advance?
Upload files and pick extra features. Paste instructions or upload relevant files. Then decide if you want additional features like direct contact with a writer, a plagiarism report, or extensive revisions. They all will cost you an entire fortune.
Give contact details and pay for essays. Share some personal info and make a payment.
Download your essay. It should wait in your inbox. Overall, placing orders at OxbridgeEssays is a lengthy and very expensive process.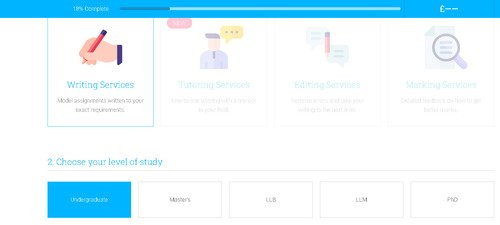 The Part Of OxbridgeEssays.com Review You're Interested In Most: Prices
OxbridgeEssays is an extremely expensive writing company. It rips its clients off, and no reputation can justify it. Look at this table. These are prices for an undergraduate-level 1-page essay with a C grade. If you want a higher mark, you'll have to pay way more.
| | |
| --- | --- |
| Services | Minimal Price per Page |
| Essay Writing | £90 |
| Editing | £45 |
| Grading | £35 |
| Tutoring session, 30 minutes | £40 |
First-time clients receive discounts of up to 15%. This is a generous offer that will make the price lower, but not by much. It won't change the abysmally high rates. For comparison, any best college essay editing service usually charges around $7 for a page of editing. What OxbridgeEssays asks for isn't worth it.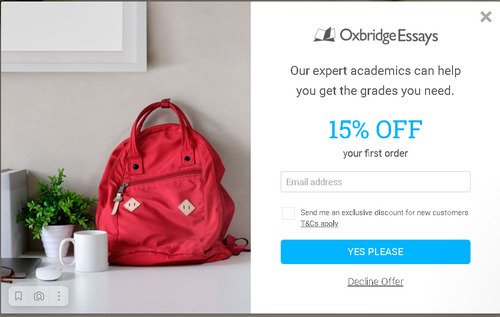 Speaking With My Writer
By paying a fortune, you might speak with your writer via Zoom before they start their work, after they finish it, or whenever. You could also order a development plan to see how this expert wrote your project. Again, all of this costs crazy amounts of money. I wanted to communicate with my expert at least once. They tried to sound professional, but they made more mistakes in speaking than I expected. They were nice and considerate, I had no other issues with them, but paying for talking is not acceptable. It must be free as I'm already paying for the service.

Ordering Revisions In Case Of Bad Quality
In my review of OxbridgeEssays.com, I hoped for an effective revision that could take care of errors. The site promises 10 free days for this, but getting a writer to revise is impossible. They kept arguing, and then managers joined in and began to argue, too. Giving up was easier.
Good Tools For Your Writing
Tools play an important role in writing. As you might know from my dissertation writing services reviews online, they include stuff like a conclusion generator, plagiarism checker, and others. This agency doesn't offer anything except for blog articles. They are interesting, but there are no tools or samples. It looks like OxbridgeEssays is too greedy to show care for students besides their wallets.
Studying OxbridgeEssays Reviews For More Insights
There aren't many reviews about OxbridgeEssays. I still found some, and they astonished me. They weren't positive for the most part.
SiteJabber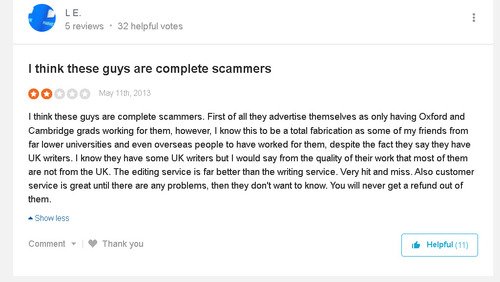 People are upset with the level of service and no refund policy, and rightfully so.
TrustPilot
No Oxbridge Essays reviews found.
Reddit
No real reviews as well. I was surprised as such an old service should have more feedback.
Social Media
There is an active Facebook account and abandoned Twitter one. Regretfully, they don't have interactions with clients.
Show Me Your Top Services
Faq
Is OxbridgeEssays legit?
This company is real, and it has a lengthy experience in the sphere of academic writing. It follows the rules stated in its policies.
Is OxbridgeEssays safe?
No, this company is not entirely safe. It explains how it uses your data in detail, but this info isn't reassuring. Numerous third parties could access your personal info, including giants like Amazon.
Is OxbridgeEssays reliable?
Unfortunately, this is not the most reliable agency. It might be late with your orders, and the quality it ensures doesn't always reach a sufficient level.
Is OxbridgeEssays scam?
No, this writing agency is real and functional. If you pay for it, it'll either deliver your paper or give you your money back.